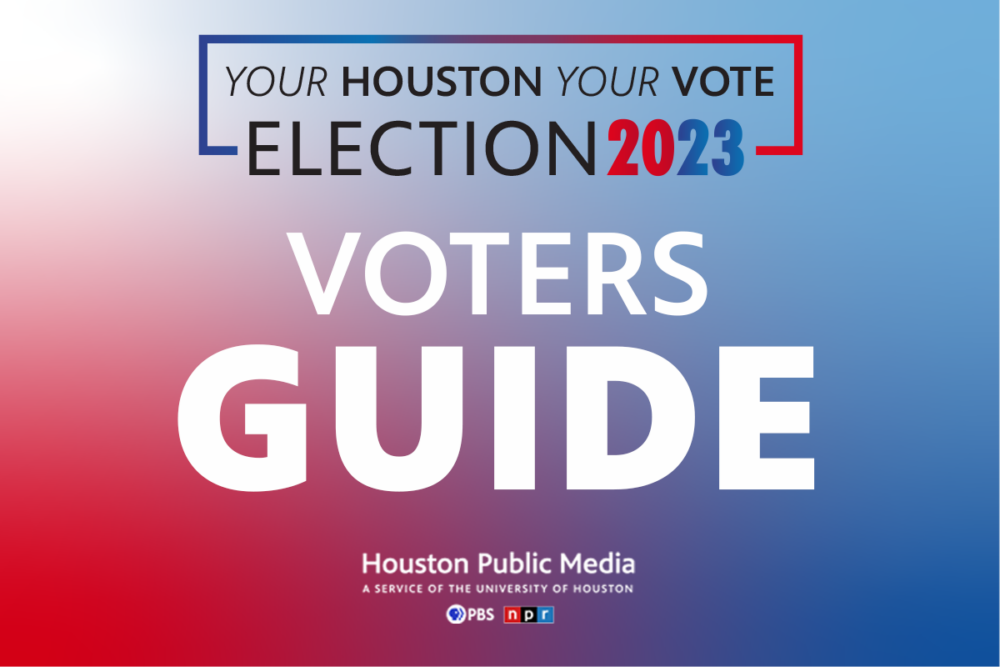 What do the candidates for mayor think about some of the most important issues facing Houston? We asked them and allowed them to respond however they wanted. Not all of them took us up on the offer. In service to our community, we are presenting their answers as voters head to the polls.
MORE: Full Interviews with candidates for mayor and city controller
TOPICS (click to jump to responses)
Why be mayor? — Death Star bill — Budget crunch — Firefighter contract — Drainage system — Health department — Roads — Public safety — Climate change — Railroad crossings
Why do you want to be mayor of Houston?
Anne Garcia: I am not a politician. I am an attorney, proud Rice Owl and- above all else- a Mama. I have 3 kids in elementary school in HISD. The only reason that I am in this race is because of the abject failure of all the other candidates to acknowledge, much less do something about, the biggest issue facing Houston right now- the forced state takeover of HISD. Oh, and did I mention that Senator Whitmire voted for and supports the takeover? We have lost all control over our kids' education. The Superintendent and Board are only accountable to Greg Abbott. My daughter, who is meant to receive special education services, is suffering. The new education plan heralded by the Superintendent is unproven and on its face, defies common sense. In what world do you improve reading by removing libraries and converting them to disciplinary centers? We are going to lose 5 more years of our kids' education, and end up with a broke and broken district whose carcass will be picked over by Greg Abbott's charter schools. We are facing an existential crisis in public education. Without at least the goal of educating everyone's children, the disadvantaged are going to lose the key springboard to prosperity. Democracy requires public education and it truly is democracy that now hangs in the balance. Houston is ground zero for this fight. The next Mayor cannot afford to ignore the issue. The next Mayor must rise to the occasion, using the platform and purse of the position, to fight against the infringement on our rights, not only regarding the state takeover of our schools, but also our voting rights and right to self-govern. I have the moral clarity and political courage to fight for Houston, and will fight for your kids like they are my own.
Gilbert Garcia: I love Houston! I am a Yale University graduate and the managing partner of Garcia Hamilton & Associates and former chairman of the Metropolitan Transit Authority of Harris County (METRO). Under my leadership, GH&A has increased the amount of fixed-income assets it manages from $200 million to almost $22 billion. At METRO, we balanced the budget, increased transparency, experienced labor peace, expanded light rail, re-did the entire bus network, revamped the procurement process, all earning us Transit Agency of the Year in 2015. I have served as a lead voice to the SEC to develop policies to increase transparency and address the wealth inequality that exists in America. This includes working with SEC Commissioners and testifying before various committees including the US Senate. If elected, I'll apply that value and experience in my role as Mayor. I think my experience building teams and running a billion-dollar business is an important skill I can bring to the City of Houston. My vision for Houston is that we would be in the same breath as the great cities of the world. Houstonians are unique and we should fix the areas that are not working and then build up our great city. I have made a pledge to Houston that lists all the things that I would do in my first 100 days in office to get our city back on track.
Lee Kaplan: My late father was a small businessman; my mother worked part-time at Neiman-Marcus. My dad's constant admonition still resonates with me every day: "If it's worth doing, it's worth doing right." And my mother's intelligence, warmth, and compassion taught me the importance of recognizing the contributions of others. I take what I learned from my parents to heart as I run for Mayor of Houston. I will tackle the thorny issues that frustrate Houstonians every day: crime, infrastructure and traffic, garbage, and the maddening difficulty of dealing with the City bureaucracy. I'll tackle these problems head-on and make progress to help our City move forward. I don't promise to "solve" these problems overnight or "fix" them forever. But I won't get distracted by petty arguments or rhetorical disputes as we focus on what needs to get done. I will strive to be a Mayor who does things right, a Mayor you can be proud of, and a Mayor who focuses on the essential services that impact all of us every single day.
Roy Vasquez: I want to be the mayor of Houston because I firmly believe that to see real change in our beloved city, we must actively participate in shaping its future. It's not enough to simply hope for better leadership; we must be the catalysts of that change ourselves. I ran in 2019 and a lot of opportunities/issues that were present then, are still priorities. I feel a renewed sense of responsibility to offer an alternative and drive positive change. My mayoral candidacy is underpinned by a strong dedication to amplifying the voices of those often marginalized in our society – those in lower socioeconomic statuses, the homeless, and our sheltered or stray animals. I want to be the advocate for the voiceless and drive impactful policies that empower and uplift our entire community. By electing me as your mayor, you are not just voting for a candidate; you are investing in a shared vision of a Houston that thrives as a united, compassionate, and inclusive community. Together, we can make this vision a reality, improving lives and making a brighter future for all Houstonians.
John Whitmire: I am a public servant. I care about Houston and Houstonians. We all want a great city in which to live, work and raise our families. I believe using my experience and commitment to public service we will make Houston even better. I want to come closer to the issues I have debated in Austin and come closer to the people who share my love of this city. I believe as mayor I can make a more direct impact on Houstonians' lives — bringing our city closer to meeting the expectations and hopes we all share. I know together we can improve our neighborhoods with better streets, garbage pickup, flood control, transportation and a more affordable Houston. Houston is a great city. But reaching our full potential requires solving our problems. I want residents to live without fear of crime, drive on streets that won't tear up their cars, have garbage picked up on time, live in homes that don't flood and have a city government that is honest, transparent and fiscally healthy.
Governor Greg Abbott and the Texas Legislature have moved sharply over the past several years to limit the authority of local governments to regulate numerous areas – most recently with HB 2127, a.k.a., the Texas Regulatory Consistency Act. How would you respond to state efforts to encroach on the city's ability to govern its own affairs?
Anne Garcia: The gross usurpation of our right to self-determination by the State is antidemocratic, and contrary to the supposed tenets sacred to conservative ideology. The Texas GOP has lost its mind and its political compass. There is no space for bipartisanship on this issue. Senator Whitmire is too compromised from his decades striking deals with the Texas GOP and has veered from bipartisanship to Stockholm Syndrome. The next Mayor must fight every transgression of the State, unequivocally stand on the side of Houston's diverse and progressive values, and refuse to allow the beliefs of places like Amarillo and Midland to supersede our fundamental rights. The only way we are going to stop Greg Abbott, Ken Paxton and their cronies is by winning elections. The next Mayor of Houston must use all of her political power and capital for this goal. As Mayor of Houston, I would marshal and leverage every scrap of power towards the goal of taking back our statehouse and the governorship, investing in the Texas Democratic Party and returning out state to one of sanity.

Gilbert Garcia: I think the city should continue to govern without having the State interfere. One of the things I would do in my first 100 days is to meet with State leaders to ensure we have open dialogue and to educate State Officials about my priorities for the city.
Lee Kaplan: I will loudly speak against all these state efforts to take local control away from the people of Houston. It is undemocratic and unacceptable. I will seek to work with city governments across our state to stand up to wrongful usurpation of powers from local governments by the state government. Furthermore, I will seek to hold state officials accountable for the performance of government functions they wrongfully remove from the hands of the city government.
Roy Vasquez: I believe that local governments should retain their autonomy to make decisions that have a direct impact on their communities. It's a slippery slope and the state can't govern us with a one size fits all approach. To address state initiatives aimed at limiting the city's authority, I would actively engage in open discussions with state leaders and lawmakers to stress the significance of local governance and the requirement for flexibility to handle unique local issues. Building cooperative relationships with state officials is vital in advocating for Houston's interests. If needed, I would explore legal options to safeguard the city's capacity to govern its own affairs, ensuring that we can effectively address our unique and specific needs while upholding the principles of local control and self-governance.
John Whitmire: The City's relationship with our state leaders is broken. I am the only candidate who has experience working with the Texas Legislature and state officials. I have a history of working with all legislators to help Houston; we disagree on any number of issues but when it comes to the City, we have to put aside our differences and do what's best for Houstonians. I have called state officials when Houston needs help. I will have a better relationship with the General Land Office, which controls a significant amount of federal funds. It is beyond comprehension that Houston would receive no funding at all from the recovery dollars. I served in the Legislature with our new Land Commissioner. We have already spoken about helping Houston with disaster recovery issues. I will continue to remind our state government that as goes Houston, so goes Texas.
The City of Houston has been able to rely on federal funding from the American Rescue Plan Act for the past few years to make up gaps in its finances, but that money is going away. How would you address potential shortfalls in the city's budget?
Anne Garcia: I am a lifelong Democrat who believes in fiscal responsibility. Surprise! The two are compatible. I would approach the city's budget like I do my own family's, and look at both sides of the ledger at how much income we generate and how we spend it. Further, everything must be done through the lens of equity. It is not enough that costs are shared equally, but we must make sure costs are equitably distributed. That means HCAD appraisal values should be considered in determining how fees are assessed. The differences in the standards of living across our city, from a public services and infrastructure perspective, is simply too great. Why are there gold-plated Metro buses in the Galleria, but bus stops without shade in the Third Ward? We must do better with resource allocation. The next Mayor must get creative when it comes to looking at revenue generation. There are countless opportunities to create private-public partnerships, particularly in historically disenfranchised communities. Evelyn's Park is great example of what I envision- private land donated for public use, in which private businesses in the park create revenue streams that continue to benefit the City. There are all sorts of opportunities to leverage the City's assets and brand to generate more revenue.
Gilbert Garcia: I have a pledge to Houston that I created to address what I would do during my first 100 days in office. First, I would like to audit the Housing and Health Departments. I think it is fair to say that no one really knows where all of the money in the city budget is going and so as a financial expert, I would look at the entire budget and make adjustments as necessary. Because my firm manages almost $2.2 billion which is over three times the city's budget, I am well equipped to handle this task. My approach to addressing the city's budget challenges would begin with a comprehensive review of the city's finances, including an examination of reserves from recent years. I would also identify essential city services and fulfill the will of the voters to our firefighters. I would then identify wasteful spending and assess opportunities to reduce costs across all city departments, including the elimination of unfilled positions. Balancing the budget is imperative, and I advocate for the adoption of zero-based budgeting principles. Additionally, our city needs to increase economic development and foster growth to attract businesses that can contribute to our local economy.
Lee Kaplan: The city could be in a tough financial position as COVID relief money provided by the federal government dries up. That's why I believe we need to focus on the basics. Making our city safer, improving our infrastructure, and making sure the trash is picked up in every neighborhood. These are the basic functions that should be focused on before we spend in other areas. This will make our city more attractive to businesses and residents, thereby increasing our tax base.
Roy Vasquez: I think the first step is taking a deep dive into how we operate to identify any inefficiencies we can trim and creating responsible fiscal policies to go along with this. I would also look at expanding our revenue sources through partnerships and grants and advocating for increased state and federal support. The last prong would be about our community – I would encourage and foster economic development to attempt to boost tax revenue and then engage our citizens in the budgeting process to make sure they have a say in what we spend on. Together, we'll keep our city on solid financial ground while making it even better.
John Whitmire: Houston's budget is structurally imbalanced. We have relied on one-time or short-term funding sources, like ARPA funds, to pay for recurring expenses. This is not sustainable. The City Controller projects General Fund expenditures will increase 4.32 percent while recurring revenues are only expected to increase 2.86 percent. To right our fiscal ship requires a comprehensive assessment of where we currently stand and developing a long-term plan to get us out of this hole. We need to fund only what we can afford, with a priority put on public safety, infrastructure, and basic city services. We need to look at ways to balance our budget, such as consolidating some of the city's departments and combining services with other government entities. The future of this city remains bright, but we are at a tipping point. If these long-term structural challenges are faced head-on, then we avoid falling off a fiscal cliff.
The Legislature has mandated arbitration between the City of Houston and its firefighters' union for a labor contract. How do you see yourself dealing with the firefighters' union going forward, particularly given the city's budget situation?
Anne Garcia: As an attorney and mediator, my skills particularly lend themselves to addressing this seemingly intractable issue. I know firsthand how incredibly wasteful and inefficient litigation is. The amount of money that has been spent on attorneys would have been better spent on mediation to help the union and City reach an agreement. While the arbitration process would lend itself to an ultimately speedier resolution, I believe there is an opportunity to mediate at least some of the issues. The next Mayor should use a new administration as an opportunity for a reset, reframe the issue and look for creative solutions and common ground before retaking an adversarial stance.
Gilbert Garcia: We must implement the will of the voters and ensure fair compensation for firefighters. Arbitration will be a valuable tool for resolving this dispute that should have been solved years ago. In fact, I have publicly advocated for arbitration for these years on my radio show.
Lee Kaplan: I would defer to the current legal process but am aware that it is fluid. I am willing to sit down in an attempt to reach an amicable solution that resolves the dispute over Proposition B to ensure firefighters receive equitable treatment from the city of Houston without relying on continued litigation and through means that are fair and cost-effective for firefighters, the taxpayers, and the city as a whole.
Roy Vasquez: I remember this being a top issue in the 2019 election and now it's still an issue 4 years later. This longstanding stalemate is a top priority for me, especially considering our budget situation. I believe in open, honest, and respectful dialogue with everyone involved. This would involve working towards equitable pay for firefighters, ensuring they are not earning less in Houston compared to other major Texas cities. My goal would be to provide firefighters with competitive salaries that reflect their dedication and service to the city. I believe we have to find the money to make their salaries competitive, so again we'd have to look at current finances to determine how to accommodate the increase and again seek state and federal funding to support the pay adjustments. Ultimately, we all want a safe and prosperous Houston, and I'm confident that by working together, we can achieve that goal while managing our budget effectively.
John Whitmire: We need to sit down and work with the union to come up with a proposal that's fair to the firefighters and the City. That's why I passed the arbitration bill this past legislative session. Our first responders deserve to be treated fairly.
Houston has been subject to a lawsuit related to its funding of the city's drainage system. How would you act going forward to make sure the city is providing sufficient funding to drainage to cope with potential flooding?
Anne Garcia: Of large U.S. cities, Houston is particularly vulnerable to the ever-increasing effects of a changing climate. While we may have dodged a Harvey-esque event this year, every hurricane season is longer, and brings more peril. Over the last 40 years, rainfall has increased around 25% in the Brays Bayou watershed, but runoff an alarming 204%. The reality is that our infrastructure was designed for a smaller city, with fewer people and thus less runoff. It also was designed for less extreme weather. Back in 2016, the Harris County Flood Control District Director said $26 billion was needed to shore up the city from flooding, mostly to buy up properties next to waterways and expand canals. This remains largely undone and puts us at risk every time it rains. Most city drainage improvements come from replacing underground pipes during routine street projects. To a lesser extent, Houston has also funded large drainage ditch improvements, buyouts of repeatedly flooded homes and the construction of stormwater detention basins. We cannot keep kicking this can down the road. Every hurricane season brings the risk of another Harvey-sized economic loss- $16 billion. We need to be honest about what is needed and get in front of it before we are spending that money on recovery as opposed to long-term prevention.

Gilbert Garcia: Our drainage money should be spent on drainage so that we can make the necessary improvements to our infrastructure to be prepared for the next major storm. I would prioritize upgrading and expanding when necessary, the drainage under our streets and continue the Rebuild Houston Program. Drainage should be incorporated in every street project so that we do not have to retrofit later. I also support more stormwater detention basins and buyouts. We need to look at Chapter 42 to make sure that we are requiring the developers to use enough drainage, green space and retention ponds that contribute to better stormwater management.
Lee Kaplan: I'd ensure that drainage fee funding is used to fix our drainage and make needed infrastructure improvements to prevent additional massive flooding and not just for fixing potholes. We need to invest in modernizing our infrastructure to deal with major weather events as they will be more common because of the effects of climate change.
Roy Vasquez: I would acknowledge the importance of adhering to the city charter's provisions regarding the allocation of funds for street and drainage repair. The charter amendment, approved by voters, clearly indicates a commitment to dedicating 11.8 cents of every $100 in property tax to the drainage and streets fund. I would ensure that the city follows this mandate diligently and transparently. Secondly, I would work to find a balanced approach that respects the revenue cap while also prioritizing essential services like police, fire, and solid waste management. It's crucial to strike a balance between funding drainage projects and maintaining the city's overall financial stability. This may involve periodic reviews of the funding allocation formula to ensure it remains equitable and aligned with the charter's intent. Lastly, I would engage with stakeholders, including taxpayers, city officials, and legal experts, to reach a consensus on the best method for allocating funds to the drainage fund while complying with the city charter. Collaboration and open dialogue would be key to resolving any discrepancies and preventing future legal disputes.
John Whitmire: Flooding is a regional problem and we need to work with all government agencies in a coordinated effort to prevent flooding. Something as simple as maintaining ditches can make a big difference and I'm glad to see that the city is now spending more money to do that. We need more flood mitigation projects like the innovative Willow Waterhole Greenspace Park, which has helped prevent flooding in the Westbury area while creating a beautiful amenity for the community. I secured $1 million in state funding this year for the expansion of that flood mitigation/greenspace. Build Houston Forward (formerly ReBuild Houston), funded by a drainage fee, has been in existence for ten years with no meaningful improvements being made towards making the city more resilient to a major natural disaster. The funds were supposed to be in a lock box for needed projects but have been used to pay salaries of Public Works employees. We need to honor the spirit of that ballot initiative and use the money for priority projects to make the city more resilient.
Should Houston invest more in the city health department to prepare for future pandemics and natural disasters, and if so, how?
Anne Garcia: No response
Gilbert Garcia: First, I must audit the City Health Department that has been raided by the FBI. We need to see what is being spent in that department and how.
Lee Kaplan: The city needs to be prepared to deal with major natural disasters and future pandemics. This means investing more in critical infrastructure to mitigate the effects of these events. And we need to have firm plans in place to act and have competent, qualified people in place to implement these plans.
Roy Vasquez: Absolutely, investing in the Houston Health Department is crucial for both pandemic preparedness and response to natural disasters. First, we could allocate a higher percentage of the city's budget to the health department, with a specific earmark for emergency preparedness and response – I'm thinking to secure essential medical supplies, hire additional skilled healthcare professionals, and expand our healthcare infrastructure. Additionally, we should actively seek out federal and state grants and partnerships. By leveraging external funding sources, we can expand our resources without placing the entire burden on the city's budget. We could also collaborate with hospitals/healthcare systems and universities to yield research grants and expertise. These partnerships can foster innovation and help us stay at the forefront of public health preparedness.
John Whitmire: It's not a matter of "if" but "when" another devastating weather event or pandemic hits Houston. We need to be ready. The Health Department did a good job providing vaccinations during the Covid pandemic and we need to be prepared for the next one. I will place a greater emphasis on our Office of Emergency Management and ensure that it is fully staffed and ready for an emergency, whether it's a pandemic, hot or cold weather, flooding or even an industrial accident. We need to have in place plans to coordinate with our many nonprofits like the Red Cross that provide help to Houstonians in need. We need to be able to reach out to all our residents with information in their language. I am pleased to see OEM now using social media to deliver information about surviving our heat emergency in various languages; we need to ensure that continues and is expanded.
How would you deal with needed road and other infrastructure repairs and construction?
Anne Garcia: Like any issue, as Mayor I would address road and infrastructure repairs, maintenance and construction through the lens of equity. The disparity between rich and poor across our cityscape is simply inhumane. We live in the richest country in the history of the world, and all Houstonians should be able to rely on the same city services and infrastructure. I would open up City Hall to all, and make sure that disenfranchised voices are empowered to make real change.
Gilbert Garcia: I would evaluate the City's CIP and City process to make sure that the plan fully addresses all our infrastructure. Once that assessment has been done for the entire City I would work to make sure funding is in place to have these projects completed.
Lee Kaplan: I'd ensure that drainage fee funding is used to fix our drainage and make needed infrastructure improvements to prevent additional massive flooding. We need to ensure we are doing more than just fixing potholes with the money from the drainage fees. We should do a full audit of what monies are being spent and where so we can be more efficient and spend money where it is needed the most.
Roy Vasquez: Fixing our roads has been an issue in every election that I can remember. I know Mayor Turner promised to fill 300 potholes a day at one point. While those pothole repairs are crucial for road safety, they are reactive and not a long-term solution. To ensure lasting improvements, we must adopt a comprehensive strategy. This includes proactive road maintenance, regular inspections, timely repairs, and investments in more resilient road construction. Preventative maintenance and durable road construction are key to extending road lifespans, reducing pothole occurrences, and minimizing costs and inconveniences. By combining these approaches, we can create a road network that is safe, reliable, and built to withstand the test of time, addressing both immediate concerns and the long-term quality of our infrastructure.
John Whitmire: We have to admit we have a problem before we can solve it. Houston city officials have put off needed maintenance for years and we are seeing what results from that with video on the TV news every night of water leaks flooding our neighborhoods. The fourth-largest city in America should not have a boil water notice for two days. Our streets are in poor condition and dangerous for not only drivers but also pedestrians and bicyclists. We need to design streets with safety as a priority—to control vehicle speeds and to allow drivers to be able to see other vehicles, pedestrians and bikers. We need to build more sidewalks. To resolve traffic issues, we need long range planning and cooperation among all the governments and agencies in the region.
What do you see as the city's most pressing concern when it comes to public safety, and how would you address it?
Anne Garcia: Senator Whitmire and the other candidates have engaged in much fearmongering regarding crime in Houston. While people may feel less safe, statistically they aren't. Homicides have dropped 28% from last year, and overall violent crime is down 12% in the first three months of this year, compared to the same time in 2022. If we are going to talk seriously about reducing crime, we need to talk about the number one cause of crime- poverty. Lack of economic opportunity goes hand-in-glove with lack of educational opportunity. And in Houston, we are facing a two-front war against crime as a result of the state takeover of HISD. First and most immediately, the broke school system that Mike Miles will leave behind, either due to fleeing students or teachers or due to the replacement of our public schools with the poorer outcomes of a for-profit school system, is going to impact Houston financially. We have already taken a hit because of the increasingly unhinged politics of the State, but even more people and companies will be disinclined to relocate to Houston if they have to pay $30,000 a year tuition to secure an adequate education for their kids. Less economic opportunity means more poverty, which in turn is the biggest predictor of crime. Second, our kids are still suffering after having lost two years of education to Covid. If Mike Miles gets to continue his experiment in destroying the largest school district in the state of Texas for the next five years as he is currently projecting, then a generation of children will have lost something that they can never get back, and that will hold them back for the rest of their lives. 68% of people stay where they are raised. An uneducated population with diminishing economic opportunity is a recipe for a real public safety crisis.

Gilbert Garcia: People do not feel safe. We should bring back community policing to our neighborhoods. Having dedicated officers that actively engage with the community and know the people in the community could help response times. It could also cut down on calls by identifying the root causes of crime in each designated area. I support adding additional cadet classes and making sure these officers are trained in conflict resolution. We need to make sure our officers are on the street and not at desk jobs. For these positions and tasks, we should have civilian employees and then reassign those officers who are presently doing civilian work. We also need to review our emergency call center to make sure response times are low and that the officers are being dispatched to the correct places.
Lee Kaplan: We need more police on our streets to keep us safe. I'd increase funding for the police and also civilianize more administrative functions so the police can spend more time patrolling our neighborhoods to prevent crime.
Roy Vasquez: I think violent crime is the most pressing public safety concern. To attack this, I'd emphasize community policing, attempting to enhance the relationship between law enforcement and our communities, and supporting programs that tackle the root causes of crime, such as poverty and limited educational opportunities. Investing in law enforcement technology to improve response times and investigations is also critical to help tackle crime. I would prioritize mental health crisis intervention training for officers to enhance de-escalation. I would also address social determinants of crime by expanding access to quality education, affordable housing, and mental health services, which can prevent crime in the long term. By combining effective law enforcement strategies with broader community initiatives, we can create a safer and more resilient Houston.
John Whitmire: I see many concerns with public safety but also many ways to address them. We need to be tough and smart on crime.
Put more officers on the street with more emphasis placed on response times. One way we can do this is to replace many officers in administrative jobs with civilians.
Community policing needs to be prioritized and expanded. Locating officers in neighborhoods and in high-risk areas will reduce crime and allow police to respond quickly when a crime does occur. In addition, this will help police and Houstonians come to know and trust each other.
We need more de-escalation training and training in dealing with persons in mental health crisis.
We should add to the Department of Public Safety officers already assisting HPD, especially with specialized services such as air support.
We need to coordinate and work together with the dozens of other law enforcement agencies in Houston and Harris County, including the Sheriff's Department, Constables, schools and Metro.
The Police Department has been limited in the number of cadet classes they can hold each year; we need to see if we can increase that number. I will get personally involved in helping recruit candidates, with an emphasis on diversity, and work to improve morale within the department.
We should provide "Second Chance" programs that work quickly to integrate former offenders back into the community and help them with housing, jobs and other services so they don't return to crime to support themselves.
Mayor Sylvester Turner made combatting climate change a priority of his administration. Do you see this as a responsibility of the mayor, and if so, how would you address climate change on a local level?
Anne Garcia: Of large U.S. cities, Houston is particularly vulnerable to the ever-increasing effects of a changing climate. While we may have dodged a Harveyesque event this year, every hurricane season is longer, and brings more peril. Over the last 40 years, rainfall has increased around 25% in the Brays Bayou watershed, but runoff an alarming 204%. The reality is that our infrastructure was designed for a smaller city, with fewer people and thus less runoff. It also was designed for less extreme weather. Back in 2016, the Harris County Flood Control District Director said $26 billion was needed to shore up the city from flooding, mostly to buy up properties next to waterways and expand canals. This remains largely undone and puts us at risk every time it rains. We cannot keep kicking this can down the road. Every hurricane season brings the risk of another Harvey-sized economic loss- $16 billion. We need to be honest about what is needed and get in front of it before we are spending that money on recovery as opposed to long-term prevention.
Gilbert Garcia: I think everyone has a responsibility to make climate change a priority. Houston needs to make sure all its plans include environmental mitigation at every level. We should make sure that all our buildings have renewable energy, green buildings, and energy efficiency. We have a commitment to recycling and need to audit and investigate the recycling program to ensure that what we are doing is best for the city and Climate Change.
Lee Kaplan: I strongly support taking strong action to address climate change on the local level. We've already seen the effects here with massive flooding in our city, hurricane damage destroying communities, and deep freezes that put our residents and businesses at risk. In the short term, I'd ensure that drainage fee funding is used to fix our drainage and make needed infrastructure improvements to prevent additional massive flooding. In the long term, I am open to supporting additional actions to combat the causes of climate change such as approving more mixed-use development so people live, work and shop in the same areas to lower the reliance of our city on car traffic.
Roy Vasquez: Definitely – Climate change impacts our city's resilience, infrastructure, and overall quality of life. I think there are a lot of things we can do locally to do our part to combat climate change. I would expand initiatives we already have going and take inspiration from cities worldwide to help guide and move us forward. I would continue expanding our mass-transit options while making them safer and expanding our bike lanes. We would also adopt strict green building standards, encourage electric vehicle usage with tax benefits and reduced fees. Another area of opportunity is education – public awareness campaigns, drawing from Vancouver's "Greenest City 2020," would educate residents on sustainable practices. Finally, I'd want to collaborate with experts to assess vulnerabilities and continue to develop adaptation strategies, to ensure a sustainable, resilient, and livable Houston.
John Whitmire: This is definitely a responsibility of the mayor. Climate change is real and the mayor can make a difference. We should look at everything we do at the city with an eye on sustainability. We need to continue promoting green buildings, electric cars and recycling. We should build more sidewalks and plant more trees. Metro needs to up its game and provide more bus service where people actually need it.
How would you address the difficulties that railroads pose for traffic flow? How can railroads and neighbors coexist better?
Anne Garcia: No response
Gilbert Garcia: I would address this issue right away as it seems to be escalating. The railroads companies using the rails in Houston need to coexist with our neighborhoods. Issues that need to be addressed include infrastructure improvements, safety measures and traffic to improve traffic flow. Quiet zones seem to be working in some areas of our city but not in others. We need to mitigate any noise the trains are making to minimize their impact. We must work with the Railroad companies to make sure lights are synchronized and that trains are scheduled to not disrupt traffic.
Lee Kaplan: We need to demand that our representatives in Austin and in Washington obtain funding for expedited construction of underpasses that allow pedestrians (including schoolchildren), bicycles, and automobiles to transit in safety without having to cross the tracks. To the extent this is not governed by federal or state law, when railroads want special privileges from the City, we should insist on reciprocal concessions that benefit our citizens, such as penalties for blocking intersections longer than five minutes.
Roy Vasquez: I would work with railroad companies to improve scheduling and routing to minimize disruptions during peak traffic hours. This might involve revising timetables or expanding rail capacity. Secondly, I would want to budget for the construction of underpasses and overpasses at key railroad crossings to enhance traffic flow and safety. This would allow vehicles to bypass waiting for trains to pass. And then to facilitate better coexistence between railroads and residents, I'd advocate for stricter noise and emission regulations to reduce the impact on neighborhoods near rail lines. It's essential to involve the affected communities in these discussions to address their specific concerns.
John Whitmire: The unfortunate truth is that railroads are regulated by the federal government, which seems to have no concern for not only the interruption of traffic but also the danger they pose when people, especially children, climb between rail cars. The trains block all traffic, including first responders. Congresswoman Sylvia Garcia and neighborhood leaders have been working diligently on this issue and I will certainly use the mayor's bully pulpit to add my voice to their efforts to find a solution that works for everyone. Railroads and neighbors can co-exist but the railroads have no incentive to work with residents. Trains are carrying more goods since the Covid pandemic began and they are critically important to the Port of Houston, bringing goods to the Port to be shipped and moving goods that arrive at the Port to their final destination. But they cannot continue to inconvenience drivers and endanger residents.