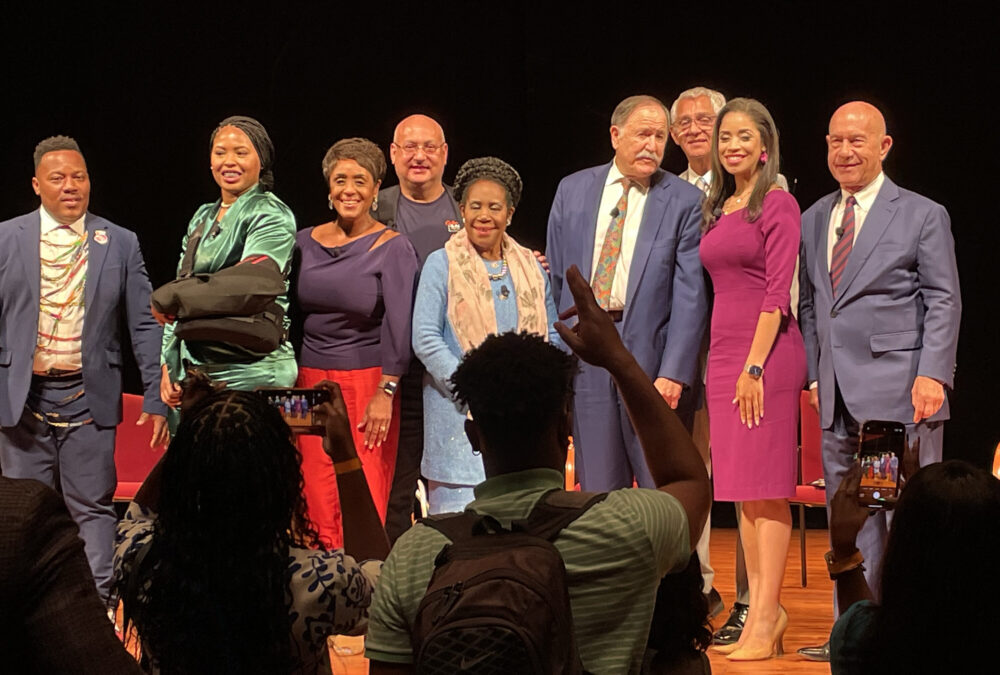 U.S. Rep. Sheila Jackson Lee and Texas Sen. John Whitmire are the most recognizable names in the race to become Houston's next mayor. The longtime Democratic politicians also proved to be the heaviest-hitting candidates in terms of fundraising, according to the latest campaign finance reports filed with the city.
Jackson Lee, who has represented Houston in Congress since 1995, did not announce her mayoral candidacy until April but still pulled in more than $1.2 million in donations for the six-month period ending June 30, according to a filing submitted Monday to the city secretary's office. Her campaign had more than $1 million in cash on hand, although a spokesperson for her campaign said Tuesday that nearly 10 reported donations that were above the city's limits for a contribution cycle will be partially refunded to comply with the law.
Whitmire, who has served as a state senator since 1982, had a campaign balance of nearly $9.9 million as of June 30, with most of that money coming from his campaign as a state lawmaker. He raised more than $370,000 during the six-month reporting period – despite being barred from accepting donations during much of that span because he was actively serving in the Texas Legislature. The Protect and Serve Texas Political Action Committee raised almost $158,000 more on his behalf.
Jackson Lee and Whitmire, both 73 years old, are considered heavy favorites in the race to succeed Sylvester Turner, whose second and final term as Houston mayor will end at the end of this year. Other prominent candidates in the Nov. 7 mayoral election are Houston City Council member Robert Gallegos, former METRO board chair Gilbert Garcia and attorney Lee Kaplan.
"The real question is, is there anybody else in this campaign – Gallegos, Garcia, for that matter even Kaplan – who can make a move?" said Bob Stein, a political science professor at Rice University. "The answer, I think, is no."
Kaplan's campaign, which has garnered significant support from fellow attorneys, reported raising more than $478,000 during the first six months of the year, leaving him with a balance of more than $1.3 million. He began his mayoral campaign last year and has lent his campaign $300,000.
Garcia, who runs a money management firm, has donated more than $3.1 million of his own money to his campaign, according to this week's campaign filing, accounting for most of the nearly $3.3 million he received in contributions. His campaign ended the six-month reporting period with nearly $2.9 million in cash on hand.
Gallegos, who represents District I and is the only Hispanic member of the city council, raised more than $60,000 during the first half of the year and had a remaining campaign balance of nearly $152,000.
The deadline for filing the biannual campaign finance reports was Monday, although the reports for Garcia and Jackson Lee were not available on the city secretary's website as of Tuesday afternoon, because of a problem related to the online profiles created by each campaign, according to administrative associate Troy Lemon of the city secretary's office. But he said each campaign filed their reports before the deadline, and those reports were provided to Houston Public Media by the campaigns.
The city's election cycle contribution limits are $5,000 per individual and $10,000 per political action committee, but Jackson Lee's report included donations from six different individuals that exceeded the limit – by a total amount of $18,800. The report also included a $25,000 contribution from the Border Health PAC and a $20,000 donation from C&W International Fabricators. There also was a $1,000 contribution on June 30 that was attributed to Mattelia B. Grays, who died last November.
A spokesperson for Jackson Lee's campaign said the donation attributed to Grays actually came from her daughter and was mistakenly reported. The spokesperson also said the above-limit contributions were flagged to the city secretary's office and would be amended.
Kaplan's report included one contribution that exceeded the limit for an individual, by a margin of $162.70. Jennie Johnson, his campaign manager, said the excess amount would be refunded to the donor.
Whitmire's campaign reported a $10,000 donation in June from the Houston Police Officers' Union PAC, after previously reporting a $5,000 donation last November from the PAC. Sue Davis, a spokesperson for Whitmire's campaign, said the $5,000 above the limit would be refunded.
Whitmire reported a total of more than $1.1 million in contributions in January, reflecting a fundraising period from late October through late December. That helped bolster the campaign war chest he has assembled as a state senator, although Stein said there are questions about whether Whitmire can use all of the money he transferred from his state senate campaign.
Still, Stein said he expects Whitmire and Jackson Lee to continue to be the mayoral race's frontrunners. Two other once-prominent candidates, former city council member Amanda Edwards and former interim Harris County Clerk Chris Hollins, both dropped out of the race after Jackson Lee announced her candidacy.
Stein also said the race might not necessarily come down to money, even though a lot of it is being poured into the campaign.
"Money may not be best measure of what's going on here," he said. "It's who can put the campaign on the ground."