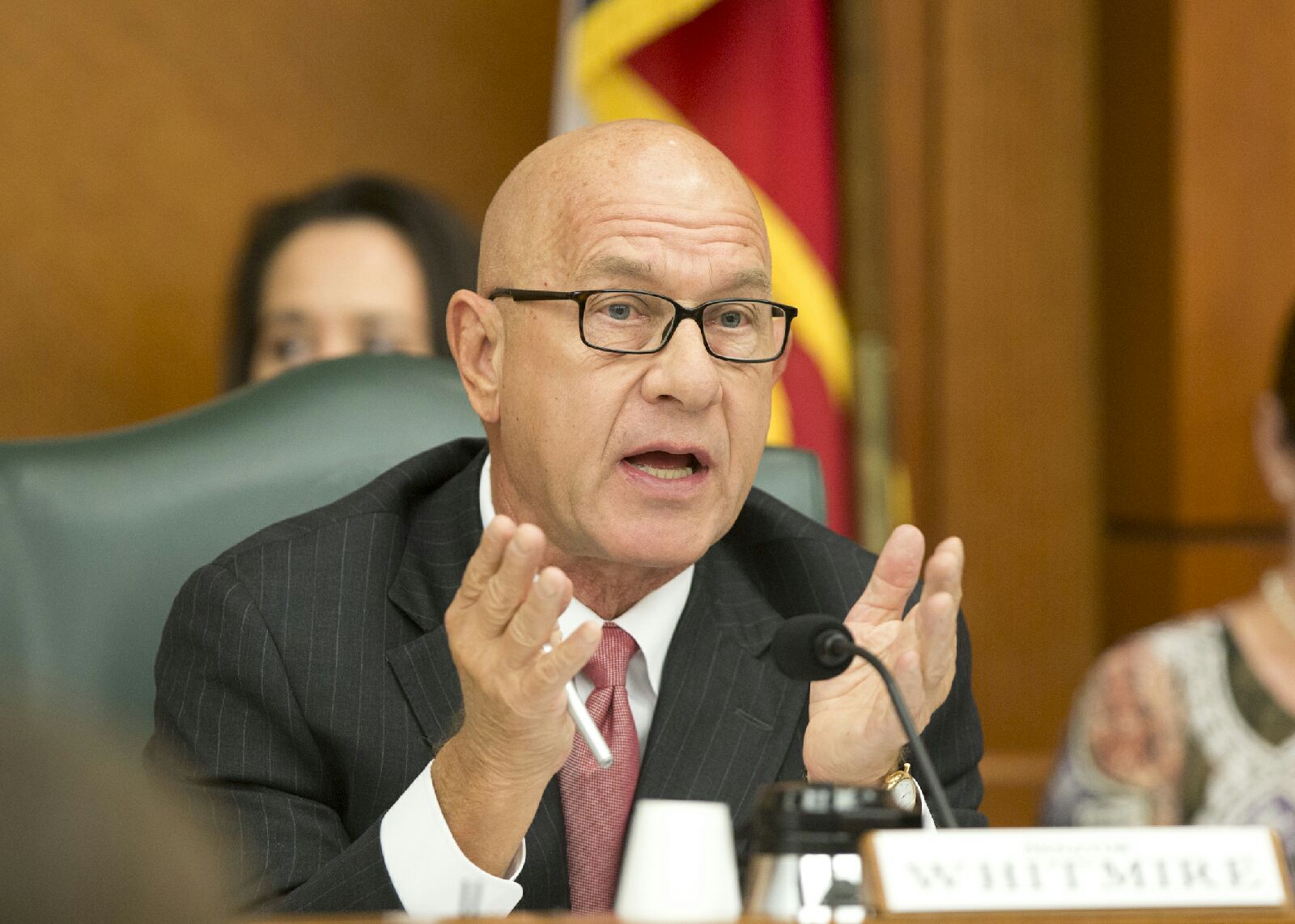 State Sen. John Whitmire has identified as a Democrat for decades and is not changing his stripes as he bids to become the next mayor of Houston.
He still seems to have been identified by some Republicans – and those have supported GOP candidates – as the city's best choice in 2023.
Whitmire, the longest-tenured member of the Texas Senate, formally launched his mayoral campaign Tuesday with a fundraising event at the Post Oak Hotel. The event was hosted by Houston billionaire Tilman Fertitta, who has made previous donations to both Democratic and Republican political candidates and is serving as the finance chair for Whitmire's campaign.
Other members of the fundraiser's host committee – a diverse collection of business owners, community members, political action committees and current and former elected officials – include Gallery Furniture owner Jim "Mattress Mack" McIngvale and Silver Eagle Beverages CEO John Nau. Both donated hundreds of thousands of dollars to the campaign of Republican Alexandra del Moral Mealer, who earlier this month lost a close race against incumbent Harris County Judge Lina Hidalgo.
"I don't take a back seat to any Democrat. I've been a very active force in the Democratic party for a long time," Whitmire said Wednesday in an interview with Houston Public Media. "I just want to fix things. If I receive Republican support, that's great. If I continue to get support from our diverse community, I shall. I'm putting together a pretty strong coalition of people that love the city, that are concerned."
The 73-year-old Whitmire, who expressed his intention to run for Houston mayor about a year ago, is one of a few candidates with local name recognition to have already entered the nonpartisan race, which will be decided with an election scheduled for Nov. 7, 2023. Also running to succeed Mayor Sylvester Turner, who is term-limited, are former Houston City Council member Amanda K. Edwards, former interim Harris County Clerk Chris Hollins and Houston attorney Lee Kaplan.
Edwards, Hollins and Kaplan each has raised close to $1 million or more – with Hollins leading the way at more than $1.1 million in campaign contributions – according to the most recently available campaign finance reports filed with the city. Whitmire has a war chest of more than $9.5 million from his state senate campaigns, a significant chunk of which he likely will be able to transfer to his mayoral campaign.
Rice University political science professor Bob Stein said he considers Whitmire and Hollins – who implemented drive-thru and 24-hour voting during the 2020 election, before both practices were outlawed by the Texas Legislature – to be the top two candidates at this point. And Stein said Whitmire is the early favorite, adding the bipartisan support displayed at Tuesday's fundraising event "says a lot."
"He has more than a competitive advantage," Stein said. "It isn't just money, which you saw quite a bit of it. Whitmire has name ID that is enormous and cuts across what we have just recently seen, a very polarized electorate."
Whitmire, first elected to the state senate in 1982 after serving for 10 years in the Texas House, is a longtime Houston resident who said he was encouraged to run for mayor by a broad range of community members and stakeholders, including the local unions for police officers and firefighters. He serves as the chair of the Texas Legislature's criminal justice committee and said his vision as Houston mayor includes improving public safety, implementing a societal re-entry program for released prisoners and utilizing voluntary inmate labor to help pick up trash and debris that's dumped illegally.
Combatting homelessness, creating safer transportation conditions and improving the city's permitting processes and services such as garbage pickup and running water – the city spent more than 24 hours under a boil water notice this week after a power outage at a water purification plant – also are among the priorities for Whitmire.
"We just don't have to live under those type conditions," Whitmire said. "Houston is a great city. We love Houston. I think its greatest days are in front of it. If we don't fix today's problems, we'll never be as good as our potential."
Whitmire was criticized for not being progressive enough during his Democratic primary earlier this year against Molly Cook, an emergency room nurse and activist who challenged him for his senate seat. And Hollins took to Twitter to call out Whitmire for not endorsing Hidalgo in her re-election bid.
But at a time when Democratic leaders in Houston and Harris County often are at odds with Republican elected officials at the state level, Whitmire said his experience in Austin would help improve those relationships and make statewide leaders more receptive to Houston's needs.
"John is one of those legislators who's proven to be capable of working across the aisle," Stein said. "If you really believe in bipartisanship, or hope for it, John's the best example."
Still, Whitmire said he's prepared for a hard-fought campaign for mayor, adding of his opponents, "I'm certain they'll come after me, because they believe I'm a threat to people who like the status quo."
On Wednesday, a day after Whitmire's campaign launch, Hollins released his first campaign advertisement and also unveiled a new campaign website, which lists his top priorities as improving public safety, promoting economic growth and modernizing transportation and infrastructure.
"We'll have a very healthy campaign," Whitmire said, "and ultimately the public will decide."