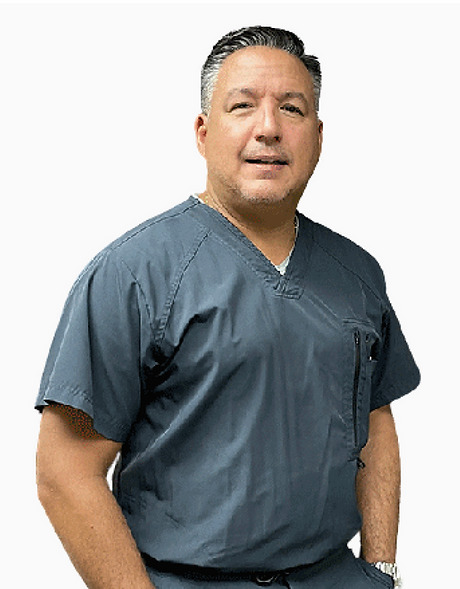 A Houston-area man who allegedly offered to perform a breast augmentation operation on a police informant was subsequently arrested and charged with a felony because he is not licensed to practice medicine in Texas.
Alexander Padilla, 53, was arrested Wednesday night at Houston Aesthetic Center, a cosmetic surgery clinic in the Memorial area, according to Harris County court records. A spokesperson for the Houston Police Department said it conducted a sting operation at the clinic, located at 11999 Katy Fwy. Suite 490, after receiving a complaint from the Texas Medical Board.
Court documents show that Padilla allegedly quoted the informant a price of $7,500 to perform the surgery and asked for a $1,000 deposit.
"(Padilla) has (informant) remove her top and bra, declares her a good candidate for surgery, tells her he will do surgery himself, claims he did the surgery for his assistant," a Harris County magistrate judge wrote while setting Padilla's bail amount at $10,000.
Padilla, who is charged with the felony crime of practicing medicine without a license, was released from jail on bond Thursday, according to court records, which show as part of his bond conditions he is not allowed to "hold himself out as a licensed physician or other medical practitioner either personally or through any media advertisement."
A woman who answered the phone Friday at Houston Aesthetic Center declined to comment and deferred to Padilla's defense attorney, Paul Lawrence, who also declined to comment when reached by phone Friday.
Padilla's photo and biography still appeared on the Houston Aesthetic Center website as of early Friday afternoon, citing him as an "LSA" for licensed surgical assistant as well as a "CSA" for certified surgical assistant. His bio on the website says Padilla has been "assisting in the practice of general surgery and cosmetic surgery for more than 25 years" and "completed his LSA and CSA studies and certification in the United States of America."
A spokesperson for the Texas Medical Board said Friday it has never issued a license to Padilla, who lives in the Houston suburb of Cypress and is originally from Venezuela, according to court documents. Padilla listed a monthly income of $11,000 on a financial affidavit filed in court.
Sheila Hansel, who is prosecuting the case for the Harris County District Attorney's Office, said Friday that authorities are still investigating and collecting evidence. She encouraged anyone who has been evaluated or treated by Padilla to contact HPD as well as the Texas Medical Board.
"It's my understanding that a number of women have made complaints to the Texas Medical Board about this clinic and about Mr. Padilla in particular," Hansel said.
Jarrett Schneider, the spokesperson for the Texas Medical Board, said it "cannot confirm" any complaints it may have received about Padilla "as they are statutorily confidential."
"The board would encourage the public when considering a particular physician to use our website in concert with other sources like their insurance plans to verify credentials," Schneider said. "We have a very prominent search feature on the homepage under 'Look Up a License,' which allows people to look up and verify a physician's background including their education and specialty training, especially if they are considering a specific surgical procedure, (along with) how long they've been practicing, and if they've ever been disciplined."
Padilla's next court appearance is scheduled for Dec. 22, court records show.