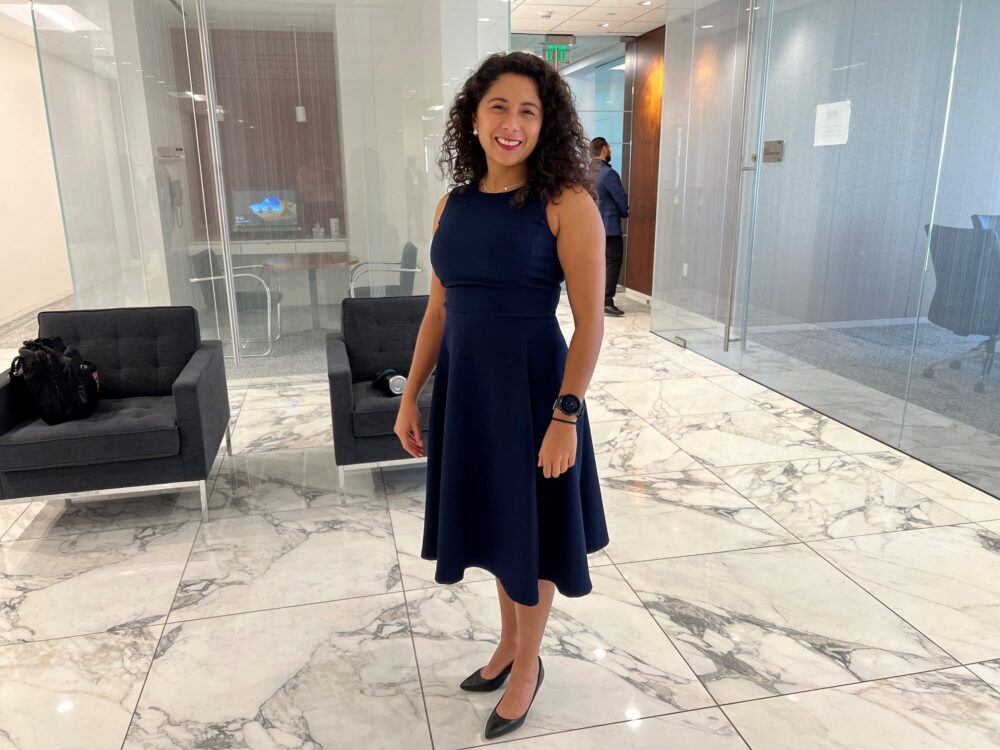 Harris County Judge Lina Hidalgo returned to her position earlier this month after taking a leave of absence to seek treatment for her depression.
Government reporter Andrew Schneider sat down with Hidalgo to talk about her journey with mental health.
How long have you been dealing with depression and when did you first realize that it was a problem for you?
So in retrospect, I've been dealing with it for about eight years, since I was in law school, that I remember. And I mean, it's been a problem. Now that I think back, it made there be a cloud over my life for the past several years.
I saw a psychiatrist though, who told me it was anxiety. So that made me doubt myself. Then finally, this July, I was properly diagnosed with depression.
This is a condition that affects everybody differently, how typically, does it manifest itself for you?
Thinking back on it, it does seem pretty consistent in terms of having a feeling of inadequacy and emptiness whenever there's these quiet times. When it got worse was the past year in particular, the past six months, you know, the first half of this year, when anything would just make me feel like I had to cry.
Before then I was like, okay, I think I can handle this, eventually, I'll figure it out, you know, and I was in kind of an uneasy stasis. Then in July, I felt, you know, I'm gonna, I'm gonna jump off the balcony if I don't find a way out of this. And so I was almost begging my therapist for a solution.
I went to see my PCP who's really fabulous, and told him how I was feeling. He said, "You know, you need to see this other psychiatrist who's a colleague of mine."
That other psychiatrist called me from his vacation, I remember and as soon as he talked to me, he said, "You need to be hospitalized somewhere." Within a day, he had found me a spot in this inpatient comprehensive mental health facility in Ohio called the Lindner Center.
Your inpatient therapy was quite expensive, and had to be paid out of pocket. But that's not an option for most people. Is that something that troubles you?
Absolutely, absolutely.
I was there for seven weeks. It cost $88,000. I could never have afforded $88,000 I mean, I don't even have that in savings by any means.
I've just now started paying back my student loans again. $1,300 a month now. So you know, very far away from being able to afford $88,000. But my long-term boyfriend was able to pay for it out of his savings. And we're still fighting the insurance companies to try to get the money back.
These facilities do take Medicaid, but there's a limit. So you can only be there for 11 days. Well, 11 days was just the length of my diagnostic period.
So what else is there? Well, there are our county mental health authorities all around the nation. Here it's the Harris Center.
There isn't much of a waiting list right now at the Harris Center. But if everybody wanted to access the services at the same time, everybody who needed them, we wouldn't be able to accommodate everyone. So that's really a bigger issue with the state of our healthcare system in the United States. Everybody knows it's quite broken, and it goes to mental health as well. And so no state has the adequate resources, in terms of mental health.
Texas, just so happens to come in 48th in terms of per capita mental health spending. So we're down there, but in general, my hope is that by helping remove the stigma around mental illness, we can all talk about it more. We can recognize just how pervasive it is in our community.
While you were still in the midst of your treatment, your former opponent in the 2022 election, Alexandra del Moral Mealer, called on you to either return for the budget vote or to resign. What was that like for you?
It was unfortunate, but I'm not going to say that it had much of an impact, because by then I very clearly understood just how lucky I was to be undergoing the treatment that I was undergoing.
Now that I'm out, and I've had time to really reflect on it, my concern is what example or what demands she is putting on her followers, who surely have the same rate of mental illness as the rest of us. There's Health and Human Services data that shows that 50% of Americans will be diagnosed with a mental illness at some point in their lives.
I'd venture to say, whatever mental illness data there is is probably an undercount because so many of us don't even know what we have. And so if you have 50 percent of the people listening to that message that actually like what she says, they are hearing, if you have mental illness, you have to quit your job. Well, that is going to make you so much more ashamed of not only seeking treatment, but admitting it to yourself and admitting it to your family.
Was there ever a point when you'd consider resigning because of this?
I considered resigning because I didn't know what else to do to feel better. This was before I was diagnosed.
I thought, well, if I can take some extended time off, maybe I'll feel better. But what I was hearing from the people around me is that there's no such thing. I mean, you can't just go on sabbatical as county judge. Either way, that wouldn't have worked, right? I needed treatment.
I knew I loved my job and I'm just glad that things lined up in such a way that I realized this is something that I can treat. I feel better now. I'm so happy. We just had our first commissioners court meetings since I've been back and I just had a ball. I picked this career for a reason. It's what fills me. But nothing will fill you if you're feeling depressed.