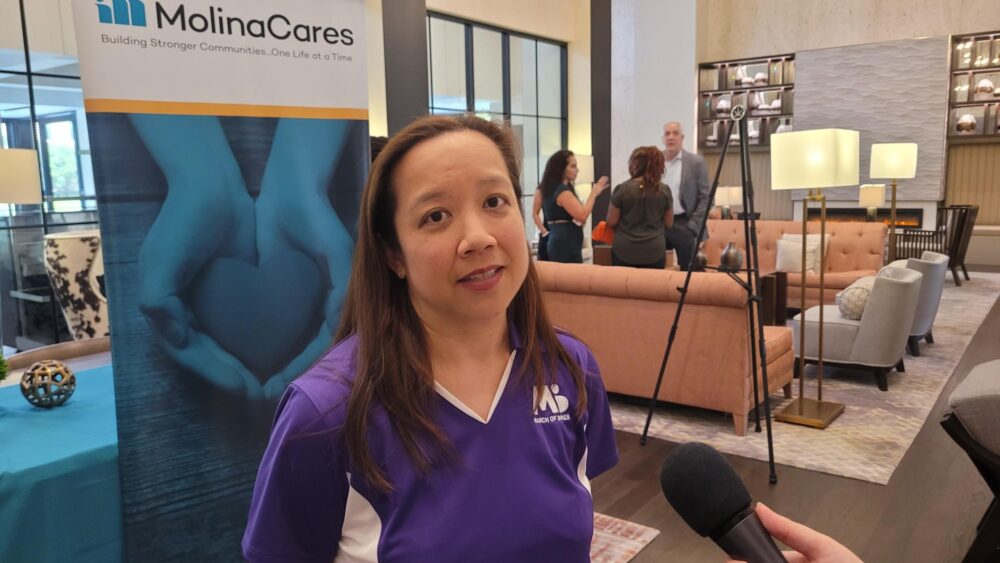 Underserved mothers in Houston and its surrounding areas could soon receive more access to physical and emotional support during and shortly after pregnancy.
The MolinaCares Accord, in collaboration with Molina Healthcare of Texas, has donated $50,000 to the March of Dimes to benefit its doula training program.
"Through this important partnership with March of Dimes, we hope to make a significant impact in combatting the issues facing vulnerable moms-to-be," Chris Coffey, plan president of Molina Healthcare of Texas, said in a statement. "This doula training program will help make specialized care available to women who might not otherwise have access to such services."
A doula can provide a mother with physical and emotional support to help deal with the process of childbirth. Alicia Lee is the director of the March of Dimes Collective Impact site in Houston and Harris County. She said a doula often assists mothers with light errands while the baby is a newborn, like changing diapers or cooking.
"So this is one way that we can provide that additional layer of support and education as well as improve our outcomes for pre-term birth, maternal mortality and morbidity here in Houston," she said.
Lee said funds from the program will train four women to become doulas and then provide doula services to 12 pregnant women.
Sanyika Williams is part of the March of Dimes doula training program and decided to become a doula after having a pleasant birthing experience when she had her baby.
"I just knew that not everybody was having that type of experience," she said. "And so I wanted to be that middle ground for the people that needed or wanted to have babies in the hospital to kind of give them a little bit of personalized service, someone that's going to be by their side throughout the whole labor and delivery experience and pregnancy."
According to the March of Dimes, maternal mortality rates have doubled since 1999, particularly in women of color.
Dr. Lindsey Vasquez is the director of Maternal and Women's Health for Molina Healthcare of Texas. She said having a doula can lead to less anxiety and depression for pregnant people.
"It has been shown by research that doulas, when they are involved with maternal care and supporting women along that journey, that reduces their (cesarean section) risk," she said. "It also reduces the rate of pre-term delivery and it does improve birth outcomes."
Vasquez also said 90% of maternal deaths in Texas are preventable. However, she also mentioned Houston has already started a process to improve some of its public health access for maternal health.
"It is really going to take a united effort from all of us to be creative, to be innovative, and trying to meet these patients where they're at," she said.