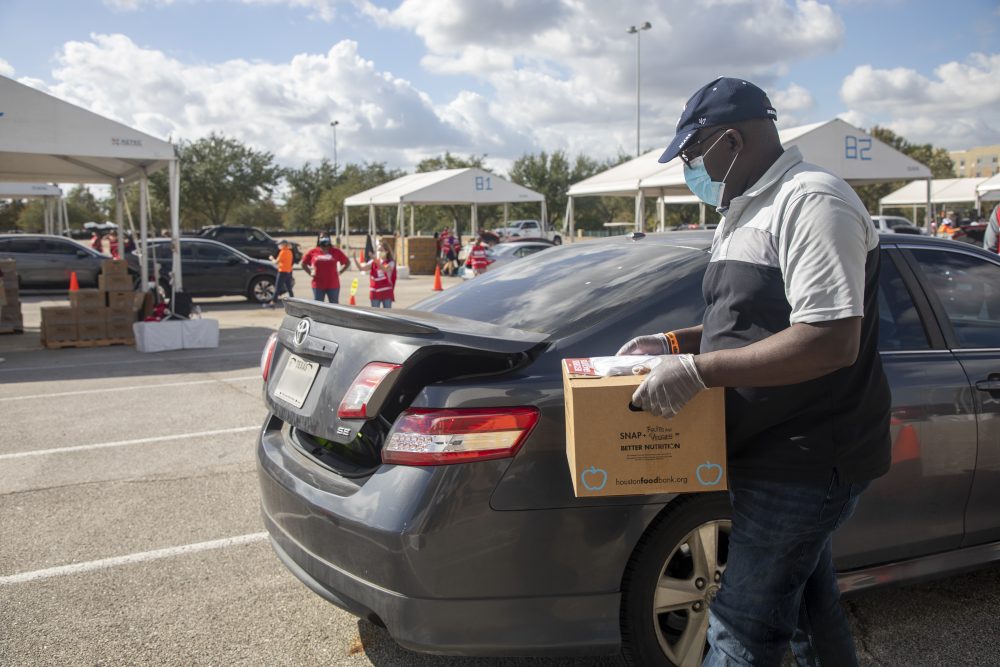 The Houston Food Bank has distributed a record 272 million pounds of food since the pandemic first hit Houston in March 2020 — an 86% jump from the 12 month period leading up to COVID-19.
A spokesperson for the Houston Food Bank said demand is more than they've ever seen before, even exceeding the year following Hurricane Harvey.
In May, June and August of 2020, the food bank almost tripled the amount of distribution it had during the same months in 2019.
"For food banks, the pandemic brought new challenges and has tested us in ways we've never been tested before," read a statement from Houston Food Bank CEO Brian Greene. "We had to find ways to distribute more food with increased restrictions, how to do more with less volunteers, and how to do it all while adhering to strict health and safety protocols."
That need was amplified for some immigrant families, who may not have received stimulus checks due to immigration status, said Cathy Moore, head of the the nonprofit ECHOS, which operates a food pantry that serves immigrant families using food from the Houston Food Bank.
Even though ECHOS had to significantly scale back services because of a lack of volunteers, Moore said her food pantry is giving out more food than before the pandemic.
"The need has always been great for food, it will always be great for food for our community," Moore said. "But when the pandemic hit last year, the need became greater because so many people were out of jobs."
During the pandemic, Houston Food Bank expanded its operations, ramping up distribution through its network of community food pantries, neighborhood super sites and through home deliveries in areas including Acres Homes, Sunnyside and Katy.
Even with ramped up food distribution, volunteer Amatullah Contractor said there are still communities left behind, including those who live in food deserts. After the Texas freeze, Contractor joined other volunteers in coordinating water and food delivery in Fifth Ward where some people went weeks without running water.
"We would like to collaborate with the county on doing some sort of mobile grocery store initiative," Contractor said. "One of the biggest things we've noticed throughout our efforts in Fifth Ward — there are liquor stores on every corner, but where do you access fresh food and groceries?"
Contractor, along with volunteers Marcel McLinton and Jacqueline Westman, have together distributed more than 75 pallets of water and helped around 5,000 residents in the wake of the Texas freeze.
"We want to make sure that these people are able to sustain themselves," Contractor said. "Especially because, if they are being largely ignored, then there has to be some investment on our part to make sure they don't die because government isn't paying attention."