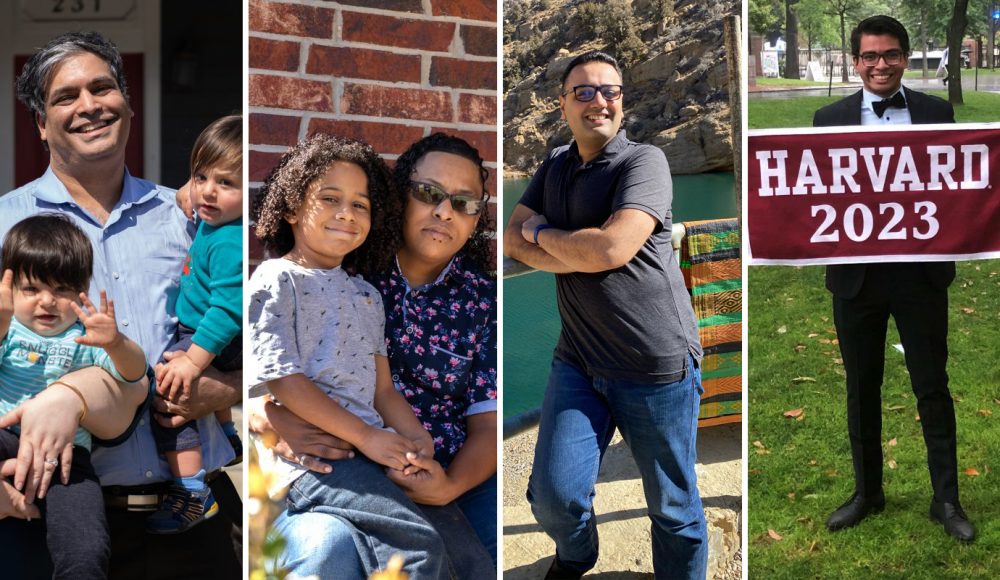 This week marks a year since the COVID-19 pandemic hit Greater Houston, sending the region into lockdown and turning millions of people's lives upside down.
The pandemic's hardships haven't been felt evenly, with some frontline workers and vulnerable communities feeling the effects of COVID-19's economic and health crises more deeply than others.
With the anniversary of the coronavirus' arrival in the region, Houston Public Media checked in with Houstonians who have spoken with us during the pandemic to see how they're doing now.
An oil and gas engineer trying to ride the wave of layoffs. A renter facing eviction. A single mom trying to keep things together for her son. And a first generation college student finding new motivation.
Here are their stories, in their own words, as told to Houston Public Media reporters. Interviews have been edited for length and clarity.
Sid Banerjee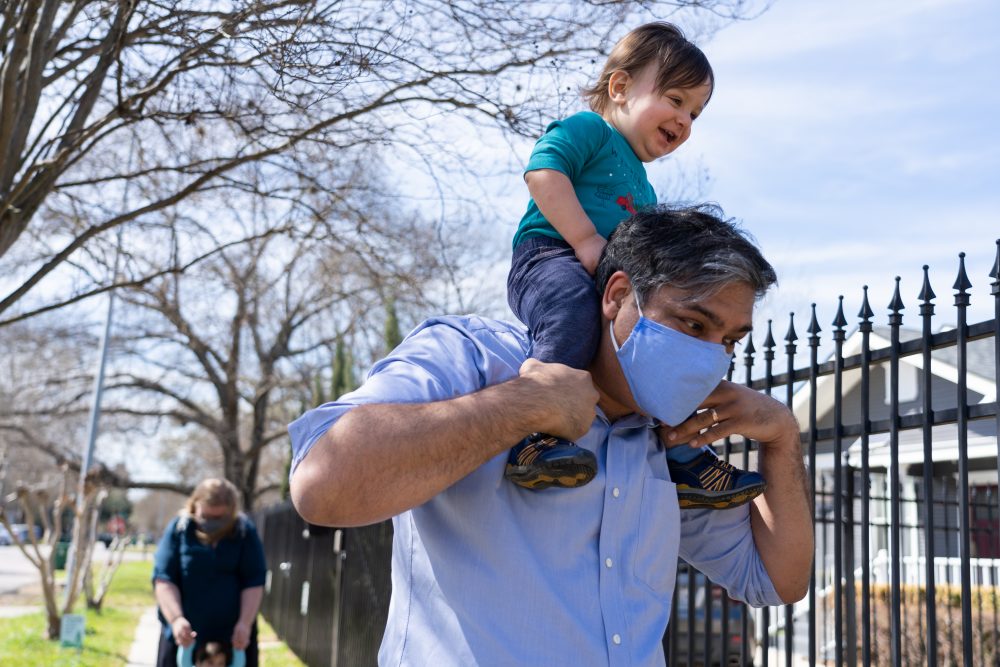 When the pandemic hit, Sid Banerjee and his wife had just welcomed their first children — twin boys. Although Banerjee was pretty sure his job as a petroleum engineer at an oilfield services company was safe, he was still worried about what the pandemic would mean for his family as well as the oil and gas industry. At the six month mark, Banerjee was still employed, but the industry had shed thousands of jobs in Houston. Some of them were at his company, and in his managerial position he had been part of those staffing cut decisions.
This has been my first real managerial role — this is the first time I've ever had to let anyone go. I've managed to keep in touch with some of those employees, and I've gotten reassurance: they've changed industries, they've gone back to school. I have written letters of recommendation to help out where I could. But I'm happy to see that for the most part, everyone has kind of rolled with the punches and landed on their feet. For me personally, I've gotten some relief from my guilt.
The fact that people aren't driving to work, they aren't taking flights, they aren't going to concerts — a lot of the issues with oil prices really relate to demand. I feel like there is some hope now that we have this vaccine. One of the things that we've been talking about at work is trying to bring head count back on. We are looking to the future, kind of expecting things to now come back in terms of activity.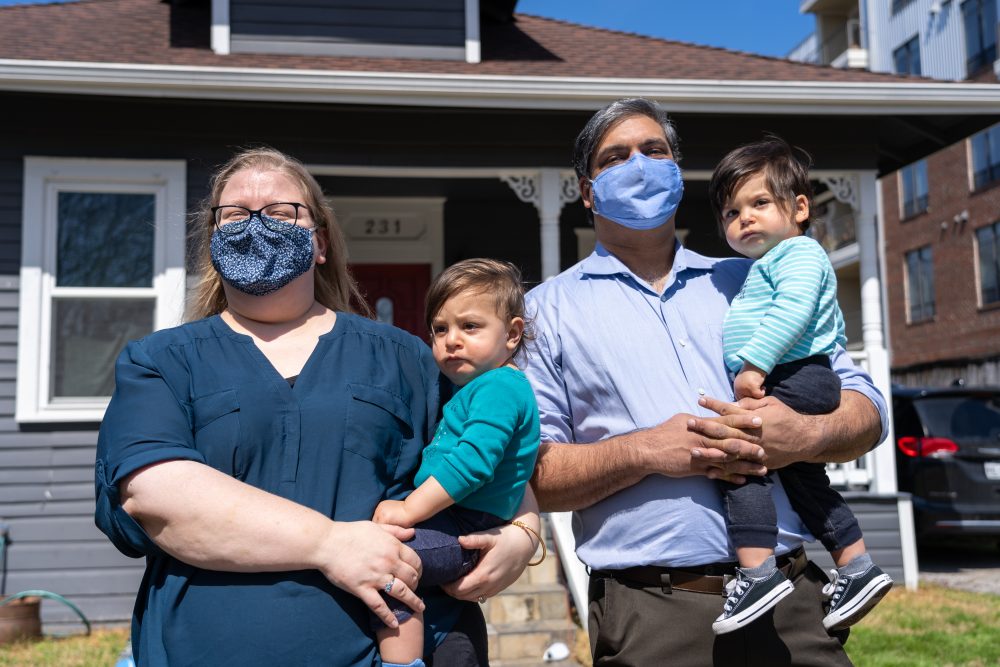 This past year has been absolutely nutty for my family. My wife and I had our first children in December of 2019. And so things were already kind of getting upended. What we considered normal was already changing. We basically went straight from newborn twins from the hospital into quarantine. And everything was sort of flipped on its head, and "weird" became just what we knew day in and day out. In some ways that was good: I got to spend a lot more time with my children than I ever would have with paternity leave.
But in a lot of ways, it was just draining. The big thing with COVID was that you had no idea really when it was going to end. You had no idea how long you had to drag out putting a good face on things. And so why it's better now is: you finally feel like you can see that end point.
Kamran Malik
Over the summer, Kamran Malik got a notice from his landlord that he and his parents, who live with him, were being evicted from their home in Houston. He had lost his job at an accounting firm in a round of pandemic-related layoffs and it took weeks for his unemployment checks to begin. In August, he moved to Dallas to be near family, and he started a new job.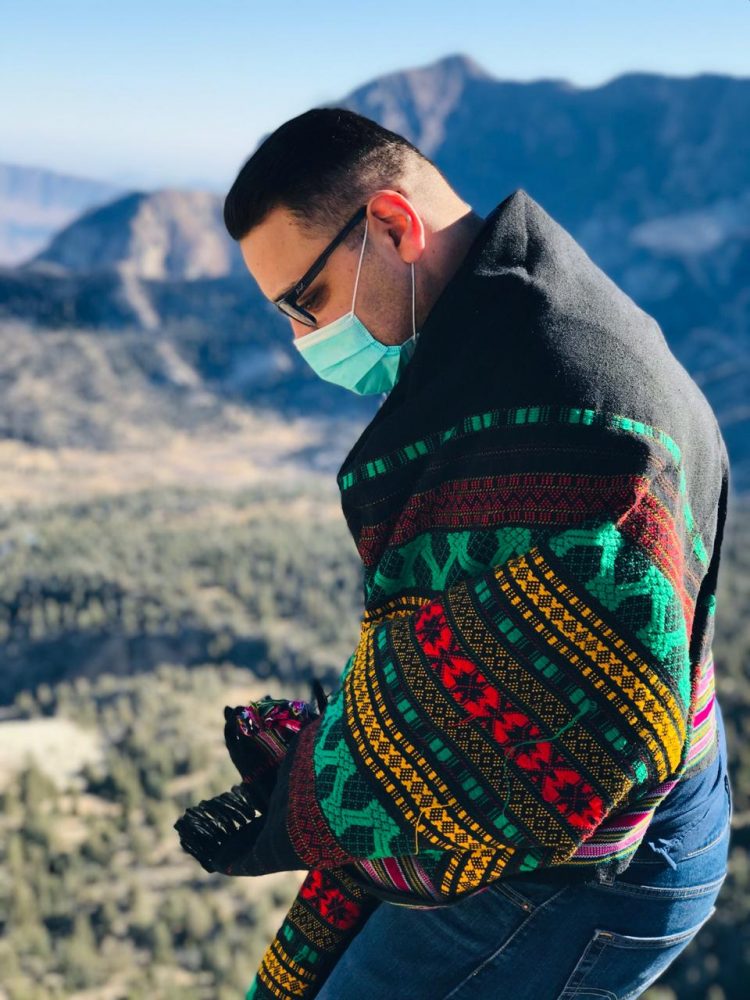 I moved back to Dallas on Aug. 15 — my birthday. It was very stressful. But me and my landlord came up with this idea that I will move back to Dallas, and she'll drop the charges if I pay her the filing fees and whatever money she has spent on the court filings. So I had to pay her $200.
I did a lot of interviews and I was able to get a full-time contract position. It was a small local CPA firm in Fort Worth, helping them with tax season. I was hoping that position would become full time, because that's what we talked about, but I learned very quickly on the job that they don't have enough work to keep me busy throughout the year. I went back on unemployment.
I went back home to visit Pakistan and I was there for about two months. I had a cousin who was getting married. I explored some parts of Pakistan that I never did when I was growing up and living there. While I was in Pakistan, my new employer made me an offer. After some negotiation, I was able to get the money that I was making at a previous job. So I didn't get a raise but I'm making exactly what I was making before the pandemic.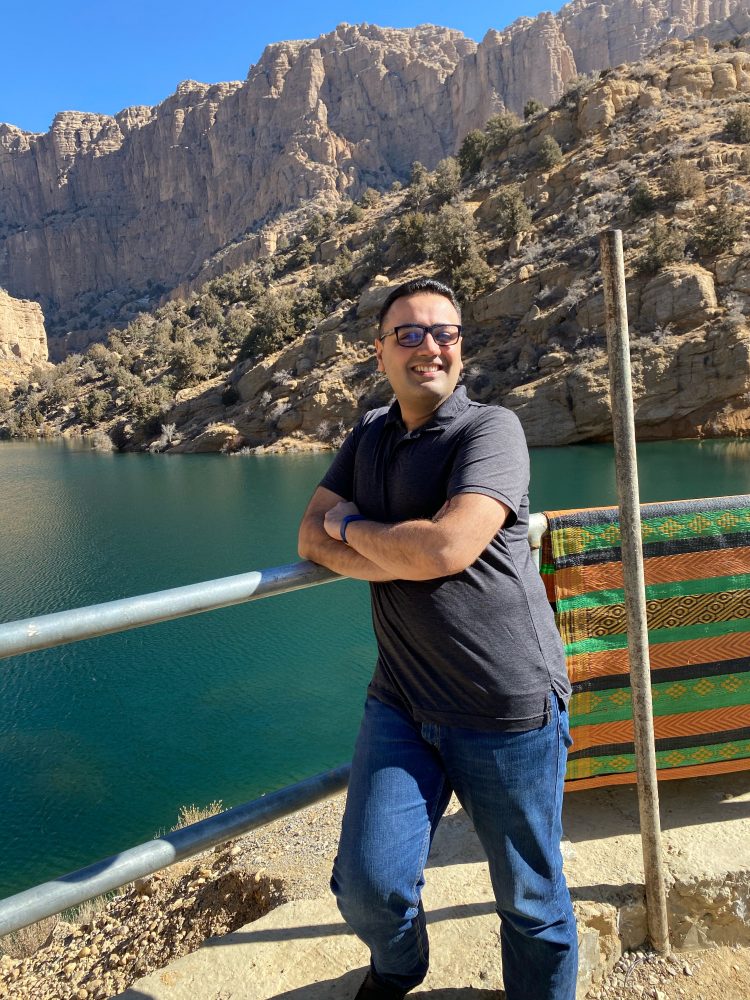 Most of the airlines require you to have a negative COVID test, and when I went to go get it, I was positive. And then my whole family got tested and pretty much everybody was positive except the kids. But me, my mom and my dad were asymptomatic and my brother had mild symptoms.
I went through a very difficult time, because I'd never dealt with a situation like that in the 16 years I've been in the U.S. I was never, ever late on my rent. The landlord was not being very understanding. In the past, when you tell people you are going through something, people usually understand. And she wasn't being very understanding. She wasn't showing any empathy, given that we are in a global pandemic and I had lost my job.
I really believe that I gave her so much power over me to make me feel the way she made me feel. If I'm ever in a situation like that again, I wouldn't take it too personally where I would get sick. I wouldn't give her so much power over me. I think looking back, I learned that lesson — never, ever make a situation bigger than it has to be.
Hear Kamran's story below:
Sunshine Smith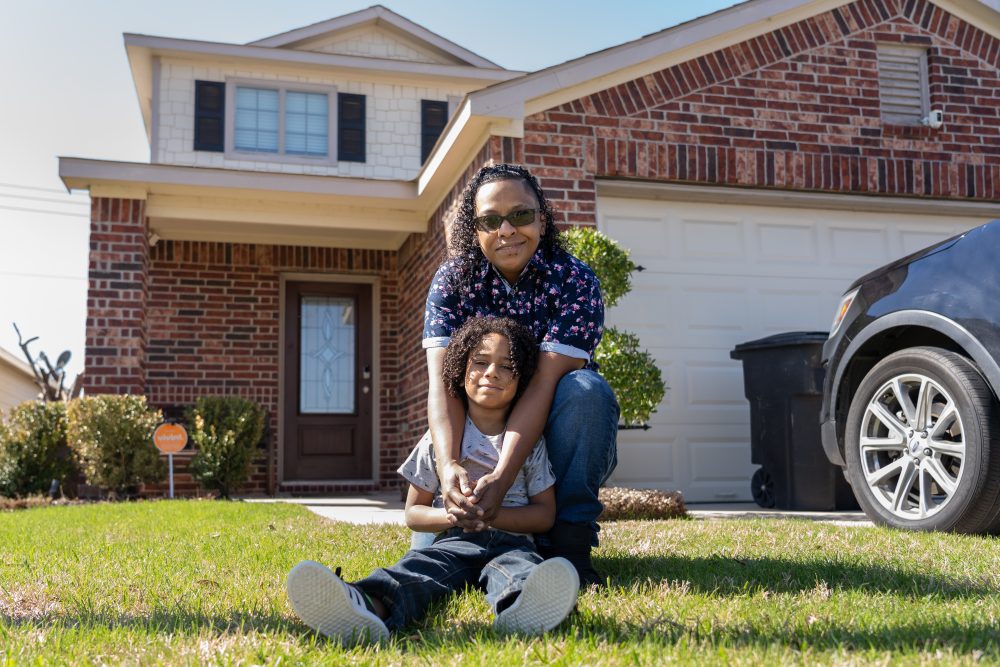 At the beginning of the pandemic, single mother Sunshine Smith, or "Sunny," struggled to find work and pay rent to support her son Doce. Now, she says things have only gotten worse during the pandemic, as she's suffered a debilitating back injury at work, got a hysterectomy, and had to leave her apartment in Third Ward.
A lot of my friends have called me "Moonshine" because I'm not so "Sunshiney" anymore. That's because I've just been surviving. From no COVID, to working around COVID and coming home and the surgery, contracting COVID and having to go without work — right now has been very hard. I feel like giving up. I'm trying so hard. It got real rocky there and I'm not out yet. This COVID thing was real. It's hard being sick and trying to take care of your little boy.
I'm still struggling with my back. I'm having difficulty in certain areas because of the surgery. I'm not able to sit down right. I feel like I worked so hard to be in a man's world and nobody's helping me with my back. What am I going to do now?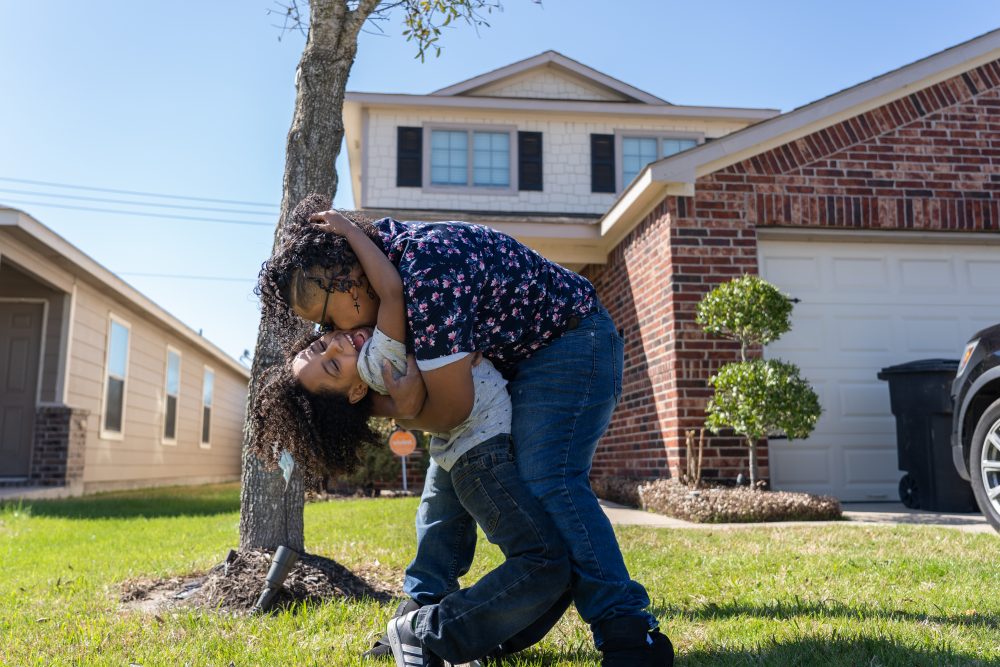 I'm about to graduate. It's messed up. I was ready to start working towards my career. It's a four-year journeyman license — I'm about to become a sheet metal mechanic. I've been trying to keep my head above, and the only thing that helps is my son coming and hugging me and loving me and saying "mama, it's going to be alright."
I think that my son has really been my backbone. His laugh alone, it's so addicting that I keep making him laugh. I think that every day he and I spend time with each other, we get closer. I hate that I have to tell him one day that he doesn't have a father, and someone took advantage of me. I didn't ever want to bring him into this cruel world. I went through so much that I felt like nobody ever deserved to come to this place.
He checks up on me a lot. He's really letting me know that I'm on his mind. He'll come and give me a hug. I'll get 20-30 hugs a day. I think he feels the energy that I just want to give up.
Hear Sunny's story below:
Juan Venancio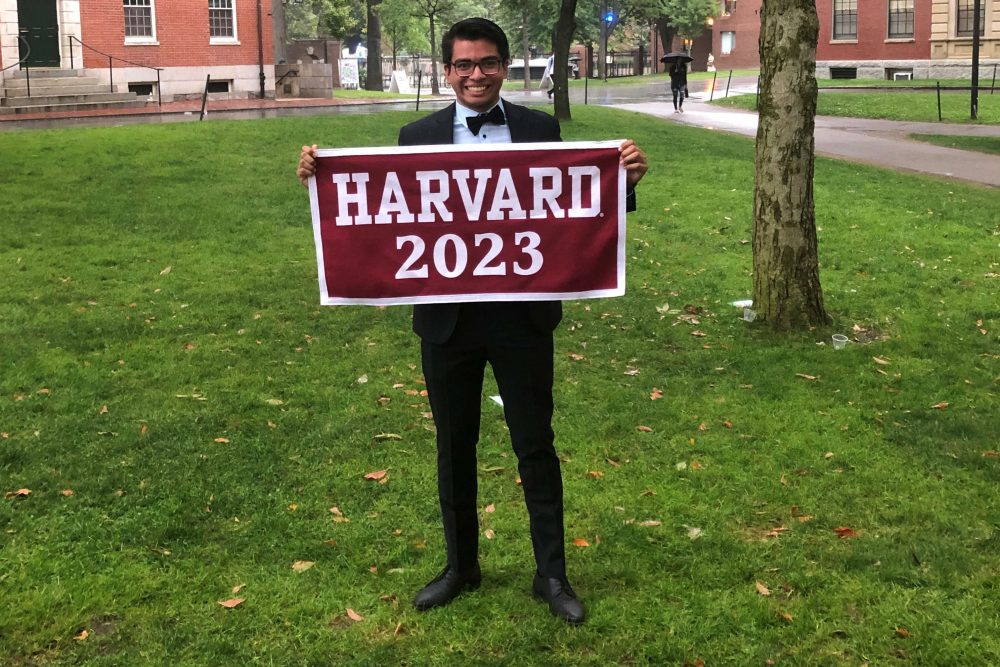 When the coronavirus shuttered colleges and universities across the country, Juan Venancio, 19, had to quickly leave his dorm at Harvard University and move back into his parents' one-bedroom apartment in Gulfton. His biggest worry at first was how his family would survive financially, as the pandemic has put extra pressure on first generation college students. His parents kept their jobs in landscaping and cleaning services, and Juan got support from Harvard. But he's faced other challenges with his family's health and remote learning.
Around mid-summer, both my father and I got COVID. He's a landscaper. So we just predicted that maybe his being out and about, you know, still trying to survive financially, socially, economically, he contracted it.
I myself actually was asymptomatic the whole time. I was more afraid for my dad. He's a 67-year-old Type 2 diabetic. Given that he's elderly, and he already has a medical condition that could be potentially hazardous, I was just more intimidated by the fact that my dad had to struggle more to combat it. But ultimately, he was able to beat it.
We live in a one-bedroom apartment, and sharing that with three people, I would Zoom from the living room. And naturally, next to the living room is the kitchen. So then having to balance trying to ask a question to a professor or trying to debate in a section, while people were cooking in the background or simply watching TV, was definitely challenging.
I felt that the best decision for me was to return back to campus where they were offering certain demographics of students to go back. That way they can Zoom from their own room and basically have their own personal space to do all the necessary things to succeed academically and professionally. So that's why I'm here.
Spending time at home really helped me remind myself of where I come from — my roots and my purpose here at Harvard — because I was able to return to not such a well-funded neighborhood. And attending one of the most prestigious universities, I definitely did see some people were Zooming from mansions. And I was Zooming from my living room with my family. That was definitely a very humbling experience for me.
And it reminded me of why I'm doing this in the first place, and why I worked so hard in high school, and why am I still pushing myself, despite a pandemic. Even if I'm not able to talk with professors the same way, I'm still trying to take advantage of my opportunities as much as possible to ultimately put myself in a position to help my family out and to give back to my community.