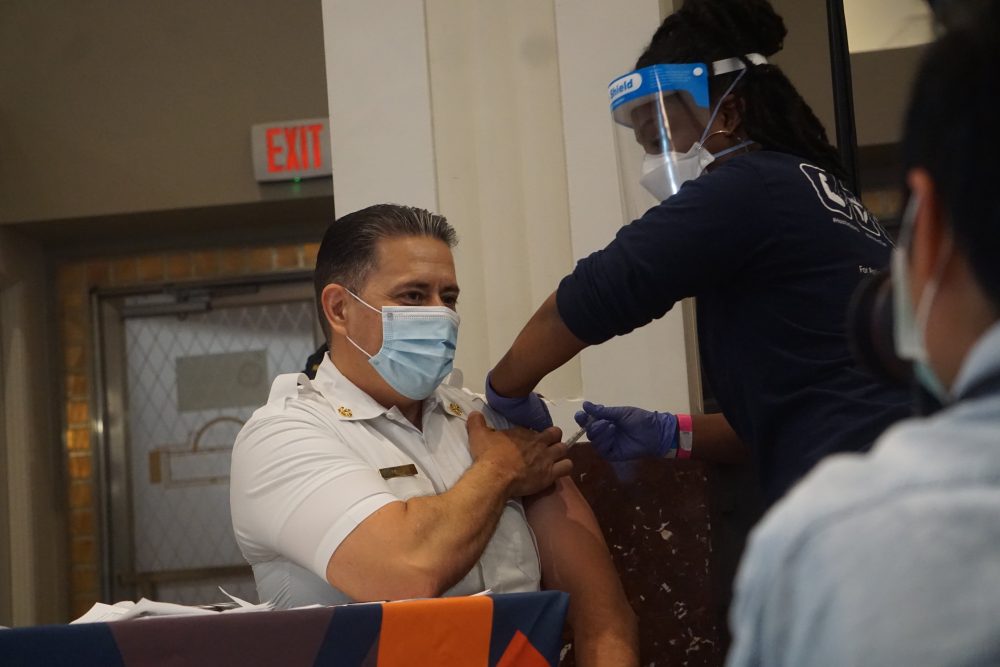 As the COVID-19 vaccine rollout moves slowly along, and millions of people in Greater Houston remain desperate to get themselves or loved ones protected, local public health officials and hospitals are figuring out ways to prioritize patients amid a bottlenecked supply.
Health care workers, people older than 65 and those with underlying chronic health conditions are eligible to receive a COVID-19 vaccine under Texas' phased plan. That makes up about 1.6 million people in Harris County, according to Harris County Public Health estimates.
But less than 600,000 vaccines have been allocated within Harris County so far, according to state health data, and not all of those have been administered.
https://twitter.com/KevinRomeis/status/1353098035224567808
At its vaccine clinics, the city of Houston has been using a first-come, first-served approach that prioritizes people who are quick to sign up, while the county has created a waitlist online in the hopes it will be more equitable.
By Monday afternoon, the county reported it had vaccinated nearly 5,000 people from its waitlist, which went live Jan. 26. More than 213,000 have added themselves to the waitlist so far, according to a county spokesperson.
Registration is open to everyone, but only people who meet the criteria under Phase 1A and 1B will be scheduled for a vaccine at this time, following state and national guidelines, according to Harris County Judge Lina Hidalgo.
The system then pulls names randomly from that prioritized list, giving priority to health care workers and older residents over younger residents.
It's a departure from the first-come, first-served method of vaccine sign-ups which Hidalgo said isn't fair to certain groups.
"You are inadvertently giving a special advantage to people who have the time and have the knowledge and the technology to register right when a link becomes available," Hidalgo said.
Hidalgo estimated some 9 million shots will need to be administered before the county reaches herd immunity, which she said would happen in late spring or early summer at the earliest.
I imagine the first-come, first-serve nature of the distribution mechanism contributes to this type of traffic. Hope we can design around this to create a more equitable, sane system in the future. https://t.co/D7eolgiaqd

— MonicaFloresRichart (@MonicaRichart) January 29, 2021
Allison Winnike, president of The Immunization Partnership — a Texas-based nonprofit that has been analyzing the vaccine rollout — said the waitlist is a great tool.
"We've seen frankly a lot of heartbreak when places that don't have a waitlist open up their registration and then it's closed down within minutes or an hour," Winnike said.
She added that the system could even go a step further, by grouping people with multiple pre-existing conditions, so they would be a priority over people with just one.
Meanwhile, the city has resisted going to a waitlist.
In last week's Houston City Council meeting, Council member Sallie Alcorn recommended the city put together a similar system.
"There's a lot of confusion out in the community," Alcorn told Mayor Turner. "This is another area which, mayor, I think would be very well-served by coordination with the county. There could be a city-county coordination of a waitlist."
But the mayor pushed back on that idea, telling Alcorn Houston would not be implementing a waitlist.
"What people are wanting, they're wanting the vaccine right now," said Turner, "You can put people on a waitlist but they'll be calling you in a week or two saying, 'I have not heard anything'."
As of Monday morning, Houston had received 41,950 first doses of the vaccine, and administered 33,839 — about 80%. Houston also received 18,600 second doses, with just about 2,300 of those administered, Turner said Monday. But another 12,000 or so appointments have been made.
Since the vaccine rollout began, city appointments have routinely filled up within minutes of being opened up online.
But this week, the city said it would prioritize some of its 9,000 new doses for the elderly and patients who are on waiting lists at Federally Qualified Health Centers, which often serve the uninsured. Some vaccines will also be used on people who have previously signed up for appointments.
The city has also begun setting up setting up community clinics to reach medically underserved communities and those most impacted by the virus. The first such site opened in Alief this past weekend, and Turner said he hopes to have another open in northeast Houston this coming weekend.
This is just the beginning of the vaccination process, and Winnike, the immunization expert, said there's a long road ahead.
On a national level, public health officials have criticized the vaccine rollout, especially as new variants of COVID-19 spread.
But while there is frustration locally, Winnike said that overall the Houston region is handling the rollout relatively well, launching locations that can accommodate vaccinating large numbers of people.
"When you compare this region with other regions around the state, I would give them a higher grade on the report card so far," Winnike said.
Additional reporting by Paul DeBenedetto.