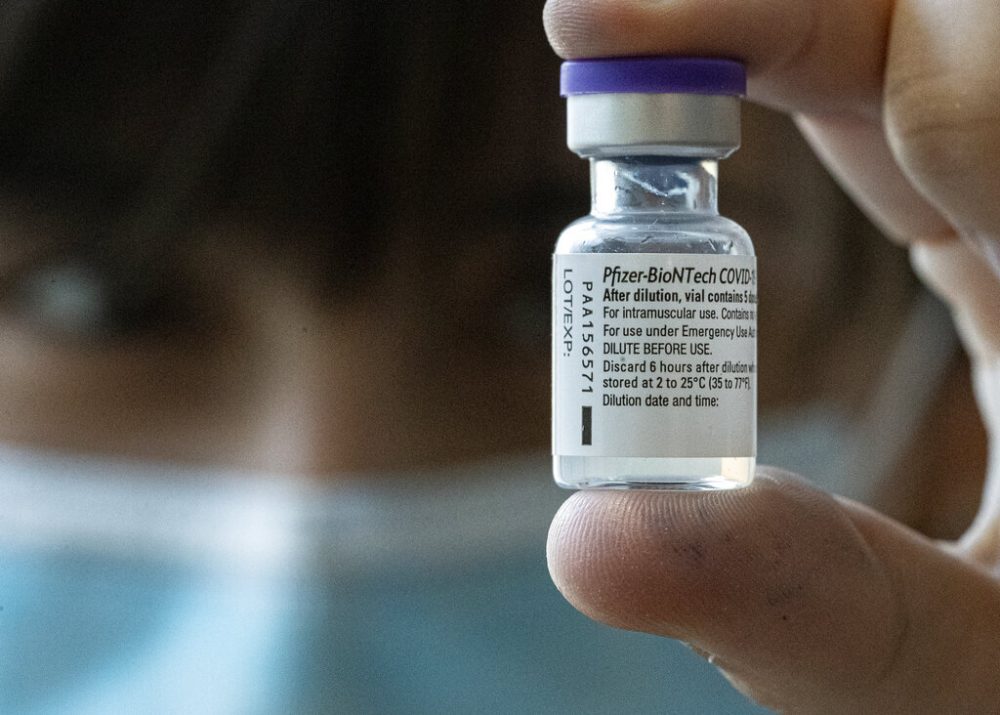 This is part of Houston Public Media's ongoing coronavirus coverage. Click here to see more of our coronavirus news and resources.
TODAY IN HOUSTON | Start your day with the Houston Public Media newsletter
Updated 5:21 p.m. CT Wednesday
The first COVID-19 vaccine hub in Liberty County opened registration Wednesday for Texans over 65, and those with certain medical conditions. Emergency Hospital Systems in Cleveland will begin administering its first shipment of 975 Pfizer doses on Friday.
Before this week, providers in Liberty County had been given small one-time shipments of the vaccine. On Sunday, the Texas Department of State Health Services named the provider one of 79 hubs in the state.
Jeremy Allen, spokesperson for Emergency Hospital Systems, said that residents and patients have been calling every day for information on how to access the vaccine, but supply has been scarce.
"We are a very rural area out here, we don't have the funds that other big counties have," Allen said. "It's been very limited, very frustrating."
Frontline hospital workers have not received the vaccine yet, and will be first in line, Allen added.
"It's been very hard on our staff, they are exhausted," Allen said. "They have fought their way through this, continued to show up day in and day out without a vaccine and take care of patients who have tested positive."
—
Updated 3:30 p.m. CT Tuesday
Harris County currently leads the state in total number of vaccinations, Gov. Greg Abbott said Tuesday.
Harris County has administered nearly 260,000 doses of the vaccine, almost double that of Dallas County, which has the second-highest number of doses administered.
Abbott added that Houston Methodist Hospital is the top vaccine provider in the state, vaccinating about 77,000 people as of Tuesday.
Abbott praised the hospital on its vaccination efforts, saying the initiation is "the example of how swiftly this can be done."
Houston Methodist was named one of the state's 28 vaccination hubs last week, and the number of hubs is expected to increase to 78 this week, according to Abbott.
Texas is expected to receive it's largest shipment to date this week, with more than 843,000 doses. That does not include the amount of doses that will be administered in long-term care facilities, Abbott said.
—
Updated 12:45 p.m. CT Tuesday
Doctors and patients were locked out of Heights Hospital on Monday after its management failed to pay $1 million in rent, according to a letter posted on the door of the building.
Heights Hospital, once an acute-care hospital, is now largely an outpatient clinic providing office space for primary care doctor and specialist offices.
In a statement, U.S. Rep. Sheila Jackson Lee called the lockout inexcusable.
"No one at the hospital facility chose to answer the doctors' pleas to get in to serve their patients and/or to be able to retrieve their belongings," Jackson Lee said. "The doctors provided resources to the hospital and were baffled why they were locked out. It's ironic that in the middle of the pandemic of COVID-19, when one of the patients locked out was a COVID-19 patient, that this dastardly act of confusion would occur."
—
The growth in new COVID-19 cases in Greater Houston appears to be slowing, according to the latest data from the Texas Medical Center.
As of Sunday, just short of 3,300 new people were reported as testing positive for COVID-19 in the area. That compares to roughly 4,300 new cases a day last week.
But the number is still well above the average daily case rate in December.
TMC institutions have now administered more than 195,000 vaccine doses.
—
Updated 10:43 a.m. CT
Texas added eight new hubs to receive shipments of the COVID-19 vaccine in Greater Houston, expanding to a handful of suburban and rural counties. Hubs now include Galveston County Health District and UTMB, as well as providers in Fort Bend, Montgomery, Liberty and Chambers counties.
Last week, three providers in Harris County were the only hub providers in the Houston area. The state has now added three more providers in the state's largest county, such as Memorial Hermann, Chi St. Luke's and UT Health Science Center.
This week, Texas will receive more than 333,000 doses of the vaccine. DSHS says that is it is also ordering about 500,000 doses second doses for people first vaccinated a few weeks ago.
—
Updated Monday 6 a.m. CT
Galveston County is petitioning the state to get on the next list of vaccine hubs.
Last week, the state designated 28 hubs to receive the majority of doses, including three in Houston. Providers in surrounding counties, including Galveston, were excluded.
Over the past few weeks, many different providers across Galveston County — including pharmacies, clinics, hospitals, the health department and more — have gotten small and sporadic shipments of the vaccine that have run out quickly. The lack of steady and predictable doses has sometimes bumped people from their appointments while also making it hard for people to sign up, said Dr. Philip Keiser, the local health authority for Galveston County Health District.
"Right now, having (doses) one day and then running out, it just creates a lot of chaos," said Dr. Keiser.
Galveston County is planning to create a county-wide hub if allocated more doses.
Officials in partnership with the University of Texas Medical Branch would create two large sites located in the north and south sides of the county, and then possibly expand to a third site on the west side. Remote areas might require the county to send mobile units.
The county could do a lot with a predictable schedule for when shipments arrive, Keiser said. One idea is to create a master list of eligible residents that public health can contact when it's time to get immunized. Later down the line, he hopes for drive-thru or walk-up sites that don't require an appointment.
"We're going to try and make sure we give a clear single message to everyone so that there's not mixed messaging," Keiser said. "That way they don't have to keep calling and worrying about whether they get a vaccine."