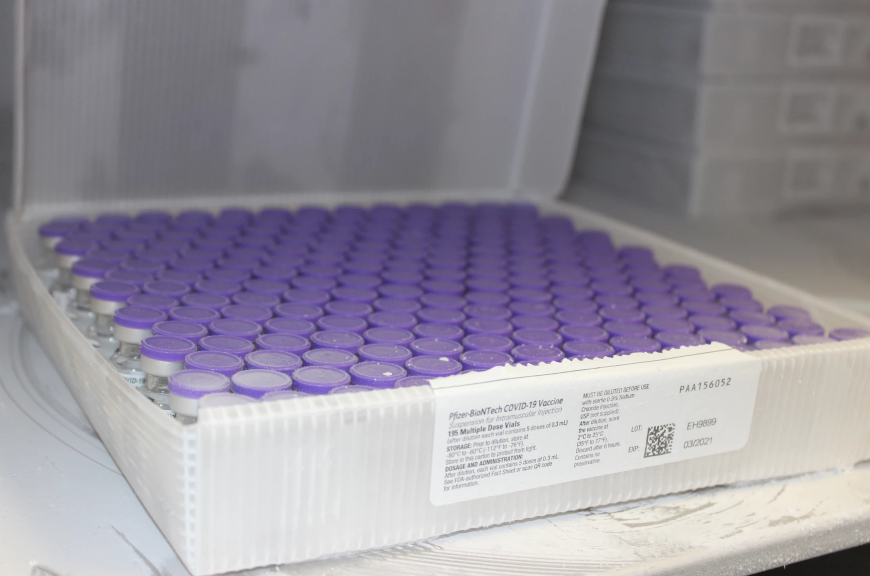 The first doses of a COVID-19 vaccine began arriving arriving throughout the U.S. on Monday including in Texas, with health care workers first in line to receive the shots.
The Texas Department of State Health Services said 19,500 doses of the vaccine were headed Monday to four sites in Texas: MD Anderson Cancer Center in Houston, Methodist Dallas Medical Center, Wellness 360 at UT Health San Antonio and UT Health Austin's Dell Medical School.
Young's encouraging people to continue wearing masks and social distancing while herd immunity is built up so that hospitals are not overwhelmed.
Houston
At the Texas Medical Center in Houston, the largest medical center in the world, just one hospital received the vaccine on Monday. MD Anderson Cancer Center announced it had received its allocation and were ready to begin vaccinations Wednesday.
Benita Patel, vice president of pharmacy services at Memorial Hermann Medical Center, told NPR's Morning Edition that her staff had to prepare to store the Pfizer vaccine at temperatures colder than Antarctica.
"We've had to purchase ultra-low freezers, we've had to increase our staff, we've had to make sure every vile is appropriately taken care of," Patel said. "Meaning from start of timing it, when we literally pull the vile out of the box, to when we close the box."
Six more TMC hospitals were set to receive their allocations on Tuesday.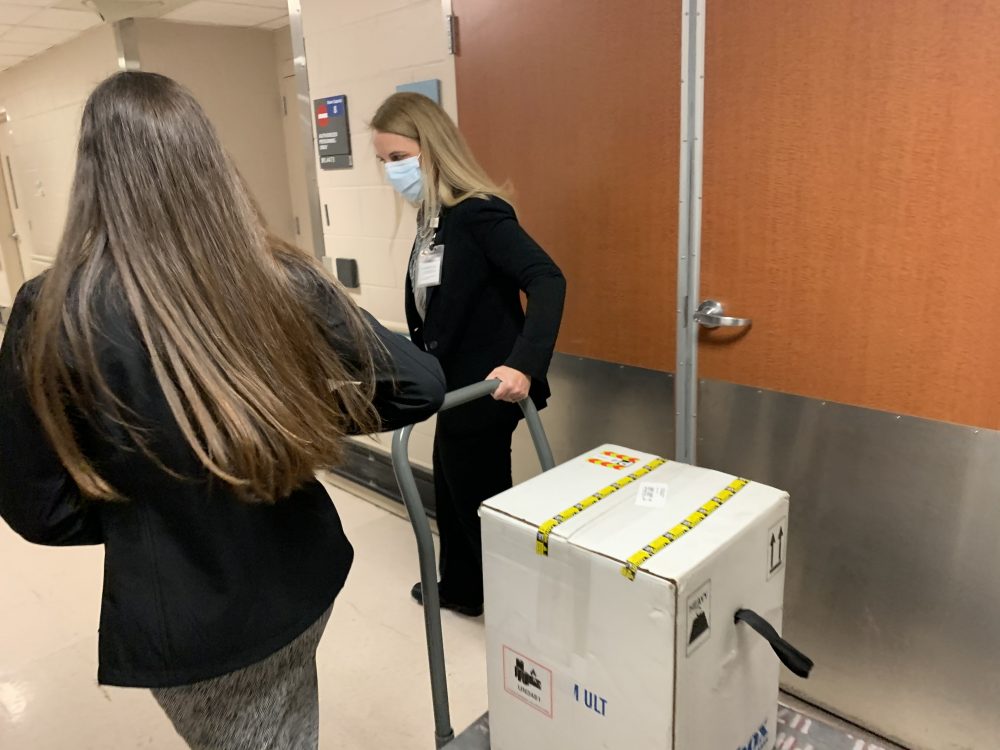 One of those hospitals, Houston Methodist, is expecting just under 6,000 doses Tuesday morning, and Methodist CEO Marc Boom said he anticipates a total of 13,650 doses of the vaccine to arrive by the end of the week.
Because a shipment is expected early in the morning, Boom said the hospital could begin vaccinating by the afternoon, but only a couple hundred health care workers who are most exposed to COVID will be a part of that initial group.
"These are the people who are in a room, very, very high levels of exposure to COVID," he said. "And then really the bulk of our physicians, nurses, others fall into 'Tier 2,' so our strong hope is we will get all of our Tier 1 and Tier 2 individuals vaccinated very rapidly."
The hope, he said, is to vaccinate 2,100 Methodist employees a day this week, beginning on Wednesday. Each person will be observed for 15-30 minutes after receiving it.
But while hospitals in larger Texas cities are receiving shipments of the COVID-19 vaccine this week, rural areas were left out of this round of allocations, despite many coronavirus hotspots being concentrated in rural communities.
John Henderson, CEO of the Texas Organization of Rural & Community Hospitals, said that when rural facilities learned they weren't on the list for the vaccine yet, they had strong reactions.
"Anger, frustration, devaluation," Henderson said. "I'm sure that that wasn't the state's intent, but it was the reaction."
Though rural areas were left out of this first batch of vaccines, state health authorities told Houston Public Media they'll likely get shipments later this month, by Christmas.
Austin
Almost 3,000 doses of the Pfizer coronavirus vaccine arrived this morning at UT Health Austin at the Dell Medical School. The first of two doses will be administered to UT faculty, staff and students who are actively providing care to COVID patients. UT Health Austin's chief clinical officer, Doctor Amy Young, says it's a big day.
"You know, we're so enthusiastic, and I will say that this has brought a lot of hope, I think to the providers, but I think to the community as well," she said.
The first doses of the COVID-19 vaccine have arrived @UTAustin, among four Texas facilities to receive the first round today. UT Health Austin has received 2,925 vaccines to distribute to frontline healthcare workers. Stay connected for further info. https://t.co/E1pQ0pW9ZC pic.twitter.com/W4ecg6pwwB

— UT Health Austin (@uthealthaustin) December 14, 2020
Young's encouraging people to continue wearing masks and social distancing while herd immunity is built up so that hospitals are not overwhelmed.
Dallas
The Dallas Morning News reported that the first doses arrived at about 8 a.m. Monday at Methodist Dallas Medical Center.
The medical center said they started administering vaccines to healthcare workers around 10:10 a.m. 51-year-old Teresa Mata, an environment services worker who cleans up the center's emergency room, was the first to receive an injection.
Good morning from Methodist Dallas Medical Center. We're here to see the first COVID-19 vaccine shipments arrive in D-FW. UPS truck just pulled in with the shipment. pic.twitter.com/o83eHgMulh

— Dana Branham (@danabranham) December 14, 2020
More than 5,000 frontline healthcare workers are expected to receive the first of the two required doses. The first group of workers to receive the vaccine are those who work directly with COVID-19 patients or patients who have a high risk of contracting the virus.
"That includes not only physicians and nurses, but also ancillary staff and technicians, food and environmental services workers, and others who care for patients with COVID-19," said Martin L. Koonsman, Methodist's chief medical officer.
Those who work in emergency departments and critical care units will also be among the first to receive the vaccine.
"I was excited. I wasn't scared at all," said Vanessa Mongare, a COVID Unit nurse at Methodist, about receiving the vaccine. "I really wanted to be a part of this and get the vaccine."
She also said she hopes to inspire other people of color to not be afraid to get the vaccine.
Methodist Emergency Nurse Diana Alonzo was also excited to receive the vaccine. She described the experience as "thrilling", "exciting" and a "light at the end of the tunnel."
Alonzo said she volunteered to be one of the first to receive the vaccine because she wants to set an example for her community, coworkers and family.
Zachary Dreyfuss, an ICU physician at Methodist, said it's been an "emotional and exciting day."
"We've been dealing with this since March, taking care of the sickest patients in the medical facility here in Dallas…This is the beginning, hopefully, of the end of the pandemic."
The first COVID-19 vaccines have arrived in Dallas at Methodist Dallas Medical Center. The @UPS driver tells us this is special to him because he actually lost a loved one to COVID-19 three weeks ago.➡️ https://t.co/6yjuQULcWR pic.twitter.com/zadxiQql0p

— Larry Collins (@LarryNBC5) December 14, 2020
Following the arrival of the first doses in Dallas, County Judge Clay Jenkins explained on Twitter that healthcare workers, residents of long-term care facilities, essential workers and those with pre-existing conditions would be prioritized for vaccinations.
Please see attached Vaccine Prioritization Guidance from the Dallas County Public Health Committee, @DFWHCouncil and @DallasCMS. pic.twitter.com/axtaQgTbbE

— Clay Jenkins (@JudgeClayJ) December 14, 2020
San Antonio
San Antonio's doses will be divided among 10 hospitals and Wellness 360, which provides health care to UT Health students, employees and their families.
Mayor Ron Nirenberg stressed at a briefing Monday the city is still months away from distributing vaccines to the general public.
It's official. 6,000 doses of the COVID-19 vaccine have arrived in San Antonio.

We have a long way to go until 1.6 million people have access to a vaccine, but this is absolutely "hope in a box."

We must continue to wear our masks, wash our hands and avoid crowds.

Thank you. https://t.co/DYNIRe0xrv

— Mayor Ron | Get vax'd! 💪 (@Ron_Nirenberg) December 14, 2020
Another 75,000 doses of the vaccine were scheduled to be delivered Tuesday to 19 sites in Texas, state officials said, in the largest vaccination campaign in U.S. history.
Texas Newsroom reporters from Houston Public Media, KUT in Austin, KERA in Dallas, and Texas Public Radio in San Antonio all contributed to this report.