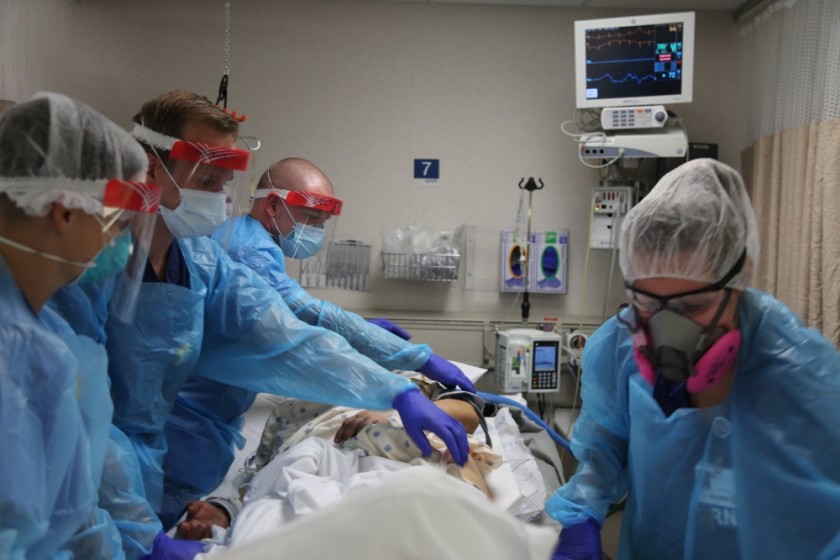 Hospitals across Texas are struggling under the weight of the state's worst COVID-19 surge yet. And the situation is likely to get worse.
Since the beginning of December, the state has set records for the first, second and third highest number of daily cases ever. Confirmed cases typically precede hospitalizations by up to a week. As of Sunday, there were nearly 9,200 Texans hospitalized — the most since July.
More than 150 hospitals across the state report intensive care units that are near or at capacity. In a normal year, that statistic wouldn't necessarily be cause for alarm. But with a pandemic raging and the peak of influenza season arriving, the current situation is dire.
Sharmila Dissanaike is the chief of surgery at University Medical Center and the chair of surgery at Texas Tech University Health Sciences Center in Lubbock.
"As you probably know, hospitals in the United States do not operate with a lot of excess capacity floating around," she said. "What I think a lot of the general public doesn't always realize is that the other patients — who are in the ICUs at baseline — haven't gone anywhere. We still have car accidents, we still have cancer patients, we still have all the things that were filling our ICUs before."
She said the University Medical Center has been forced to activate surge capacity.
"And so when you're functioning close to capacity at baseline, and then you throw in a pandemic that adds huge numbers of critically ill patients very quickly, it becomes very difficult," she said. "Because if you think about it, not only do we need to expand the physical space — add more beds — we can't just throw a patient into a bed and call it good, right? You've got to have oxygen supply, you've got to have equipment, but most importantly, you've got to have staff."
As of Sunday, 144 Texas hospitals report "critical staffing shortages" to the U.S. Department of Health and Human Services. At least 26 more expect to reach that point within a week.
The current surge in COVID-19 hospitalizations — which have reached the highest level since the summer — is taking a toll on rural areas like Lubbock.
The University Medical Center is the only Level One Trauma Center in northwest Texas. It serves a huge swath of land — about 200,000 square miles — and smaller, rural hospitals without ICUs rely on the ability to transfer patients there.
But, Dissanaike explained, the hospital has been forced to reject transfers at higher rates than normal.
"That was probably one of the hardest things: when our hospital is completely over capacity, and I don't have an ICU bed," she said. "And if someone is shot in a town just outside here, they can bleed to death if they don't get to me... But we're stretched to the breaking point, and we're stretching even further."
Under one of Gov. Greg Abbott's executive orders, regions with hospitals reporting more than 15% capacity taken up by COVID-19 patients for seven consecutive days must reduce restaurant capacity from 75% to 50%, and bars must close.
There are now eight regions — Lubbock, Amarillo, Abilene, Dallas/Fort Worth, El Paso, Midland/Odessa, Waco and Laredo — that fall under the order. But almost 30 counties have opted out, allowing bars to remain open and restaurants to continue operating at 75% capacity.
With widespread vaccine distribution only months away, Dissanaike said she hopes people will take precautions, like wearing a mask and avoiding unnecessary gatherings.
"I think what makes this particularly hard is we're in this pandemic situation — this overflow situation, this overcapacity situation — because people are refusing to take some fairly simple, easy steps," she said. "And I shouldn't say 'easy.' I know they're not easy. But they're a heck of a lot easier than watching someone die in a hospital."
This story originally appeared on Texas Public Radio.