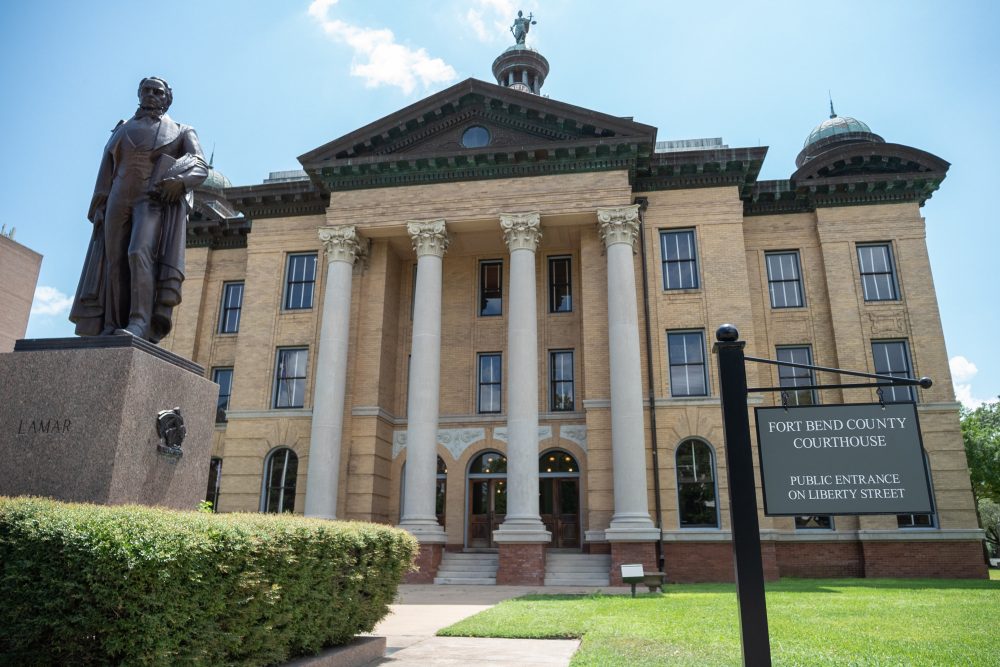 This story is part of Houston Public Media's ongoing coronavirus coverage. Click here to see more of our coronavirus news and resources.
TODAY IN HOUSTON | Start your day with the Houston Public Media newsletter
Updated 5:38 p.m. CT Wednesday
Fort Bend County officials on Wednesday said they are seeing a noticeable increase in both COVID-19 cases and hospitalizations since Thanksgiving. On Nov. 24, county officials said there were roughly 20,000 laboratory confirmed COVID-19 cases. Today, the county has about 25,000 cases, with a positivity rate in the range of 9% to 13% between the county testing sites and hospitals — a number that was once as low as 3%, said Dr. Jacquelyn Johnson-Minter, Health and Human Services director.
In just the last two weeks, the county reported 5,000 new positive COVID-19 cases Johnson-Minter said at a Wednesday press conference.
"What we are seeing now is reflective of behaviors that occurred 10 to 21 days prior," she said. "The rate of growth in numbers represents widespread and uncontrolled transmission of SARS COV-2 virus."
County hospitals have also seen an overall increase over the last two weeks in the percent of COVID-19 patients in both general and ICU beds, Johnson-Minter added.
Fort Bend County Judge KP George elevated the COVID-19 "threat level" from orange to red due to the recent numbers, which he said are "skyrocketing."
"I'm hoping and praying this is not for a long time," George said. "We need to do this, maybe for a short period of time to help us flatten the curve. That is the whole idea here."
Fort Bend County asked the public to double down on efforts to wear masks and additional behaviors to lower the risk of virus exposure.
—
Updated 4:04 p.m. CT Wednesday
The 35th annual Comida Food Drive will be smaller in scale this year due to the pandemic. The Houston police food drive, which began in 1985 and distributes food boxes to families in need during the holidaus, will focus on 150 families and will provide them with food, toiletries, masks, hand sanitizer and toys.
Police Chief Art Acevedo said it's esoecially important to continue the food drive this year.
"To me this is probably the most special Comida Food Drive, because it really is laser-focused on 150 families that really have the need," he said.
The food drive will take place this Saturday at the Houston Police Department at 1200 Travis St. from 9-11 a.m. For more information, visit the city's website.
—
Updated 7:51 p.m. CT Tuesday
The Alley Theatre is taking the rest of its 2020-2021 season online, including its annual production of Charles Dickens' "A Christmas Carol."
Rob Melrose, the artistic director at the Alley Theatre, said the show has been a holiday tradition for generations of Houstonians, and even more so in 2020
"This year in particular, because of the pandemic, I think most people are needing some kind of positive thing and I think Christmas Carol is one of those things that brings that out," he said.
The theater's production teams devised a virtual version, which they filmed over Zoom in the homes of its own resident actors. The virtual show is being offered free as a gift to theatergoers this season.
—
Updated 11:35 a.m. CT Tuesday
Montgomery County on Monday reported 4,400 active coronavirus cases — an all-time high, according to county health data. Their active cases make up a fifth of their total cases since March. The county's last COVID-19 spike was in July, with 2,600 active cases, nearly 2,000 fewer than today.
Health workers are dealing with a COVID-19 surge statewide, with Texas health officials reporting nearly 9,000 new cases Monday.
—
Updated 7:29 p.m. CT Monday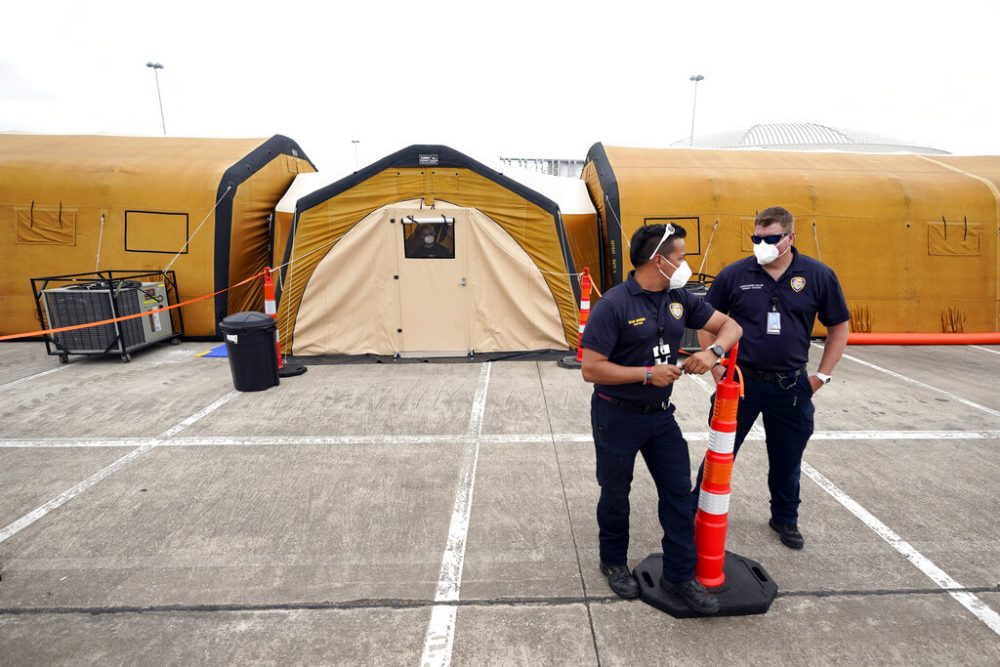 Harris County hospitals collectively reported 382 COVID-19 patients in need of intensive care on Monday, roughly 25% of ICU beds in the county. But Texas Medical Center hospitals report they're still not operating within their secondary surge capacity plans.
"We do anticipate that the numbers will be inching up even more as we see the effect of the post-Thanksgiving Day situation," Mayor Sylvestor Turner said at a press conference Monday.
The Houston Health Department reported an 8.8% positivity rate at city testing sites, after reporting 8.4% the previous week. Turner said a temporary curfew is still a possibility for the city, but the hospital and case numbers are not where they would need to be for him to implement one, calling it a "nuclear" option to be used as a last resort.
Turner also announced the city has partnered with Comcast to provide nine "lift zones" throughout the city before the end of the year, designed to provide a safe space for kids without internet access to complete online learning if they don't have internet access at home.
—
The Houston Fire Department reported 144 firefighters are currently in quarantine, 36 of whom have tested positive for COVID-19.
Fire Chief Sam Peña said that, despite the reduced force, every fire truck and ambulance is fully staffed and operating, because EMS continues to be their primary service demand.
The department is 220 firefighters short of its optimal staffing level, although Houston City Council did approve funding for overtime and temporary staff positions to help fill that need, Peña said at Monday's press conference.
Peña also said that 1,500 personnel, including paramedics, have been prioritized to receive the initial distribution of a COVID-19 vaccine, when one becomes available.
"Those are people that would qualify for the phase one alpha group," Peña said. "We submitted the list. Methodist will be the ones in charge of administering and managing those vaccines."
Initial doses of vaccines will be slated for critical populations only. Health care workers and vulnerable populations, in addition to front line workers, have been identified by the state and federal governments as prioritizations.
MORE | General Public Could Receive Vaccinations By July, Texas Health Officials Say
—
Updated 5:59 p.m. CT Monday
With early COVID-19 vaccinations coming in the next few weeks, a unique refrigeration process is required to store them. Sherri Onyiego with Harris County Public Health said the Pfizer vaccine will require ultra frozen capacity storage.
"We do have that capacity in certain areas across the community here in Harris County," she told Town Square host Ernie Manouse on Monday. "A lot of that capacity lies with our larger organizations and agencies."
It's likely that these larger organizations will be first in line ahead of smaller medical centers that do not have the means of storing the Pfzier vaccine, which needs to be kept at almost -100 degrees Fahrenheit. But the Moderna vaccine will not require a special freezer, as it can be stored at around -4 degrees Fahrenheit. Due to the more achievable temperature, it is expected that the Moderna vaccine will be much more accessible throughout the community once it's made available, she said.
—
Updated 1:58 p.m. CT Monday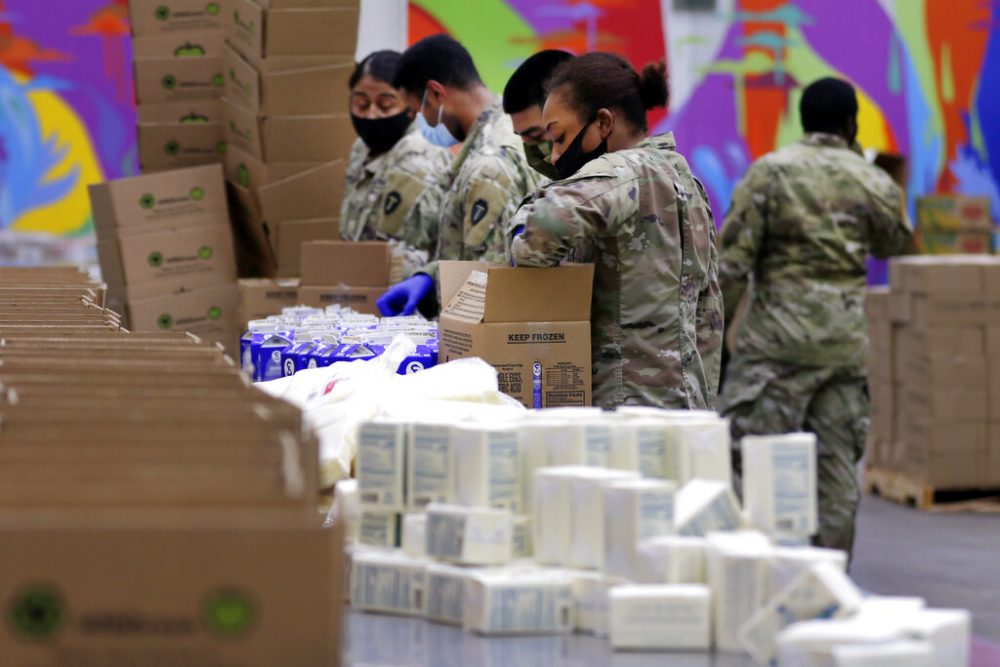 A steady increase in COVID-19 cases has some health officials worried that the promise of a vaccine on the horizon has caused Houstonians to disregard public safety guidelines. Bill McKeon, president and CEO of the Texas Medical Center, told Houston Matters host Craig Cohen on Monday he was worried about the recent surge.
"Sadly the numbers are alarmingly high," McKeon said. "We had the virus at a relatively good point several months ago, and we're just seeing a steady, alarming increase day after day here."
McKeon also expressed concern over the skepticism surrounding vaccines and their effectiveness, which may have increased the difficulty of an already uphill battle for the medical community.
The news comes as health centers prepare for the arrival of vaccines, which are expected to be approved for emergency authorization within the next week or so.
McKeon emphasized the medical feats that had been accomplished to create a vaccine in such a limited amount of time, while urging people to take it once it's made publicly available.
"The results are really amazing," he said. "It's all within our grasp in a matter of months…To lose someone in those coming days would be heartbreaking."
The vaccine will be made available to front-line health care workers and those who are most vulnerable within the next coming weeks, and is expected to be made publicly available mid-next year.
[Listen to the entire interview on Houston Matters]
—
The city of Houston hit a grim milestone on Sunday, surpassing 100,000 COVID-19 cases since the start of the pandemic.
The Houston Health Department reported 1,333 new coronavirus cases, bringing the total to at least 100,907 confirmed cases as of Monday morning. That number includes the removal of 32 previously identified cases, which were found to be duplicates. Of those cases, 94% were tested within the last two weeks.
The city also reported four new deaths, bringing the total in Houston to 1,465.
Today, @HoustonHealth reports 1,333* cases of #COVID19, bringing #Houston's total to 100,907.

Unfortunately, there were four newly reported deaths, bringing the city's total to 1,465.

Of the 1,333 cases reported, 94% (1,254) have specimen collection dates within last 14 days. pic.twitter.com/xUn7DJZIUh

— Sylvester Turner (@SylvesterTurner) December 6, 2020
The news comes as the state of Texas continues its struggle to contain the spread of the virus. The Texas Department of State Health Services reported 8,436 new cases and 92 deaths Sunday, with 8,681 people hospitalized with COVID-19. And the seven-day average of new cases has quadrupled since the beginning of October, the Texas Tribune reported on Sunday.
A White House report made public last week warned that Texas and other states may be underplaying the pandemic, and recommended public health officials in those states make clear to the public the severity of the virus.
Though a vaccine does appear to be on the horizon, health officials in Houston and beyond have urged the public not to drop their guard, and to continue following public safety guidelines like social distancing and face coverings.
Texas, meanwhile, has released its allocation list for the first week of vaccinations, which could come as early as Dec. 14, depending on FDA approval.
Hospitals in Harris County will get just under 50,000 doses of the Pfizer vaccine in the first week's allocation, while Fort Bend, Montgomery, and Galveston counties are also slated to receive first-week doses, according to the state health department.
Monday afternoon, a Texas task force charged with coordinating vaccine distribution will hold a public meeting with further details of its plan.
The University of Texas Medical Branch in Galveston, which is set to receive nearly 3,000 doses of the vaccine, said it was expecting its first doses any day now. And that might be before FDA grants Pfizer emergency authorization, hospital officials said.
In line with Texas guidelines, these doses will go to hospital employees that are working directly with COVID-19 patients in the ER and ICU, as well as EMS workers.
UTMB may receive more doses about a week after the first shipment, and Dr. Phillip Keiser, who is leading UTMB's vaccine preparedness team, said the hospital may be able to vaccinate nearly 1,000 people a day.
"We think we're ready, but we also recognize that the first couple weeks of this are probably going to be very confused and we have to be nimble and be flexible," Keiser said.
Read the entire first-week vaccine allocation list below: