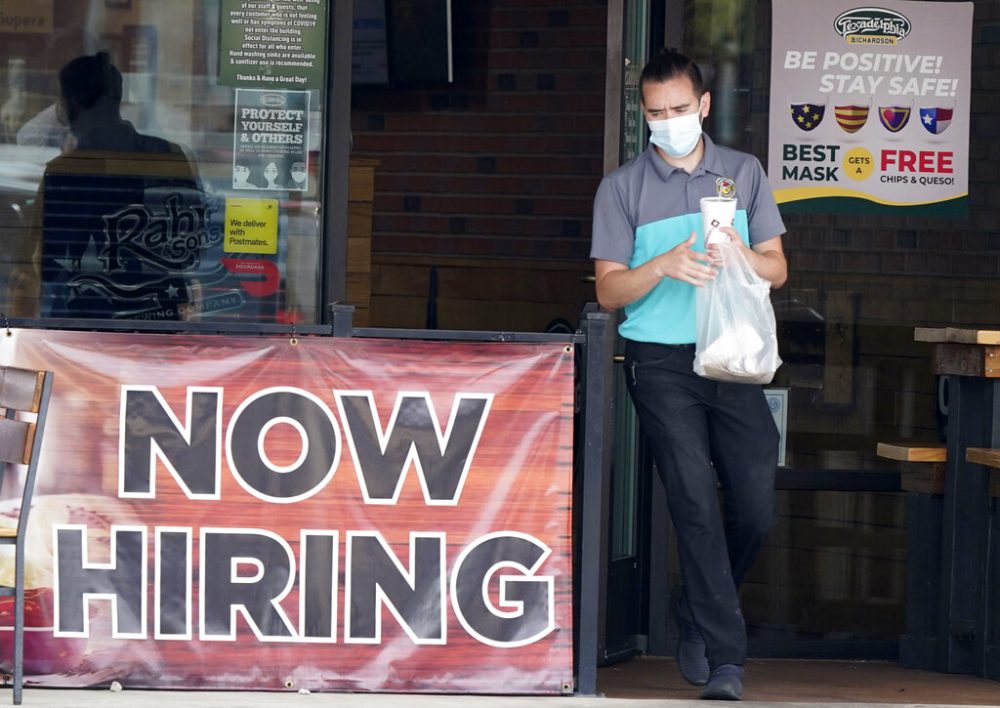 This story is part of Houston Public Media's ongoing coronavirus coverage. Click here to see more of our coronavirus news and resources.
TODAY IN HOUSTON | Start your day with the Houston Public Media newsletter
Updated 1:17 p.m. CT Thursday
From The Texas Tribune: The week ending Nov. 14, a total of 38,060 Texans filed initial applications for unemployment relief.
More than 3.8 million people have filed for unemployment relief since the beginning of the pandemic, and the state's unemployment rate remains more than double what it was at the start of the year. Texas' sales tax revenues — the largest source of funding for the state budget — have created a shortfall that officials will have to fill.
The state's outdated and understaffed unemployment insurance office has left countless Texans confused and without unemployment benefits. An extra $600 weekly unemployment payment that was part of a federal relief bill expired in July. In August, the state received federal funding to provide an extra $300 every week for people who have lost their jobs. However, nearly 350,000 unemployed Texans didn't qualify for the extra benefit, and the payments ended in September.
When eviction moratoriums were lifted in July, unemployed renters faced a system that housing attorneys — and some eviction judges — say is already stacked against tenants. In September, the federal government announced a nationwide eviction moratorium that could protect millions of Texans from being evicted.
Economists say weakened oil prices, high unemployment and the ongoing public health crisis will slow Texas' economic recovery.
—
Updated 5:34 p.m. CT Wednesday
Fort Bend County is helping out families with childcare, beginning a new partnership with local organizations aimed to assist parents in need. Fort Bend County's "Child Care Task Force" announced an alignment with the YMCA, Boys and Girls Clubs of America, and other private child care facilities in the area, using federal Cares Act dollars to give eligible families financial support, education and tutoring resources for kids during the pandemic.
Fort Bend County Judge KP George says there is great need in his community, because of the amount of students learning virtually. And this will help parents who can't stay home, and must physically go to work.
Parents can apply online, at YMCAHouston.org to see if they meet the program's qualifications.
—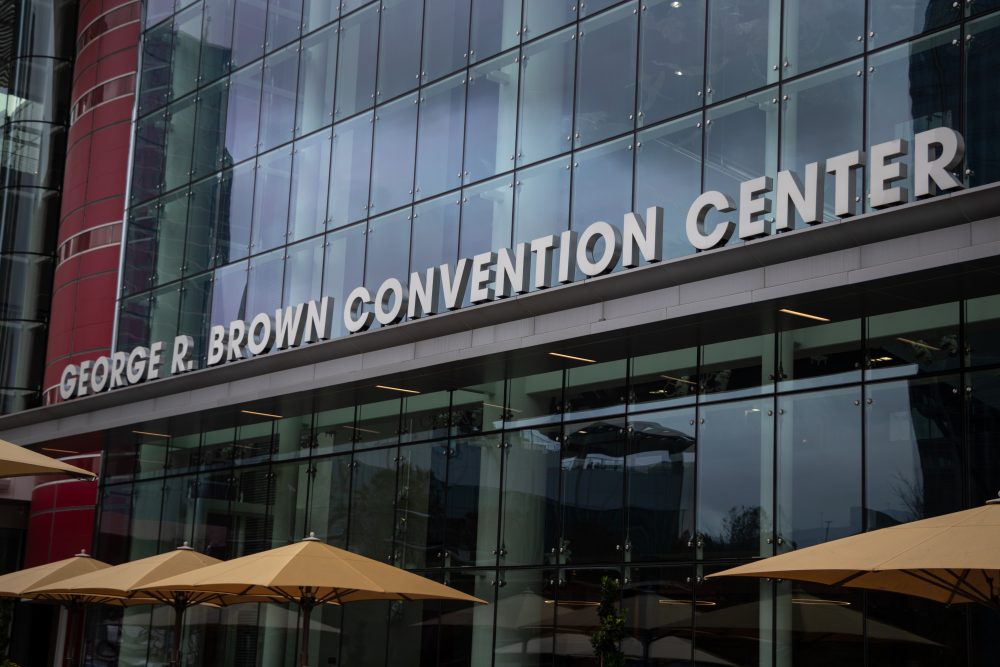 Houston's tourism industry has been hurting since large conventions and concerts are still canceled. But Michael Heckman — the acting CEO and president of Houston First, which operates events at the George R. Brown Convention Center, Jones Hall and the Miller Outdoor Theater — said he's expecting to see major events coming back in the second half of next year.
And Heckman told Houston Matters there have been no cancelations of major events and conferences taking place after July.
"We're not seeing as many outright cancelations which is good news," he said. "I think that the vaccine news is the light at the end of the tunnel. We'll see how it's ultimately distributed and brought to scale."
—
Updated 1:42 p.m. CT Tuesday
Baylor Vaccine Expert Says Trials Will Require More Studies On Pediatric, Elderly Populations
Preliminary data indicates the biotech company Moderna's COVID-19 vaccine trials are 95% successful.
Dr. Maria Elena Bottazzi is co-director for the Center of Vaccine Development at the Baylor College of Medicine. She said the Moderna vaccine uses M-RNA technology.
Bottazzi said Baylor's working on a different vaccine similar to the Hepatitis-B vaccine and has the potential to be mass-produced faster and more cheaply.
She said both vaccine trials need more studies especially on pediatric and elderly populations.
Abbott's COVID-19 Medical Advisor Says State Should Consider Regional Lockdowns
One of Governor Greg Abbott's top COVID-19 medical advisors says stricter safety measures will be needed as cases surge over the next few months.
Speaking to Spectrum News last night, Doctor Mark McClellan said imposing limited restrictions now, especially in hotspots such as El Paso, would help avoid more widespread lockdowns later.
"This is going to be the worst surge of the entire pandemic," he said. "We've known this was coming for a while. It's winter. People are tired of it and they're in closer quarters. This is going to be a tough couple of months ahead."
The former commissioner of the U.S. Food and Drug Administration said the state should consider regional lockdowns. The Governor has not given any indication he will issue new restrictions.
—
Updated 12:41 p.m. CT Tuesday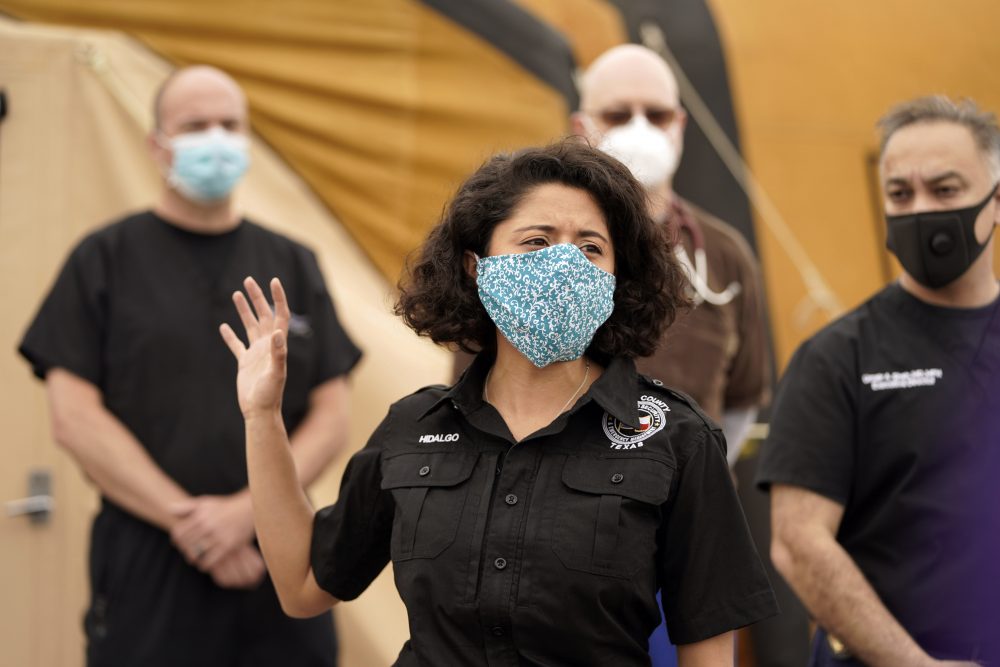 As COVID-19 restrictions are lifted across most of Texas and coronavirus hospitalizations continue to trend upward in Houston, Harris County Judge Lina Hidalgo said "reopening" the state too quickly has erased the gains made by local goverments.
Hidalgo was among the first county judges in Texas to shut down nonessential businesses, back in March. Those measures worked, she said — but she was ultimately hamstrung by Gov. Greg Abbott's executive orders lifting descriptions, nullifying local directives across the state.
"What we're seeing is history repeat itself over and over again," she told Houston Matters host Craig Cohen on Tuesday.
Hidalgo specifically pointed to state leaders imposing restrictions and lifting them before she said the numbers were where they needed to be, and "aggressively" reopening businesses across Texas. She also criticized the state for what she said was switching up the metrics it relied on to push for that reopening.
The county judge argued that if local leaders were allowed to make their own decisions on when to end lockdowns and stay-at-home orders, numbers would have decreased — instead of approaching a new high point.
"I mean, it simply seems to be an effort to avoid the hard truth," she said.
Ideally, Hidalgo said she would have the authority to enforce the county's threat level system. And she said she'd like more financial support from the state and federal government to support businesses that can't afford to operate in a limited capacity
Right now, restaurants are open for indoor dining at 75%, and bars at 50%. There is no occupancy limit for outdoor dining. But, Hidalgo said, the economy is doing no better than other areas that have restrictions in place.
"It's not a choice between economy and health," she said. "It's a false choice."
The county judge continued to ask the public to get tested, wear masks and use social distancing when around other people. She also urged people to cancel all indoor gatherings, and limit outdoor gatherings.
—
Updated 3:40 p.m. CT Monday
Amid the announcements that Pfizer and Moderna would have vaccines ready by the end of the year, a third vaccine being developed through the Baylor College of Medicine is working its way through trial phases, and researchers hope it will be ready early in the new year.
Dr. Maria Elena Bottazzi, co-director of the Texas Children's Center for Vaccine Development, told Houston Matters' Michael Hagerty that this new vaccine, which was developed in Houston in partnership with Texas Children's, Biological E. Limited, and Dynafax, is currently undergoing multicenter Phase I and Phase II clinical trials in India.
Those trials will determine the safety of the vaccine and give researchers an indication of how many doses will be needed, according to Dr. Bottazzi.
She said that this new vaccine uses recombinant protein-based technology, which is the same as the Hepatitis B vaccine, but different from the Pfizer and Moderna vaccines, which use mRNA technology. However, she stated that the goal of all three vaccines is similar.
"All of them have the same intent," she said, "Which is to induce high levels of neutralizing antibodies, and at the same time balance cellular immune response, such that you can not only reduce the severity of disease, and hopefully, also, that we can interrupt transmission of the virus."
Dr. Bottazzi also told Hagerty that success in this situation hinges on individuals using the vaccines, and companies having strong delivery practices so that the vaccines can reach the populations in need.
She also emphasized that when a vaccine does come out, it will likely go to certain populations for emergency use first, before the general population has access to it.
"Starting with the initial roll out, and those who will be, of course, part of the ones who could receive it, that doesn't necessarily mean that the rest of us can stop using other tools such as the mask-wearing, such as the physical distancing," she said. "Remember, the vaccines are good on the premise that alot of people use them, so that we can eventually create this vaccine herd immunity."

—