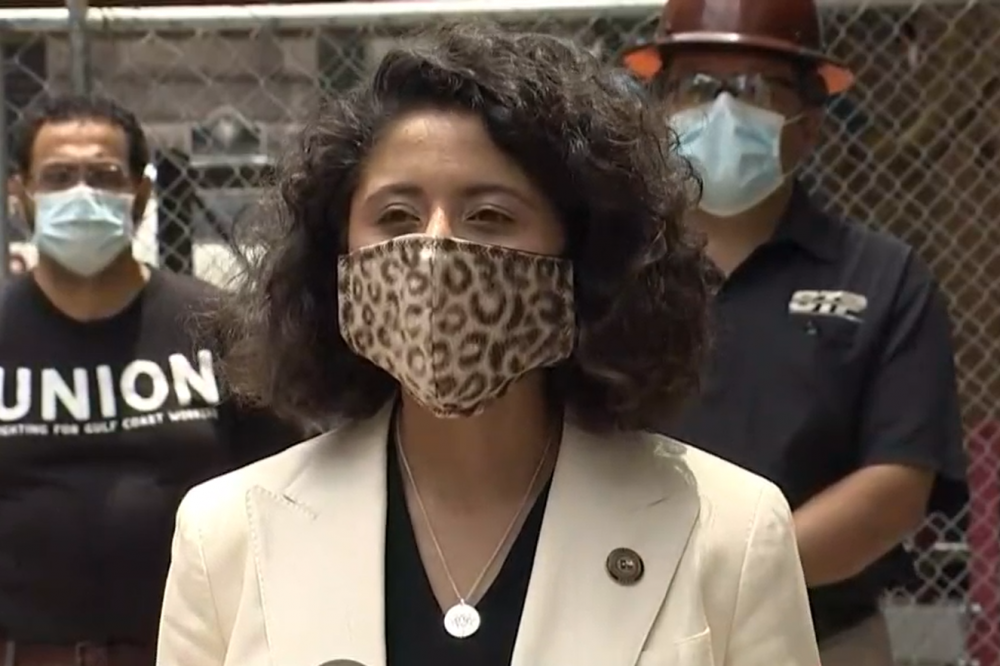 This story is part of Houston Public Media's ongoing coronavirus coverage. To see our previous live coverage, click here.
TODAY IN HOUSTON | Start your day with the Houston Public Media newsletter
Updated 5:31 p.m. CT Friday
Harris County Judge Lina Hidalgo on Friday criticized the state's latest guidance on opening schools, saying the governor was putting people's lives at risks.
Gov. Greg Abbott on Friday said local health authorities can only shut down schools if an outbreak occurs after students have returned to campus, but cannot shut them down before schools open to prevent such an outbreak from occurring. The statement echos guidance released by Attorney General Ken Paxton on Tuesday.
"The entire community is going to be at risk because of this," Hidalgo said.
"There's a principle that we hear about, 'do no harm,' particularly in this health context," she said Friday afternoon, "and so we shouldn't wait for an outbreak to happen for us to go address it. Outbreaks should not be happening in schools in the first place."
School districts will be able to apply for waivers from the Texas Education Agency to keep buildings closed, but the Houston Health Department, Harris County Public Health and other local health authorities are unable to make a preemptive decision.
The statement from Abbott comes a week after Houston and Harris County health officials ordered a delay of in-person instruction until Sept. 8. The delay still stands, but County Judge Hidalgo believes that it might be too soon to re-open schools in-person.
"We're getting caught in the cross-hairs of a political game that has no place in the middle of a pandemic," she said.
—
Updated 6:11 p.m. CT Thursday
The city of Houston is launching a multilingual public health campaign, as part of a plan to reach out directly to communities most impacted by COVID-19.
Houston's Hispanic community has been disproportionately impacted by COVID-19, accounting for 40% of cases and 45% of deaths, Mayor Sylvester Turner said Thursday.
The city's new public outreach campaign will consist of TV, radio, print and digital ads, along with a door-to-door campain to target communities that have suffered most from COVID-19, the mayor said.
"Houston Health Department will have teams of workers spreading out across neighborhoods to talk to citizens about the knowledge and skills that are needed to help prevent their families from contracting the virus," Turner said.
The news came at a press conference in which Turner announced 15 more people had died of COVID-19 in the city of Houston, the second-highest announced total to date. Nine of those 15 were Hispanic, Turner said.
It's not the first time the city has reached out to vulnerable communities to help stop the spread of the virus. In April, the city announced it would start expandng testing to underserved areas across the city, a move that led to Houston being the largest city in Texas to make COVID-19 testing more readibly available to communities of color.
Earlier this month, the city started the outreach campaign with "Todos Juntos. Mejor," or "Better Together," targeting Hispanic communities in Houston with more than 71,000 flyers, 400,000 robocalls, and 71,000 text messages so far this month, Turner said.
There are now a total of 432 people who have been confirmed to have died due to complications from COVID-19 inside the city limits, according to the Houston Health Department.
COVID-19 has severely increased the number of deaths for residents of Houston in the month of July, in which 200 people out of 432 people total have died due to COVID-19, Turner said.
"We are moving in the wrong direction and the virus is still running rampant," he said.
Turner added that his hope was for Houston to go from a 23% positivity rate to just 5% by the end of August.
—
Updated 2:18 p.m. CT Thursday
Via KERA: KERA: Two Texas colleges are taking extra precautions to prevent the spread of coronavirus when classes resume in the fall. Officials at UT Austin want students to quarantine for two weeks before coming back – or at least before their first on-campus activity. Baylor University this week said students have to test negative for COVID-19 before they're allowed on campus. Baylor will send home testing kits to students' homes beginning next week, but the CDC said there's "limited usefulness" to a blanket round of testing.
—
Via Texas Public Radio: As of July 29, over 28,000 cases of COVID-19 have been confirmed across the Rio Grande Valley's four counties.
On Tuesday, Hidalgo county reported a new single-day record of 64 deaths. Officials said the high number reflects delayed reporting due to Hurricane Hanna.
A separate press release from Hidalgo County on Tuesday outlined the discrepancy between county's reporting of fatalities and the Texas Department of State Health Services, which uses dates on death certificates to keep count."
Gov. Greg Abbott said he flew over the region to observe the magnitude of the damage that took place after Hurricane Hanna and met with local officials to discuss needs for both recovery and the current surge of COVID-19.
"We are opening up the McAllen convention center that will be converted into a healthcare facility," he said. "The maximum number of patients that it could be able to handle will be 250 patients."
According to Gov. Abbott, the facility will be open later this week with hospital beds, medical equipment, and medical staff to support the local healthcare system."
—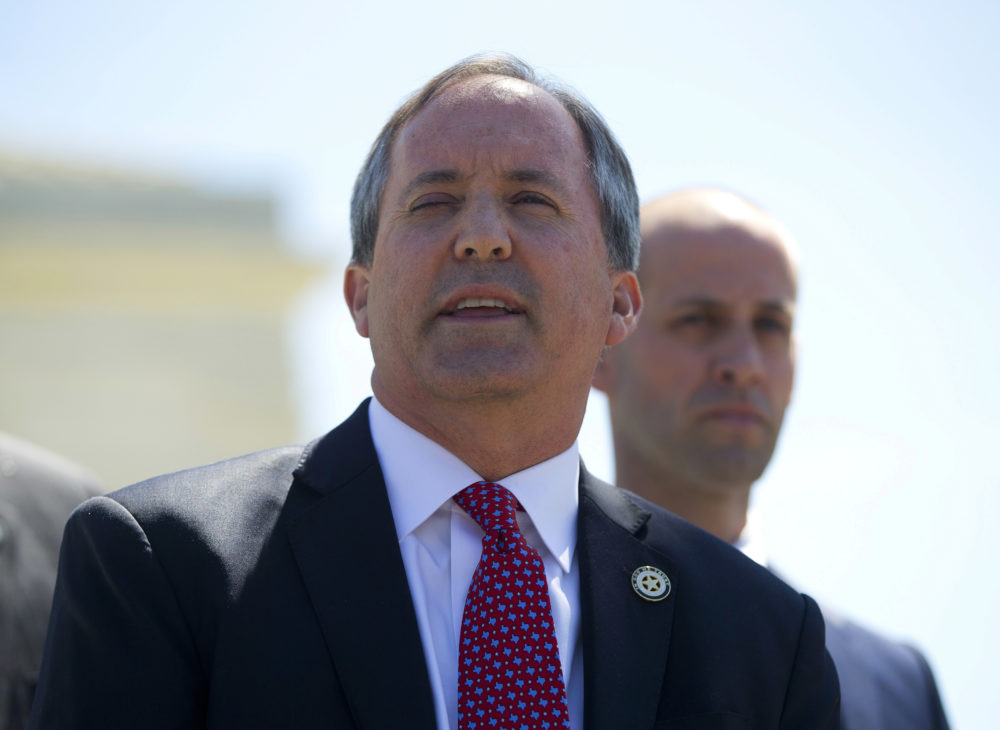 Updated 12:44 p.m. CT Tuesday
Earlier this month, the Texas Education Agency said school districts could delay opening and keep state funding if local health officials ordered their closure.
But Texas Attorney General Ken Paxton says local health officials may not close schools unless people start getting sick from COVID-19.
Paxton's legal guidance, issued Tuesday, was aimed squarely at places like Harris County, Bexar County, Travis County and others who've issued health orders closing school districts, per the TEA's guidelines. The guidelines came after Gov. Greg Abbott signaled the state would be more flexible with opening requirements for local school districts.
But in a letter issued Tuesday, Paxton said local health authorities are limited by Texas statute in how they respond to the coronavirus, and that they may only order schools closed in the case of an existing outbreak, not to prevent a future outbreak.
"Government action, no matter how urgent or expedient it is believed to be, may not exceed the constitutional limitations that have been placed upon it by the People," the letter reads. "We encourage local and school system officials to work together to make the best decision, within their authority under the law, to protect the health and safety of the residents of their jurisdictions."
At Tuesday's Harris County Commissioner's Court Meeting, Precinct 2 Commissioner Adrian Garcia suggested looking into legal action against the state.
"There's too much riding on this," Garcia said. "The lives of children are riding on this."
Robert Soard of the Harris County Attorney's Office indicated he would consult with other counties on whether to coordinate with such a suit.
—
Updated 6:50 p.m. CT Monday
New data released Monday by the state of Texas suggests that the death toll in Harris County may be significantly higher than reported.
The Texas Department of Health and Human Services updated its COVID-19 dashboard to reflect 1,100 deaths in Harris County attributed to the coronavirus. By contrast, Harris County Public Health's dashboard displays only 654 deaths — a difference of 446 people.
DSHS said it is now reporting COVID-19 fatality data based on whether the medical certifier attests on a death certificate that COVID-19 is a cause of death.
A spokeswoman for Harris County Public Health said the department was just informed of the discrepancy on Monday afternoon, and that it was still investigating the difference in numbers.
—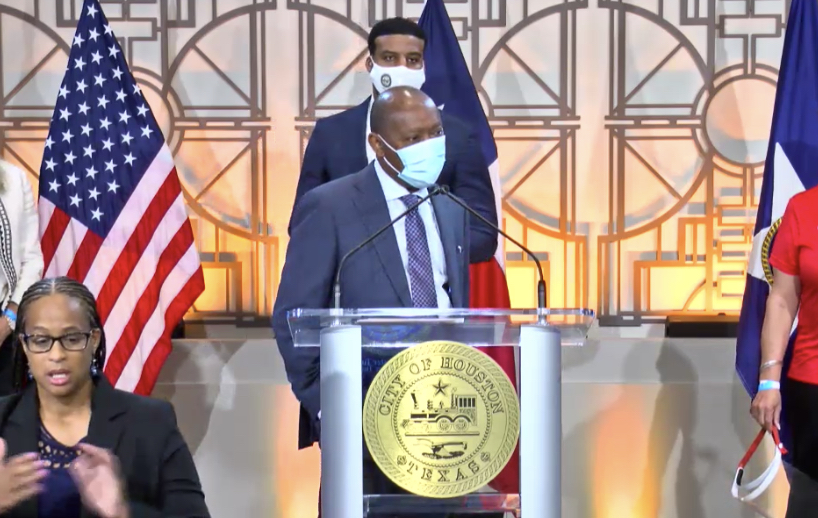 Original story below:
There is mounting evidence that Texas' recent statewide face covering mandate has helped reduce the number of new COVID-19 cases across the state of Texas.
But new data suggests the state is not out of the woods yet: health statistics released Sunday show more than 5,000 people in Texas have now died from the coronavirus.
That's 153 more deaths than the day before and 1,080 more than a week ago, according to the Texas Tribune. And that's likely an undercount because of how many people who've died that were not tested for the virus, public health experts warn.
In Greater Houston, the Texas Medical Center reported a downward trend of COVID-19 hospitalizations, with 202 new hospitalizations reported Sunday, down from a high of 446 from earlier this month. And while hospitals are still using overflow capacity for intensive care, TMC officials don't believe that capacity will be filled over the next two weeks if current trends continue.
And Mayor Sylvester Turner on Monday announced 325 new confirmed COVID-19 cases, lower than recent days.
But there were also nine newly announced deaths related to the virus, bringing the total in Houston to 400.
Deaths are considered a lagging indicator, and as hospitalizations continue to decrease deaths are expected to drop as well.
While the number of new cases and hospitalizations is an encouraging sign, it's too soon to say Houston numbers have plateaued, Turner said.
"Even though the number is low, you have to really look at that seven-day total," Turner said. "A lot depends on when we get results back."
Last week, the positivity rate in the city had been rising and peaked at 25.9%. That has seen a slight decrease, to 23%. But in some parts of the city, numbers are as high as 30%, according to Dr. David Persse, Houston's health authority.

Stories like this are made possible by the generosity of our community of donors, foundations and corporate partners. If you value our reporting, join others and make a donation to Houston Pubic Media in support of our work. Together we do it, for the love of Houston.