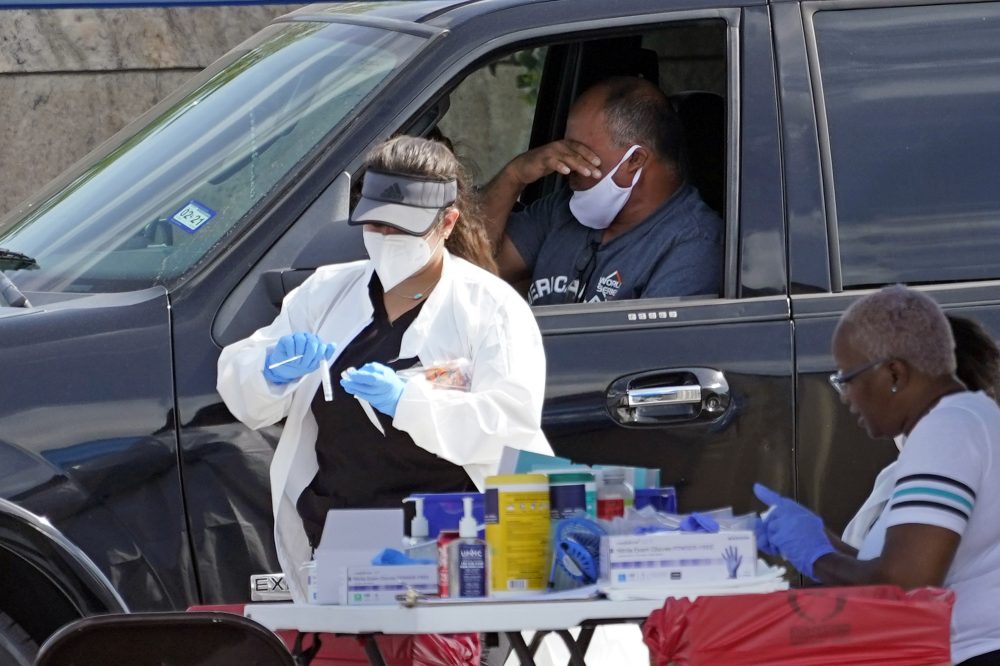 This story is part of Houston Public Media's ongoing coronavirus coverage. To see our previous live coverage, click here.
Updated 4:09 p.m. CT Friday
A record 174 people were reported dead from COVID-19 in Texas Friday, nearly 50 more than the previous day's high. It's the third straight day of record numbers in the state.
Meanwhile, 11 more people have died of COVID-19 in the city of Houston, and two Houston municipal employees have died of COVID-19 in the last 24 hours, Mayor Sylvester Turner said Friday. It's the second time this week confirmed deaths reached double digits in one day in Houston. There are now a total of 315 people who have been confirmed to have died due to complications from COVID-19 inside the city limits.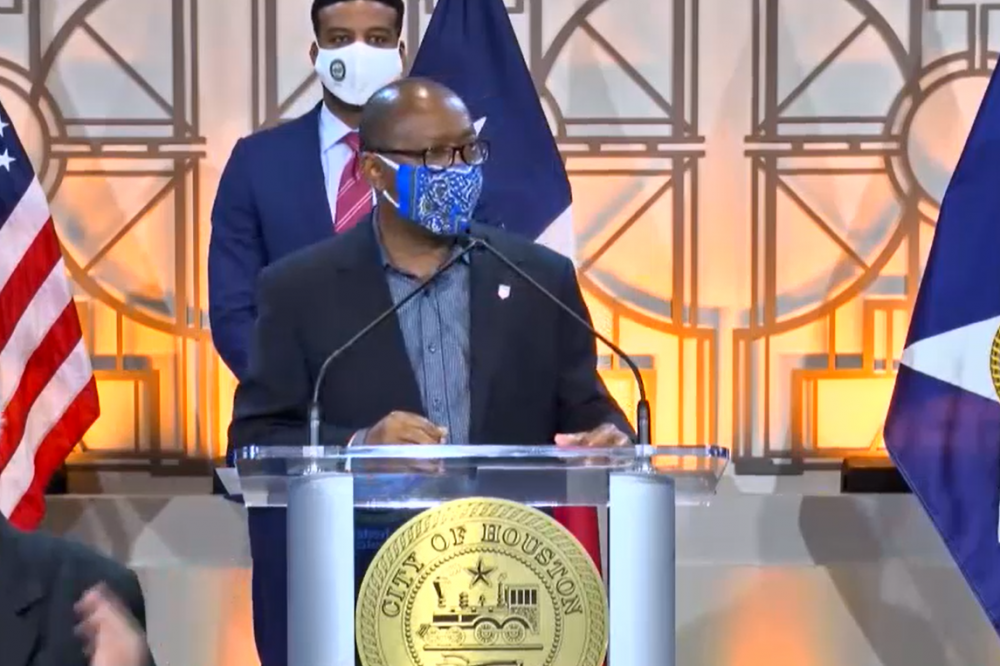 The announcement came during a press conference in which the mayor announced 986 new COVID-19 cases, bringing the total number of confirmed cases to 34,681. It's also the third day in a row that the state of Texas is reporting more than 100 deaths. As of Friday, 286 municipal employees have tested positive for the virus, 182 of whom remain in active status.
There are 700 people in Houston hospital intensive care units, according to Houston health authority Dr. David Persse.
The city fire marhsall's office said it will now regulate outside occupancy of 10 or fewer people, and reporting violations to the Texas Alcohol Beverage Commission.
—
The Center for Public Intergrity has obtained a document prepared for the White House Coronavirus Task Force but not publicized, suggesting more than a dozen states should revert to more stringent protective measures. That includes Texas, in the "red zone" for test positivity, meaning more than 10 percent of diagnostic test results came back positive.
Harris County had the highest number of new cases in the state over the past three weeks, followed by Dallas and Bexar counties. Those three counties represent 35% of new cases in the state, according to the July 14 document.
—
Texas will allow schools to keep classrooms closed longer than previously ordered, and Texas classrooms can remain closed in the fall without losing state funding if ordered to do so by local health officials.
But as the Texas Tribune reports, Attorney General Ken Paxton said in a letter to schools Friday that private religious schools are are free to decide for themselves whether to reopen:
Already local health officials in counties, including Dallas and El Paso have issued mandates barring in-person classes for public and private schools in their jurisdictions, at least through August and in some cases to the end of September.

However, Paxton in an opinion said imposing these mandates on private religious schools would violate the U.S. and Texas Constitutions and the Texas Religious Freedom Restoration Act. Religious services have already been exempted from Gov. Greg Abbott's state-wide masking order.

"There are robust constitutional and statutory protections unique to religious individuals and communities, specifically including religious private schools," Paxton said in the letter. "In accordance with the protections granted by the First Amendment and Texas law, this guidance allows religious private schools to determine for themselves when to reopen free from any government mandate or interference."
—
Texas Public Radio reports that on Thursday, San Antonio reported 5,501 new cases, almost four times higher than the previous daily record of 1,334 cases on July 3. Of those cases, 691 are new and the remainder is from a backlog of reporting. In addition to a two-week delay in reporting from state test results, there were also roughly 800 cases which were delayed by Metro Health's shift to a digital system."
Meanwhile, KERA in Dallas reports that the county has had its deadliest week yet. There are 1,195 new cases in the area, bringing the total to 39,191. Dallas County Judge Clay Jenkins said this will be the "deadliest" week yet with 13 deaths Friday."
—
Updated 12:55 p.m. CT Friday
Montgomery County officials are attributing a sudden surge of COVID-19 cases reported Thursday to a backlog of testing results.
Daily new cases numbered below 200 each day before jumping to 359 cases on Wednesday. On Thursday, Montgomery County reported 853 new cases, according to the Texas Department of State Health Services online dashboard.
The county decided to publish the backlogged numbers in the interest of transparency, Montgomery County Judge Mark Keough said in a video posted to Facebook.
The county's health workers previously only reported results after a contract tracing investigation began, according to the Montgomery County Health District website. Going forward, the district will report new cases before an investigation begins.
Keough said Montgomery County is seeking to grow its contact tracing workforce and improve efficiency to make more calls in a shorter period of time. The county is allocating additional resources for part-time and full-time workers, and making overtime available. Fire marshals and other emergency personnel will also pick up contact tracing duties.
"I even went down there myself and took the training so I could see exactly what was going on," Keough said.
—
Updated 4:38 p.m. CT Wednesday
The city of Houston on Wednesday reported a record 16 new deaths due to COVID-19 — the first time the city has reported double-digit deaths since the virus hit the region in March.
The 16 deaths, many of which were the result of newly discovered cases from June, are just the latest data point in the worsening COVID-19 crisis in Harris County and the Greater Houston region, which has now led to 295 deaths in the city alone.
"For those people who think this virus is a joke, 16 families have been permanently impacted," Turner said.
The news also comes as Texas reported a record number of new confirmed cases, and deaths. There were 10,791 new cases confirmed across the state Wednesday, and 110 deaths reported, according to the Texas Department of State Health Services.
—
Updated 2:02 p.m. CT Wednesday
The Houston Independent School District will delay the start of its school year and begin classes with virtual instruction until at least October.
All students will begin the 2020-2021 school year with online-only classes on Sept. 8, which will continue for six weeks through at least Oct. 16.
But that date is subject to change based on health recommendations amid the spread of COVID-19, the district added.
Parents will also have the option to opt out of face-to-face instruction for the fall semester.
—
Hospitals in Texas and across the country will no longer be reporting coronavirus data directly to the U.S. Centers for Disease Control and Prevention starting Wednesday.
Instead, U.S. Health and Human Services has told hospitals to send those metrics to a private data firm called TeleTracking.
Hospitals will be providing additional data on COVID-19 admissions, total hospitalizations, intensive care bed usage, and the number of doses administered of the antiviral drug remdesivir, according to the Texas Department of State Health Services.
The agency said data will be used, in part, to determine hospital allocations of remdesivir.
Texas DSHS issued guidance on the move Tuesday night, asking hospitals to continue sending those metrics to the state database called EMResource as well. The agency is working to update EMResource to take in the new data so state officials can eventually begin reporting that information to the federal government instead of hospitals themselves.
The move to strip control from CDC of COVID-19 data has raised concerns among some public health officials that hospital data will be politicized, The New York Times reports.