This story is part of Houston Public Media's ongoing coronavirus coverage. To see our previous live coverage, click here.
Updated 1:29 p.m. Friday
Via KUT in Austin: Advocates are warning proposed budget cuts to Texas health programs will make a bad situation worse in the middle of a pandemic. Many programs that provide health care and nutrition services to women and children would be affected by proposals being made ahead of the 2021 legislative session.
Gov. Greg Abbott is asking state agencies to cut 5% of their budget across the board as the state faces financial challenges. Stephanie Rubin with Texans Care for Children says cuts proposed by the Texas Health and Human Services Commission would affect programs that are currently helping families through the pandemic.
"I mean these are programs that help families get access to health coverage and health treatment, support moms who are pregnant or have just had babies," Rubin said. "They oversee the SNAP program which benefits for low-income families who need access to food."
Rubin would rather the state dip into its several billion dollar rainy day fund or work to draw down more federal funds. Republican state Rep. Sarah Davis of Houston has also been raising concerns about the proposed cuts. She said in a letter to health officials that the cuts place short term savings over the long term health of Texans.
— Ashley Lopez
—
Updated 3:54 p.m. Thursday
The city of Houston on Thursday reported five new deaths and 412 new cases of COVID-19. There are now 26,012 confirmed cases and 250 total deaths in the city.
But city health officials are afraid that number could be much higher, as more people are being found "dead on arrival" in the city, according to city records.
"There's a distinct possibility of the underreporting of COVID-related deaths," Perrse said.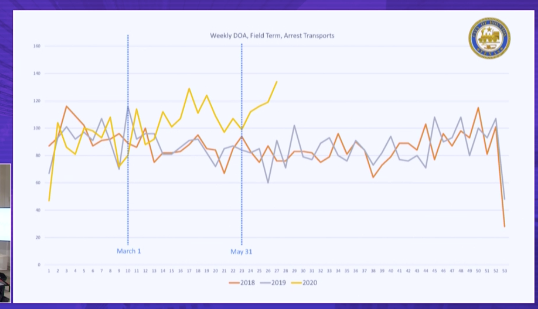 Fire Chief Samuel Peña confirmed that his department was seeing the increase in DOAs, with as many as 18 in one day this week — the highest number all year.
—
Two new testing sites will launch next week east of downtown. In District H, which is about 76% Hispanic, testing will begin Monday at the Houston Community College Felix Fraga academic campus. In District F, which Council member Tiffany Thomas called a historically "forgotten district," a new mobile testing site at Collins Elementary will open on July 18.
The city is also working on a mobile testing at LeRoy Crump Stadium in Alief.
—
Updated 3:14 p.m. CT Thursday
Via KUT in Austin: Close to 3 million Texans have filed for unemployment since the pandemic started
New numbers this morning show 117,244 Texans applied for unemployment benefits last week — about 20,650 more new claims than the week before.
Since mid-March, when the coronavirus pandemic started hitting the Texas economy hard, just over 2,998,540 Texans have applied for first-time unemployment benefits.
Some people filing claims have had trouble getting through and are waiting for approval. The Texas Workforce Commission says the best time to call is early morning or weekends.
Nationwide, more than 1.3 million Americans applied for first-time unemployment last week. The total number of people who are receiving jobless benefits dropped 700,000 to 18 million, the Associated Press reports.
—
Updated 2:42 p.m. CT Thursday
Gov. Greg Abbott on Thursday expanded the state's ban on elective surgeries to more than 100 counties across Texas. Any procedure deemed not "immediately, medically" necessary had already been banned in the state's largest cities, including Houston.
Such procedures can still take place in other small, more rural Texas counties, according to the Texas Tribune.
—
With a rising number of COVID 19 cases, the city of Houston is now suspending all municipal court jury trials through the end of August. Anyone called for jury duty won't have to appear. But defendants set for trial will have to appear in person to get a new court date.
Houston municipal courts remain open for other proceedings.
—
Updated 10:35 a.m. CT Wednesday​
Harris County health officials are investigating a COVID-19 outbreak at Jacinto Nursing & Rehabilitation Center in east Harris County. The investigation began after 12 people tested positive for the illness in mid-June. Since then, health workers have been actively monitoring 57 people for COVID-19. Four people have died, health officials said.
—
Updated 10:16 a.m. CT Wednesday
Houston Public Media's Jen Rice reports that the city of Houston is looking into whether it can cancel the state Republican convention in downtown Houston next week.
Mayor Turner just told city council that the city Legal department is reviewing the GOP convention contract and the in-person convention could be canceled today.

"The plan is to exercise those provisions to cancel this contract today, to not go forward with this convention."

— Jen Rice (@jen_rice_) July 8, 2020
State Republicans, meanwhile, have pledged to move forward with an in-person convention, but elected officials including Gov. Greg Abbott and Lt. Gov. Dan Patrick will be giving their scheduled speeches virtually, according to the Texas Tribune:
"All the elected officials are switching from a live, in-person speech to videos," Kyle Whatley, the party's executive director, said during a town hall livestreamed Tuesday night. "They're doing that for us in order to focus all the attention on the business of the meeting and to get everybody in and out of here as quickly and as safely as possible."

Texas Republican officials typically headline their party's biennial state convention, which this year is scheduled for July 16 to 18 at Houston's George R. Brown Convention Center. Roughly 6,000 people are expected to attend the event. Attendees will be required to wear masks during most of the gathering, according to party Chair James Dickey, after Abbott issued a statewide mask mandate last week.
—
Updated 1:46 p.m. CT Tuesday
WBUR's Here & Now reports: As Houston ICUs fill up, local officials warn that hospitals could be at capacity in under two weeks. Speaking to Here & Now's Jeremy Hobson, Harris County Judge Lina Hidalgo said the region needs a new stay-at-home order to bring down the curve and start reopening sustainably. She says Gov. Greg Abbott's health mandates do not allow her, or other local officials, to implement their own business restrictions or stay-at-home orders. "We have evidence of how we can make this successful, so let's do that," Hidalgo said. "Let's stop the wishful thinking. We tried it once already and it didn't work."
Listen to the full conversation here.
—
Updated 1:11 p.m. CT Tuesday
The Greater Houston Partnership has called on the Texas GOP, along with state and local officials, to cancel the in-person Texas Republican Convention in downtown Houston next week.
Citing the health and safety of evernt-goers, staff and volunteers, the group of Houston business leaders said an indoor event as large as the convention — which is expected to draw thousands of people — would be unsafe.
In a letter sent Tuesday afternoon to Gov. Greg Abbott, Mayor Sylvester Turner, Harris County Judge Lina Hidalgo, and state GOP Chairman James Dickey, the GHP asked "those with the authority to cancel" the event to do so.
"In normal times we would welcome an event that was expected to draw some 6,000 delegates from across Texas to the George R. Brown Convention Center," the letter read. "Unfortunately, these are not normal times."
Read the entire letter below:
—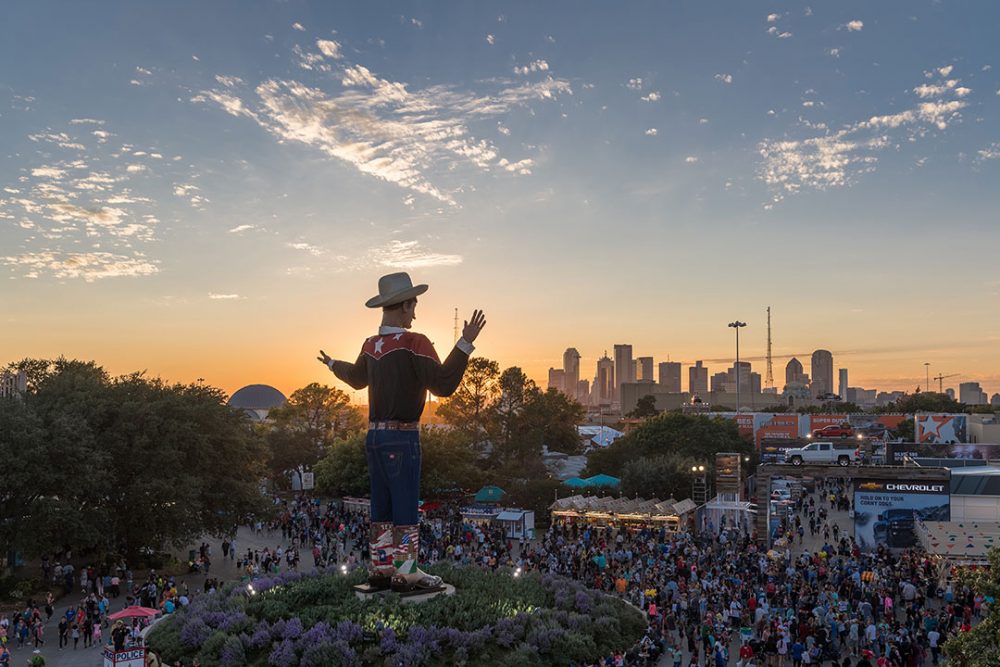 Updated 12:06 p.m. CT Tuesday
The State Fair of Texas has been canceled due to the coronavirus pandemic, organizers said on Tuesday. The fair's board of directors said on its website that it received input from medical experts, government officials, and people and businesses who attend the fair in finalizing its decision to cancel the event, which was set to run from Sept. 25 through Oct. 18.
"This was an extremely tough decision. The health and safety of all involved has remained our top priority throughout the decision-making process," read a statement from board chair Gina Norris. "One of the greatest aspects of the Fair is welcoming each and every person who passes through our gates with smiles and open arms. In the current climate of COVID-19, there is no feasible way for the Fair to put proper precautions in place while maintaining the Fair environment you know and love."
Those who bought tickets and season passes can expect full refunds within two weeks, including fees and shipping. The 2021 fair has been scheduled for Sept. 24-Oct. 17 of next year, and all unused coupons for food, beverages, and rides will be honored, the board said.
It marks the first time since World War II that the annual fair will not take place, and just the eighth cancellation in the fair's 134-year history.
—
Updated 10:15 a.m. CT Tuesday
Republican Party of Texas Chairman James Dickey said the state GOP still planned to go ahead with its in-person convention, as local leaders continue to push for the event's cancellation amid safety concerns over the COVID-19 pandemic.
Dickey said the party has been in contact with Houston First — which runs the George R. Brown Convention Center, the venue holding the convention — and has already begun implementing safety measures discussed by Mayor Sylvester Turner on Monday. Those include thermal scans, limited entryways, expanded floor plans, hand sanitizer stations, and available masks for everyone in attendance.
"In addition to nominating the individuals who will represent the party in the electoral college, a state convention of a political party is a fundamental exercise of the freedom to peaceably assemble and petition the government for redress," read a statement from Dickey sent out Monday night. "That need to assemble is important, and we are taking every precaution to ensure it is done safely."
Turner on Monday announced strict rules for the convention, and said city health inspectors could shut the event down if those requirements aren't enforced.
Four members of Texas' congressional delegation, in an open letter to Gov. Greg Abbott on Tuesday, urged the governor to shut down the event for the safety of the community and those involved.
"Any large grouping of 5,000 plus people will put in jeopardy our essential workers, hotel personnel, and our first responders," read the letter from representatives Sheila Jackson Lee, D-Houston, Joaquin Castro, D-San Antonio, Filemón Vela, D-Brownsville, and Vicente Gonzalez, D-McAllen. "This would not be a responsible action at this time. Knowing your concern about the State of Texas and all its residents, we ask that you act to cancel the in-person Republican convention."
—
The Houston Fire Department says it's struggling to staff emergency services, now that close to 300 firefighters are quarantined because of exposure to COVID 19, Sara Willa Ernst reports. Houston Fire Chief Samuel Peña on Monday said response time has risen only slightly, and no fire stations have closed, but the impact is being felt by the firefighters themselves, with many taking on extra shifts on their days off.
"We're hoping that as a community if we do our part to tamper down the spread of this virus that's going to translate into more firefighters being available, less in quarantine, less exposed," Peña said.
Peña added that at least 67 firefighters have now tested positive for COVID-19.
Sara Willa Ernst is a corps member with Report For America, a national service program that places journalists into local newsrooms. Sara's work at Houston Public Media is made possible with support from KERA in Dallas.
—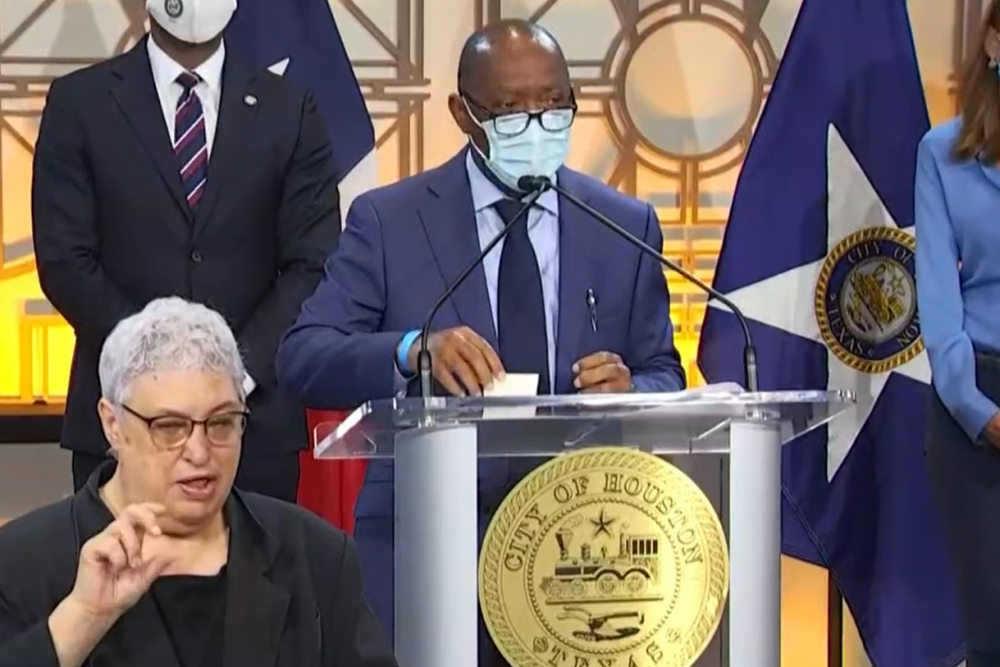 Original story is below:
Mayor Sylvester Turner on Monday announced strict rules for the Texas GOP convention set to take place in Houston next week, even as he urged organizers to switch to a virtual convention.
In a letter set to go out to the state GOP executive committee, Turner said he would inform the party about the requirements, which include masks and social distancing measures. The mayor on Monday also urged sponsors to push for the cancellation of an in-person convention.
Turner asked the organizers to be mindful of the health and well-being of not only the attendees — many of whom he said were older and therefore have elevated health risks — but also of the employees of the George R. Brown Convention Center in downtown Houston, where the convention is set to take place.
"I've not yet talked to a medical professional who's said this is a good idea, to hold this convention at this time," Turner said. "All are saying hosting this convention, an indoor convention, at this time in the city of Houston, is a bad idea."
The city will require all attendees, employees and volunteers at the convention to wear a face covering, per Gov. Greg Abbott's recent order. Inside, organizers must modify the layout of the convention to promote six feet of social distancing, host programs in larger rooms, block off rows or sections of seating to distance people in all directions, work on spacing out or eliminating lines, add physical barriers where necessary, limit use of elevators, and provide individually plated meals or grab-and-go options as opposed to buffet, the mayor said.
Attendees will be required to get daily health checks, which include temperature screenings and symptom checks, and use some system to validate that people have been screened, like wrist bands.
The mayor also required a master list of all attendees that includes name, date of birth, address, phone number, email address, hotel and hotel rooms. Any attendees who develop symptoms at the convention or within two weeks of the convention must notify organizers to coordinate with local public health officials both in Houston and any jurisdictions of people who come in from out of town, Turner said.
If organizers do not follow the requirements, health inspectors will shut down the event, the mayor said.
Houston Public Media has reached out to the state Republican party for comment. The next Texas GOP convention update town hall is Tuesday at 5:30 p.m.
At the last two town halls the party affirmed its intention to go ahead with an in-person event, even as critics warned of the possible danger of doing so.
As many as 7,000 people are expected to be in attendance at the convention, set to take place July 16-18.
The number of new COVID-19 hospitalizations continues to trend upwards, as does the infection rate in the greater Houston area, according to data from the Texas Medical Center.
The announcement of the new regulations came during a press conference Monday updating the public on Houston's latest case count. The city reported no new deaths, with 963 new cases, bringing the total to 24,336 as of Monday afternoon.
The news also comes amid evidence that the virus may be mutating, allowing it to spread more easily, though Houston Health Authority Dr. David Persse said it does not appear at this time to be any more lethal. Doctors around the world have also petitioned the World Health Organization to classify COVID-19 as an airborne illness.
Persse said that if news of the mutations is true, "a super-spreader event like the convention would be probably triply dangerous at this time."
Mayor Turner on Monday said the city was looking at all options in preventing spread at the convention, including whether the city could cancel the event.
"These are serious times, and this pandemic is very serious," Turner said. "And we take it very seriously."