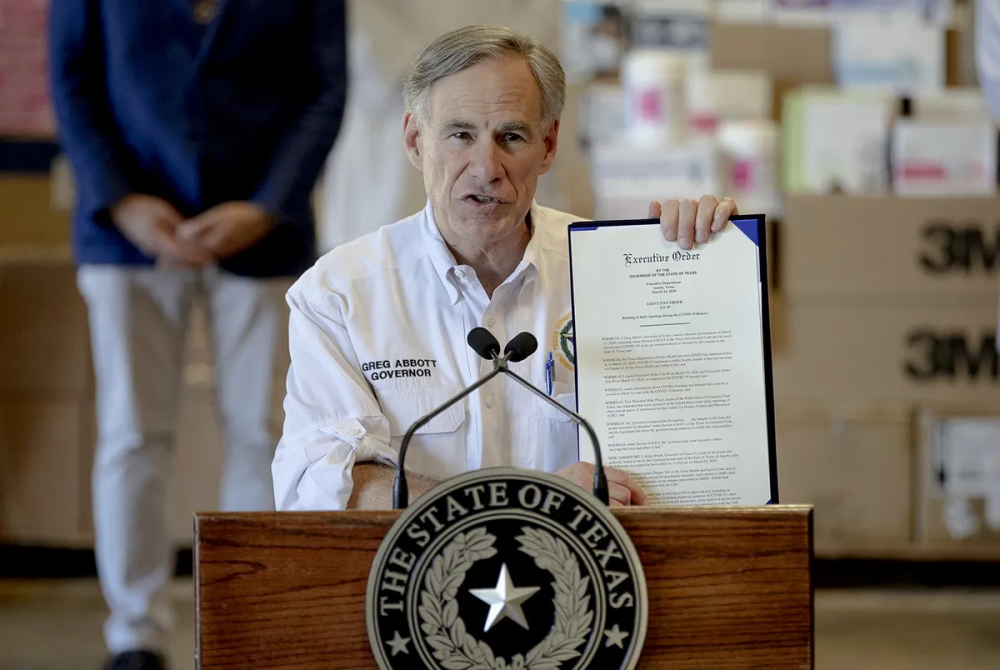 It's been more than three months since the coronavirus pandemic started dramatically changing Texans lives — and the news isn't getting any better.
In recent days, the state has seen record numbers of COVID-19 hospitalizations. As of Monday, there were just more than 3,700 patients fighting coronavirus in Texas hospitals.
But that's not slowing Gov. Greg Abbott's steady path to a reopened economy.
For many Houstonians, the COVID-19 pandemic became "real" on March 11, when the city shut down its famous annual Livestock Show and Rodeo. The days that followed brought an avalanche of similar moves from cities across the state. Many school districts suspended classes indefinitely. But it wasn't until March 19 that Abbott issued executive orders designed to slow the virus' spread.
The order closed gyms and forbade dining-in at bars and restaurants. But the virus kept spreading, and on March 31, Abbott issued a stay-at-home order effective through the end of April.
"Texans are expected to limit personal interactions that could lead to the spread of COVID-19 while also still having the freedom to conduct daily activities such as going to a grocery store," Abbott said. The state's action came a week later than similar local orders – like in Harris, Dallas, and Travis Counties.
But April was barely halfway through before Abbott began signaling that he wanted Texans to get back to business. On April 17, he ended a ban on elective surgeries and allowed state parks to reopen.
Ten days later, with new cases falling but new hospitalizations near their peak, Abbott announced Phase I of the state's reopening. The stay-home order would expire April 30. Retail, restaurants, movie theaters, and malls would be allowed to open the next day, at restricted capacity.
"Now to minimize the spread of COVID-19 during Phase I, on the advice of doctors, I am limiting occupancy to no more than 25 percent," Abbott said.
Some Texans, like 22-year-old Jon Garcia, cautiously returned to malls on May 1.
"I am definitely happy to be out shopping," Garcia said. "It's a beautiful day in San Antonio. I've got a new pair of shoes. So that's exciting."
On May 5, Abbott said the overall hospitalization rate was steady or steadily declining, yet that same day hospitalizations hit a new high. Nevertheless, Abbott issued a new executive order allowing barbershops, cosmetology and hair salons, and gyms to reopen with certain restrictions.
On May 16, new cases spiked at their highest level to date. Two days later, Abbott announced Phase II of reopening. He argued the state had seen a downward trajectory of positive tests over the prior two weeks. Bars, wine tasting rooms, and craft breweries were given the green light to open their doors.
Abbott started Phase III on June 3. Businesses could move from 25-50% capacity, while restaurants could open at 75% capacity on June 12. New cases and new hospitalizations climbed sharply.
All last week, Texas saw daily record highs for hospitalized COVID-19 patients, something Abbott addressed in a press conference last Tuesday.
"There are certain counties where a majority of the people who are tested positive that are in that county are under the age of 30," Abbott said. "And this typically results from people going to bar-type settings."
In response, Abbott announced the Texas Alcoholic Beverage Commission would temporarily suspend liquor licenses from establishments not complying with state rules. But the governor made no move to slow the pace of reopening.
"Even though there are more people hospitalized, we still remain at the lowest threat level in our hospital capacity. We have plenty of room to expand beds. There are thousands of hospital beds that are available as we speak right now," Abbott said.
The march forward continues. During Monday's press conference, Abbott said: "Closing down Texas again will always be the last option."