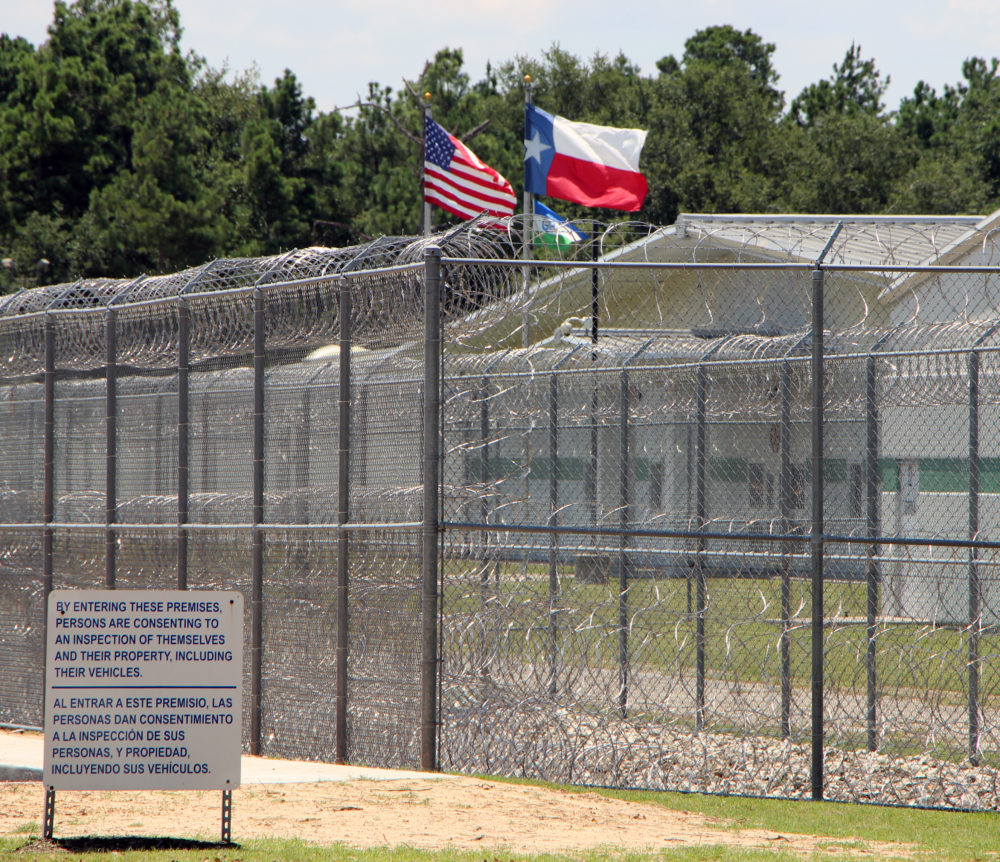 Updated 1:45 p.m. CT Friday
A man in U.S. Marshal custody inside a Texas immigration detention center has died of COVID-19, officials confirmed Friday.
Alonzo Garza-Salazar, an inmate at the Joe Corley Processing Center in Conroe, died at 6:21 a.m Wednesday, U.S. Marshals said. He was battling COVID-19 when he died, according to a doctor who was advocating for his release.
The death highlights what two people inside the facility said were unsafe conditions for detainees.
COVID-19 is spreading rapidly inside immigrant detention centers across Texas. Immigration officials maintain they're providing medical screenings, testing and personal protective equipment.
But inside Joe Corley, two detainees that spoke with Houston Public Media outline inhumane conditions, including poor medical care, minimal protective equipment and unsanitary and crowded dorms.
Immigration and Customs Enforcement has confirmed 32 COVID-19 cases among detainees at Joe Corley as of Wednesday, more than any other facility in the Houston area. GeoGroup has also confirmed eight facility staff have also tested positive.
Denied PPE, Disinfectant And Clean Blankets
Authorities transferred Israel Rodriguez, 31, to the Joe Corley facility in Conroe in mid-March. He said medical care in Conroe is worse than the ICE facility he was transferred from in California.
"We've asked for gloves for our own safety, those have been denied utterly," he said. "We've asked for disinfectant. They said 'no', they just refused completely."
For protection against COVID-19, they've been given one mask they've had to reuse for at least two weeks, he said.
"They're not giving us proper chemicals to wash the dorms. We have to use the shampoo they've given us for personal use to clean the doors," said another detainee, who asked to go by Muhammad, to avoid retaliation from guards.
"And the virus is spreading very fast to the other dorms," he said. "Eventually it's going to get to the dorm I'm in."
Muhammad has been detained at Joe Corley for more than a year and said conditions are unsanitary.
"Our blankets have not been changed for three months," he said, "and before that it was eight months."
In a written statement, ICE denied this claim saying: "Allegations that detainees at the Joe Corley Processing Center in Conroe, Texas, are being denied cleaning or personal hygiene supplies and that bedding is not being changed for weeks or months are patently false."
They said detainees are provided a weekly exchange of sheets, towels and pillowcases.
ICE also said as of May 15, detainees at the facility had received more than 5,100 masks and that under the pandemic detainees are provided with water, disposable cups, soap, toilet paper, sanitary wipes and disinfectant cleaning supplies twice weekly.
'32 Men In One Dorm'
Both men have said social distancing is impossible in their shared dorm rooms.
"This facility is very crowded, " Muhammad said. "Currently, I'm living with 32 men in one dorm. We have three showers and two toilets and we share one microwave."
He said beds are so close to each other, you can easily reach across and touch the bed next to yours.
"They put a print out on the window saying that we should stay 6 feet from each other and also move the bunks 6 feet away from each other," said Rodriguez, who is sharing his dorm with six other men. "First of all, there's not enough space at all, second the bunks are screwed to the ground and to the walls."
Rodriguez said the space is as big as two jail cells and has 12 beds. They're also no longer able to leave their dorms at all, because of COVID-19.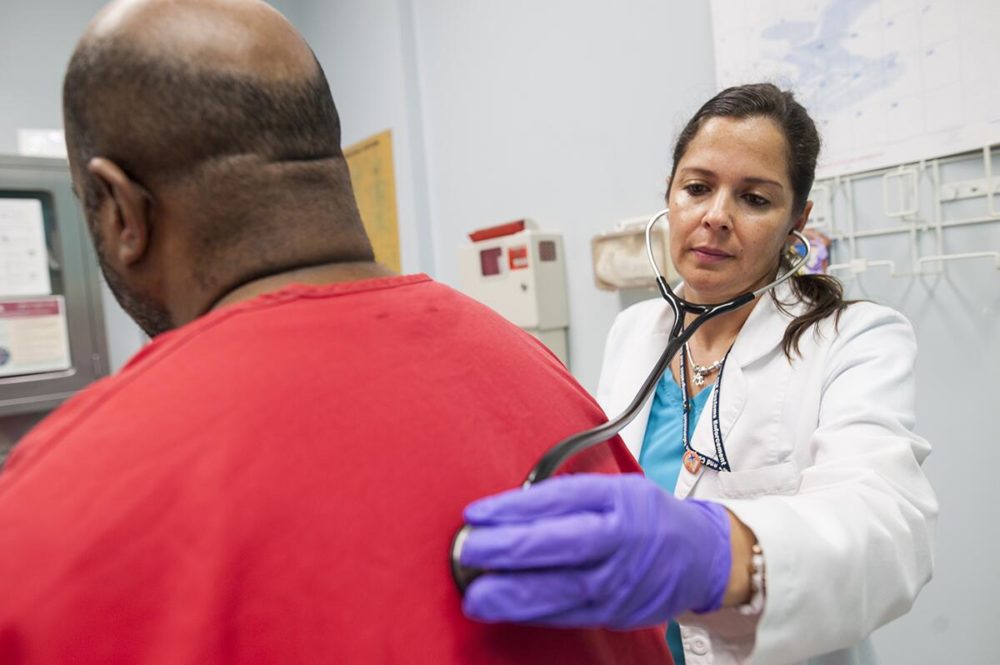 Denied Medical Care
Detainees are also reporting bare bones medical care.
Rodriguez said he and some of his roommates are sick with fevers and chills, but he said they're still being denied medical care and COVID-19 testing.
"We started to get their attention and trying to have the medical side come and check us out, come and test us, but they definitely don't want to test us," Rodriguez said. "They said, 'no we're not testing you.'"
In a written statement, ICE said its COVID-19 testing protocol is in compliance with the Centers for Disease Control and Prevention.
However, some 50% of detainees ICE has tested for COVID-19 test positive. In Texas, by comparison, just 7% of the general population that has been tested for the disease have tested positive.
Muhammad said even before the pandemic medical attention has been slow and inadequate.
"It's chaos because the clinic staff, for example, if I go for a broken toe we have to write a written request," he said. "They do not respond immediately."
Ibuprofen and water is often prescribed, regardless of the issue, Muhammad said.
"Now the medical staff should be better than before," he said, "but now it's worse. There are two or three nurses working."
Muhammad said he's scared for his own health, and for people around him, like his 70-year-old dorm mate who has diabetes. He also claimed the number of cases is higher than what ICE has been reporting, according to what a security officer told him.
"He told me there were 72 confirmed cases now," Muhammad said. "And he said they took 9 cases to the hospital because they were severe."
The official numbers from ICE show 32 COVID-19 cases at the Conroe facility. But detainees in U.S. Marshal custody are also held there, and could account for the disparity in the number of cases. U.S. Marshals would not confirm how many COVID-19 positive cases were at the Joe Corley facility.
The facility is currently holding 371 ICE detainees and 594 people in U.S. Marshals custody.
Among ICE detainees at Joe Corley, the COVID-19 infection rate is about 9%. ICE would not confirm whether or not detainees have been taken to the hospital for treatment.
Grievances Unanswered
Muhammad said he and other detainees have tried to advocate for better conditions. They even went on a hunger strike at the beginning of the outbreak, asking for soap and masks, and that new detainees not be brought into the facility.
Though they were given some soap, Muhammad said new people were still being transferred to the detention center, and weren't given masks until weeks later.
Muhammad also said there are times when guards laugh at detainees when they take collective action, calling it "childish."
He said officers have told him and other detainees they should be grateful for the treatment because it's better than conditions in their home countries.
"They were laughing and smiling about this as if we are animals in here," he said. "I feel like I am like a cow, sitting on someone's farm, who is used for money and waiting for this farmer to slaughter me or do whatever. This is not right and no one is speaking for us here."
Both Muhammad and Rodriguez have said their lawyers are trying to get them released.
Rodriguez said he had already won his immigration case after police tortured him in Mexico, but he's still in detention because the prosecutor is appealing the judge's decision.
And because of a prior felony conviction from 2008, Rodriguez may be subject to mandatory detention under ICE guidelines.
All he wants is to stay healthy, get out and see his father in California who has cancer.
"He's really sick. I'm just trying to make it out before he passes," Rodriguez said.
But, he fears that might not happen. His father has been given six to 12 months to live.