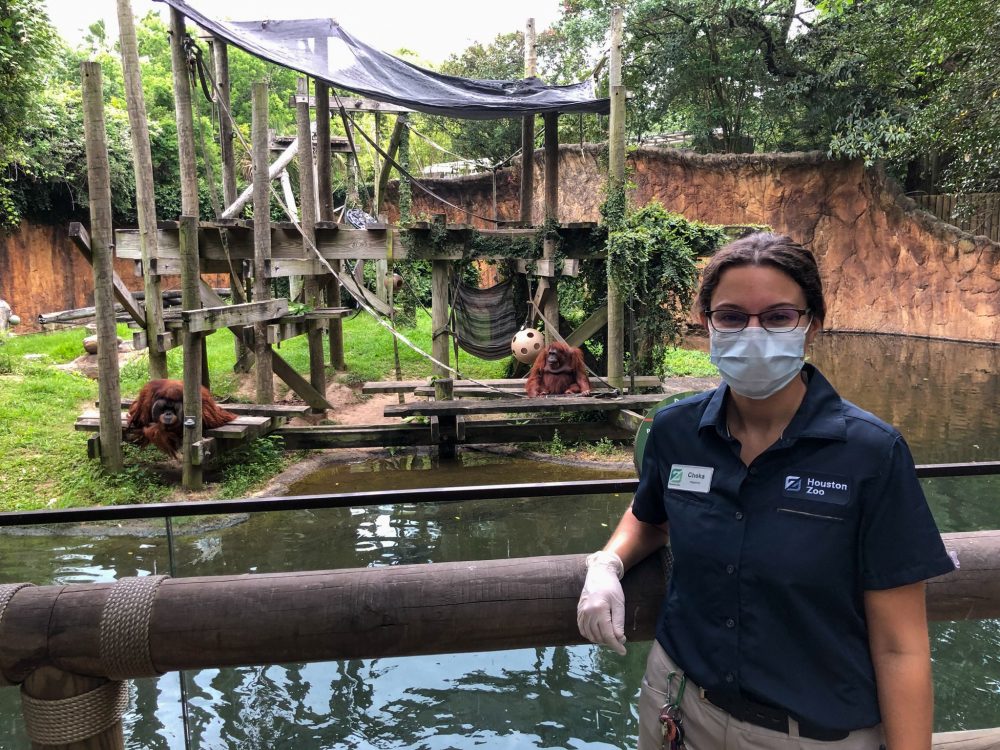 On a recent Facebook livestream, Houston Zoo primate keeper Cheka Heihn introduced viewers to two orangutans — Rudi and Kelly — who were patiently waiting on their wooden jungle gym for Heihn to toss them food.
"First we're going to start with an ice pop," she told viewers. "This is some diluted apple juice with some orange peels frozen on the top."
In many ways, this food toss was a normal activity, according to Heihn. She said she does them frequently when the zoo is open, especially on hot summer days.
But instead of crowds of people swarmed around the exhibit to watch, they were tuned in from their computers — and Heihn was also taking extra safety precautions because of COVID-19.
"We are now wearing masks while we're doing it since we're in an open-air situation where we're in semi-close proximity to them," she said.
During the pandemic, the zoo, like so many other places, has had to implement new social-distance protocols to its employees. But they've also had the extra challenge of separating workers from animals that are believed to be susceptible to COVID-19. And the longer their gates are closed, the more they're feeling the financial burden of the pandemic, according to zoo officials.
At the Bronx Zoo in New York, eight large cats, a mix of tigers and lions, have tested positive for COVID-19. Officials believe they were infected by a zookeeper with the virus. And other animals, like otters and orangutans, are also believed to be at high risk.
"We're primates, they're primates. Anything as simple as a common cold can be passed from us to them and vice versa," said Heihn. "So we're definitely keeping a close eye on their health."
Heihn said prior to the pandemic, they would wear face masks and gloves for certain activities, such as food preparation. But now, Heihn said she essentially has to wear face masks and gloves all the time.
And perhaps the biggest challenge, she said, is limiting her close interaction with the primates, like Rudi and Kelly. Besides essential medical tasks, other non-essential, enrichment activities have been put on hold.
"It's definitely difficult right now when you can tell that they're wanting some extra attention, and we have to kind of refrain from doing that as much as possible," she said. "I'm definitely looking forward to just be able to hang out with them more, sit in front of them and really engage in those play sessions."
Zoo officials said they're waiting for further instructions from the state on how and when they can reopen.
The zoo has been closed for seven weeks now, and according to zoo officials, they're already feeling the financial squeeze of the pandemic.
General Curator Kevin Hodge said the zoo won't receive its usual funding from the city of Houston this year, which is also facing its own budget crisis.
"We also haven't been able to have the ticket sales that we normally do," Hodge said. "Our busiest time of year is spring break. And we missed that."
According to past financial records, the Houston Zoo usually receives about $10 million from the city. Together with ticket sales, the two accounted for about a quarter of their roughly $100 million in revenue in 2018. That same year, taking care of the animals cost about $19 million.
"We want to be able to keep and maintain all of the staff for as long as possible. But there's only so long you can go with no funds coming in," Hodge said.
To help with costs, the zoo has set up an Emergency Fund. And it's trying to figure out what reopening looks like, whether that means one-way paths or timed tickets.
"We're starting to looking at plans and strategies now for when we do reopen," Hodge said. "How many people can we have in the zoo? How do we keep people spaced apart?"
Hodge said a lot of the animals have noticed the change. Some of the shyer species — like the frogs — are now more visible during the day, he said.
But the more social animals have been missing the humans while the zoo is closed, particularly the giraffes who are used to guests feeding them lettuce every day.
"Whenever they see someone walk past, they all stop and turn and look at you, and come up to where you're at to check you out and see what you're doing," Hodge said.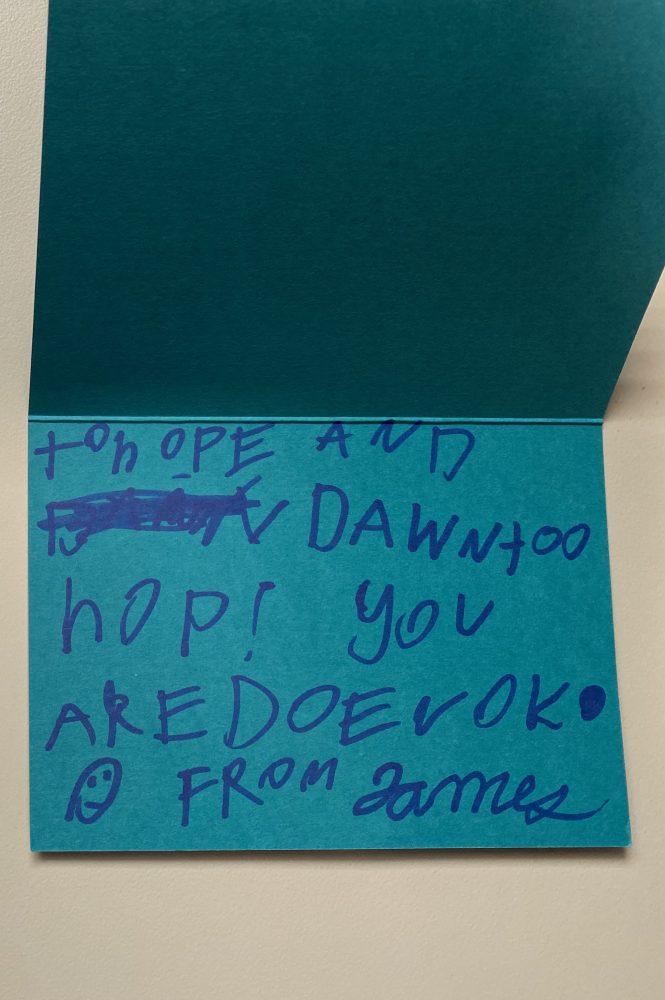 Though visitors haven't been able to go to the zoo in person, the zoo has been bringing the animals to its loyal fans. Every day at 11 a.m., a zookeeper features a different animal and answers questions from viewers.
The livestream with primate keeper Heihn and the two orangutans garnered more than 21,000 views.
One of the people tuning in was Shannon Stilwell and her two sons Kieran and Finley. Stilwell said both of her boys have autism and the zoo is one of their favorite places to go as a family, because it's outside and not too loud. And her sons love the animals.
"My kids have been asking about the animals and if they can get COVID and things like that," she said.
Stilwell said one of her sons has a lot of anxiety, but tuning in to the livestreams has helped.
"We watch most of them. And they really enjoy seeing the animals, and seeing that the zoo is still there and the animals are still being taken care of," she said.