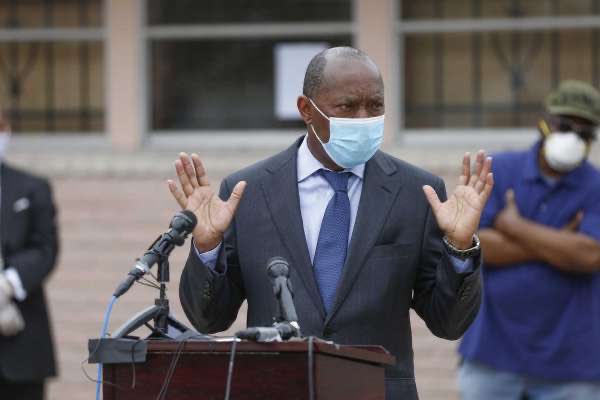 This story is part of Houston Public Media's ongoing coronavirus coverage. To see our previous live coverage, click here. For more stories and information about the coronavirus, visit our Houston Ready project page.
Updated 2:07 p.m. CT Friday
A judge in Austin is looking at whether to block Gov. Greg Abbott's order banning the release of certain inmates from local Texas jails.
Judge Lora Livingston heard arguments Friday from both the State of Texas and plaintiffs that included all 16 Harris County misdemeanor judges, over whether Abbott had the right to ban the release of people accused of violent offenses, or who have ever been convicted of a violent offense. The order was a response to debate over reducing the number of people in crowded local jails, in response to the coronavirus pandemic.
A lawyer for the judges argued that the order has unconstitutionally hindered their ability to use discretion in releasing people from Harris County jail, and that the legislature did not give Abbott the right to do so in the Texas Disaster Act of 1975. By broadly blocking people with a violent history, the order could stop even misdemeanor judges from releasing people for nonviolent offenses, based on convictions that may have occurred years ago.
The lawyer, Andre Segura of the Texas ACLU, also argued that defense attorneys were left in limbo, making it more difficult to advise clients in detention who would otherwise be released.
"The governor certainly has a role in responding to disasters…but that role must be and is carefully limited by the disaster act, state law, and the Texas constitution," said attorney Andre Segura.
But the state, represented by attorneys from Attorney General Ken Paxton's office, said that the order was meant to clarify "confusion" after local authorities across Texas, like Harris County Judge Lina Hidalgo, began to issue their own orders asking courts to release inmates. Attorneys for the state also argued that the order was meant to make communities safer, citing examples of domestic violence offenders who would possibly be released to shelter in place with victims.
But Judge Livingston expressed skepticism, saying judges make such decisions to release people whether or not there is a pandemic.
"That happens all day, every day," Livingston said Friday. "That's what we do here."
Judge Livingston was reviewing a last-minute brief from the state Friday, and barring the need for any additional information, was set to rule on a temporary restraining order Friday.
—
Updated 4:11 p.m. CT Thursday
Houston will shut down city parks ahead of the holiday weekend, marking a shift in policy from Mayor Sylvester Turner from just one day ago. Turner previously said the parks would remain open, even after Harris County Commissioners announced the shutdown of county parks.
There are 380 city parks, 100 of which have gates. Turner said those parks will be locked up starting sundown Thursday, and park rangers will do rotations to monitor those and the remaining unlocked parks.
The mayor said he made the decision after the single-largest one-day increase in Houston coronavirus cases. Turner reported 615 new positive COVID-19 cases in the city Thursday, and two deaths: a white male in his 80s, and a Hispanic female in her 70s. Both had underlying conditions, Turner said.
Because of backlogged tests, more than half of Thursday's results come from March.
Confirmed cases of COVID-19 in Houston now number 1,995. The city now makes up nearly 50% of the nine-county region's confirmed cases.
—
Harris County has launched its small business loan website, aimed at giving businesses with less than 500 employees up to $25,000 with zero interest to help them get through economic hardship brought on by the COVID-19 outbreak. While funded by the county, the loans will be administered through the Houston-Galveston Area Council. Applicants must be in good standing with their businesses property taxes and show that their business has been negatively affected by the COVID-19 outbreak.
—
Updated 1:36 p.m. CT Thursday
Houston ISD announced 25 food distribution sites for next week. Each site gives out up to 500 bags of food per day, and the district said staff members minimize contact by placing food in the trunks of cars. HISD also accepts walk-up families, but asked people to adhere to strict social distancing guidelines.
Locations are listed below:
Monday, April 13
• Foerster Elementary School, 14200 Fonmeadow Dr., 9 a.m.
• Attucks Middle School, 4330 Bellfort Blvd., 9 a.m.
• Booker T. Washington High School, 4204 Yale St., 11 a.m.
• Blackshear Elementary School, 2900 Holman Ave., 3 p.m.
• Shadydale Elementary School, 5905 Tidwell Rd., 3 p.m.
Tuesday, April 14
• McNamara Elementary School, 8714 McAvoy Dr., 9 a.m.
• Waltrip High School, 1900 W. 34th St., 9 a.m.
• Thompson Elementary School, 6121 Tierwester St., 11 a.m.
• Jones Futures Academy, 7414 Saint Lo Rd., 3 p.m.
• Key Middle School, 4000 Kelley St., 3 p.m.
Wednesday, April 15
• Williams Middle School, 6100 Knox St., 9 a.m.
• Fondren Elementary School, 12405 Carlsbad St., 9 a.m.
• Navarro Middle School, 5100 Polk St., 11 a.m.
• Mitchell Elementary School, 10900 Gulfdale Dr., 3 p.m.
• Hilliard Elementary School, 8115 E. Houston Rd., 3 p.m.
Thursday, April 16
• Cullen Middle School, 6900 Scott St., 9 a.m.
• Jane Long Academy, 6501 Bellaire Blvd., 9 a.m.
• Burrus Elementary School, 701 E. 33rd St., 11 a.m.
• Wheatley High School, 4801 Providence St., 3 p.m.
• Fonwood Early Childhood Center, 9709 Mesa Dr., 3 p.m.
Friday, April 17
• Scarborough High School, 4141 Costa Rica Rd., 9 a.m.
• Fleming Middle School, 4910 Collingsworth St., 9 a.m.
• Young Elementary School, 3555 Bellfort Ave., 11 a.m.
• Osborne Elementary School, 800 Ringold St., 3 p.m.
• Pilgrim Academy, 6302 Skyline Dr., 3 p.m.
—
Updated 12:03 p.m. CT Thursday
Two more people in the Galveston Police Department have tested positive for COVID-19, three days after the city announced its first confirmed case in the department. After the first diagnosis, which was discovered Saturday but announced Monday, the city tested 26 additional employees earlier this week who had recently worked with or shared a workspace with that employee. Two tested positive, and 24 tested negative for the virus.
—
Legacy Clinics in southwest Houston and Fifth Ward can now test kids 17 and under for the coronavirus, the clinics announced Thursday. The clinics said they redesigned operations for younger patients who fall ill, but that before visiting, all patients should complete a remote screening. If necessary, the child can be taken to one of the clinics, and rather than going inside, parents can access a drive-through test without leaving the car.
—
Updated 11:12 a.m. CT Thursday
The Houston Museum of Natural Science has furloughed 337 employees, or 70% of its staff, the museum said Thursday. The museum has also reduced pay for the other 144 employees still employed, by 15%. The museum will still provide health insurance and other employee benefits to the remaining museum staff, at least through May.
Joel A. Bartsch, HMNS president, said in a press release Thursday, "our goal is to emerge from this crisis stronger than ever, and to re-assemble our world-class team, all of whom are part of the HMNS family." Bartsch also encouraged all furloughed employees to file for unemployment benefits. The museum hopes to reopen May 1.
—
Updated 10:42 a.m. CT Thursday
A Madison High School staffer who helped distribute laptops to families has tested positive for COVID-19, according to Houston ISD. The person is not hospitalized, and is recovering at home.
School staff members who worked in close proximity to the unidentified person were asked to self-quarantine, and the district recommended that parents and students who picked up laptops from Madison between March 23 and April 6 should self-quarantine for 14 days from the last day they were inside the school.
The district said it was working with the Houston Health Department to identify students, parents or staff who should be tested.
—
Updated 4:01 p.m. CT Wednesday
There are now 12 people in Houston who have died due to the coronavirus, eight of whom were African Americans with underlying health conditions, according to Mayor Sylvester Turner. The news comes hours after Houston Health Authority Dr. David Persse confirmed that black communities across Houston were hit hardest by the virus.
Turner said thereneeded to be more focus on communities that have been historically underserved. Many people may have trouble accessing one of the city's two testing sites, he added, and the city was looking into ways to bring testing into those underserved neighborhoods.
"We really need to get into many of these communities, communities of color, and do a lot more testing," Turner said. "The testing has not been nearly as robust as I would have liked it."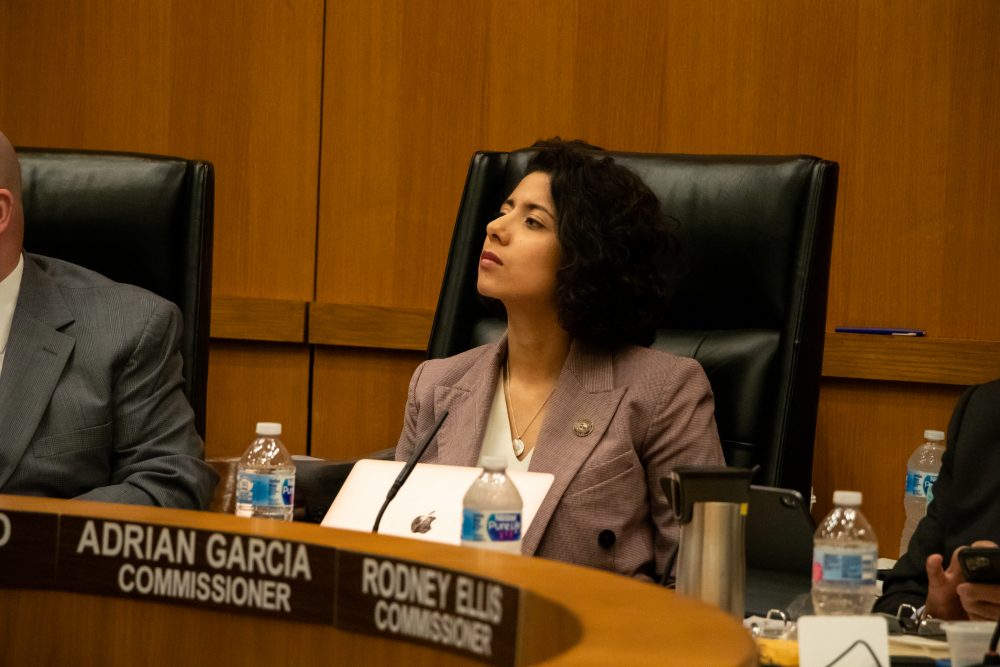 Updated 2:13 p.m. CT Wednesday
Harris County Judge Lina Hidalgo has signed an order closing all county public parks this coming weekend. The parks will remain closed from Friday through Monday.
Hidalgo and the Harris County Commissioners previously expressed concerns that large crowds flocking to the parks this weekend would risk spreading the coronavirus. The judge is encouraging mayors throughout the county to shutter their city parks over the weekend as well.
Hidalgo's move follows an order by Gov. Greg Abbott closing all Texas state parks and historical sites in the face of the COVID-19 pandemic.
—
Gov. Greg Abbott said the state has provided Harris County 125,000 protective face masks and will be sending more, as cases in the county continue to rise and resources are stretched thin. The governor said he spoke to staff members Harris County Judge Lina Hidalgo's office to ask what they needed. In addition to the masks, Abbott said they were working to provide more testing in Harris County.
The rapid rise of cases and increasing number of deaths in the county have led to concern not only from Abbott, but from Vice President Mike Pence, who Abbott said phoned him to offer any government assistance to the county. Pence chairs President Donald Trump's coronavirus task force.
"It's more important now than ever for people in Harris County to maintain these distancing practices, to stay at home," Abbott said. "We are seeing a rise in people testing positive in Harris County as well as elsewhere in the state of Texas. But remember this: These numbers are lower than they would be if it were not for the distancing practices that people are employing right now."
Abbott also said that the state is increasing the number of tests by 10% per day, thanks in large part to private companies. By the end of Wednesday, 100,000 Texans will have been tested, he said. As of noon, 9,107 Texans had tested positive, and 175 people in Texas have died, he added.
The governor announced that Walgreens would begin drive-through testing, though he did not provide details on where or how soon the testing would start. If they begin, Abbott said results could take about 15 minutes per person, and up to 3,000 tests could be administered per day.
—
Updated 12:49 p.m. CT Wednesday
The federal government is quietly seizing protective equipment from states and hospitals across the country, leaving them in the dark about whether they will have enough resources to combat the coronavirus, according to a report fro the LA Times. And Texas is one of the states being impacted:
Jose Camacho, who heads the Texas Assn. of Community Health Centers, said his group was trying to purchase a small order of just 20,000 masks when his supplier reported that the order had been taken.
Camacho was flabbergasted. Several of his member clinics — which as primary care centers are supposed to alleviate pressure on overburdened hospitals — are struggling to stay open amid woeful shortages of protective equipment.

"Everyone says you are supposed to be on your own," Camacho said, noting Trump's repeated admonition that states and local health systems cannot rely on Washington for supplies. "Then to have this happen, you just sit there wondering what else you can do. You can't fight the federal government."
—
The coronavirus is disproportionately impacting African American populations in Houston, city officials revealed Wednesday. While the city has not released demographic details yet about who has been infected overall, Dr. David Persse with Houston's Health Department said African American communities are are suffering the worst outcomes. And of the 11 people in the city who have died of COVID-19, seven were African American, two were Latino, and two were white.
Persse said part of the reason for those outcomes is social disparity in the U.S. health care system, which lead to disproportionate rates of things like hypertension and heart disease in black communities.
"It has always been our position that the social disparities in health care are completely unacceptable, and as a nation, we've got to do something to address that," Persse said.
Wednesday's comments were the first from city officials acknowledging the racial breakdown of COVID-19 deaths.
—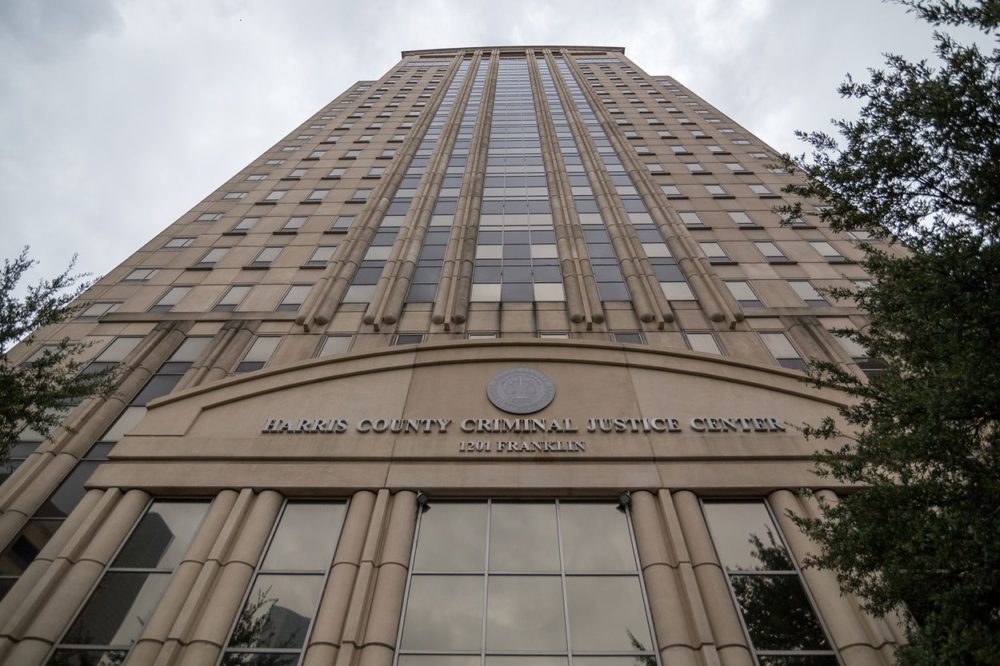 Harris County misdemeanor judges on Wednesday joined a lawsuit accusing Gov. Greg Abbott of abusing his authority when he issued an order banning the release of certain people from jails across the state. The suit accuses Abbott of creating a "wealth-based system" of release, as it allows anyone who can afford to pay bail to still be released.
The plaintiffs in the suit — which include all 16 Harris County misdemeanor judges, the Texas Criminal Defense Lawyers Association, Austin Criminal Defense Lawyers Association, Capital Area Private Defender Service, and NAACP Texas — say they're afraid an outbreak in the jails would create a danger not just to the people being jailed, but to the people who work in the jail and the entire community. An outbreak would also put a strain on hospital resources, the suit argues.
At least three people jailed in Harris County have tested positive for COVID-19, and 18 employees with the Harris County Sheriff's Office have tested positive for the disease, including some who work in the jails.
The complaint also accuses the governor of illegally limiting the ability of judges to use their discretion in choosing who to release, and that it creates a burden on defense attorneys.
The suit names Abbott and Attorney General Ken Paxton as defendants.
—
Updated 6:40 p.m. CT Tuesday
Thirty-four residents and staff members at an assisted living home in La Porte have tested positive for COVID-19, according to a release from Harris County Public Health.
The LaPorte Healthcare Center is now under "strict health control orders to ensure appropriate infection control," according to officials.
LaPorte Healthcare Center has 58 certified beds and a history of quality issues based on past inspections, according to ProPublica.
This follows an outbreak at a Texas City nursing home, where 83 people have tested positive for COVID-19.
—
Galveston County announced four additional COVID-19 related deaths, all people with pre-existing medical conditions.
The county also announced 16 additional positive cases, bringing the total to 272. Fifteen additional people have recovered, bringing the total number of recovered cases to 78.
Updated 4:58 p.m. CT Tuesday
Harris County leaders narrowly approved a $10 million small business loan program designed to aid businesses damaged by the coronavirus pandemic. The program would provide loans of up to $25,000 for qualifying businesses. The measure passed 3-to-2 along party lines.
Republican Commissioner Steve Radack condemned the measure as lacking in transparency, while Republican Commissioner Jack Cagle expressed concerns about the terms under which loans might be forgiven, and that they could effectively become grants.
—
Mayor Sylvester Turner said city parks would continue to remain open, but Harris County leaders on Tuesday signaled that they were leaning toward shutting down all county parks over the Easter weekend, in order to limit the spread of coronavirus.
Judge Lina Hidalgo said the county may loosen the rules after the holiday, to allow the use of parks for walking with appropriate social distancing.
"We should treat people with the agency to be able to keep that distancing and respect the need to not congregate," she said. "But I just think that with the Easter weekend, it's a risk we shouldn't run. We can't risk everyone coming together for a weekend, and if we can help it, we ought to."
The discussion follows a decision by Gov. Greg Abbott to close all state parks and historical sites until further notice. Many county parks are already partly shuttered, with exercise and playground equipment taped off.
—
In a unanimous vote, the Harris County Commissioners Court opted to approve a $17 million payment to lock in NRG Park as an emergency overflow for coronavirus patients. Hidalgo once again said that the location would only be used if it becomes necessary.
"This is a last resort," Hidalgo said. "These should only be used for COVID-19 patients when hospitals are at full capacity."
—
Updated 3:59 p.m. CT Tuesday
There are now 11 deaths in the city of Houston related to the coronavirus, and a fourth person has died in Montgomery County, bringing the total number of deaths in the greater Houston area to 35. That includes 12 deaths in greater Harris County outside of Houston, six in Fort Bend County, and one each in Galveston and Brazoria counties.
The Houston man was in his 30s and had underlying health conditions, according to Houston Mayor Sylvester Turner. The Montgomery man was in his 80s from the Woodlands, who died outside the state, according to the Montgomery County Public Health District.
Turner also said the federal government will continue to assume 100% of costs for all new personal protective equipment in the city, and federal workers will remain in the city to continue helping with the virus response. On Monday there was some concern from the city that the federal government would stop its assistance.
The city was also beginning to look into racial disparities among COVID-19 patients, after reports that the crisis was impacting black communities harder than others. But Turner said those disparities were there even before the pandemic, using Hurricane Harvey as an example of another disaster with disparate impact among communities.
"With or without COVID-19, the health disparities have always been there," Turner said. "They were there before COVID-19, they are accentuated by COVID-19."
—
One employee with the Houston Fire Department is in intensive care after being diagnosed with COVID-19, according to Fire Chief Samuel Peña. The unidentified employee is the 11th person in the department diagnosed. He is on oxygen, but breathing on his own, the chief said. There are currently 165 HFD personnel in quarantine, down from 220 yesterday.
Peña also said that in the last 24 hours there have been 134 responses to complaints of facilities allegedly not complying with stay-at-home order. There have been no citations at this point.
Police Chief Art Acevedo said there have been 130 HPD personnel tested for the coronavirus, with 24 testing positive, and 51 tests pending. One officer remains in intensive care on a ventilator.
Burglaries of buildings and family violence complaints are up, both from a brief period before the stay-at-home order and year-to-year, Acevedo said.
—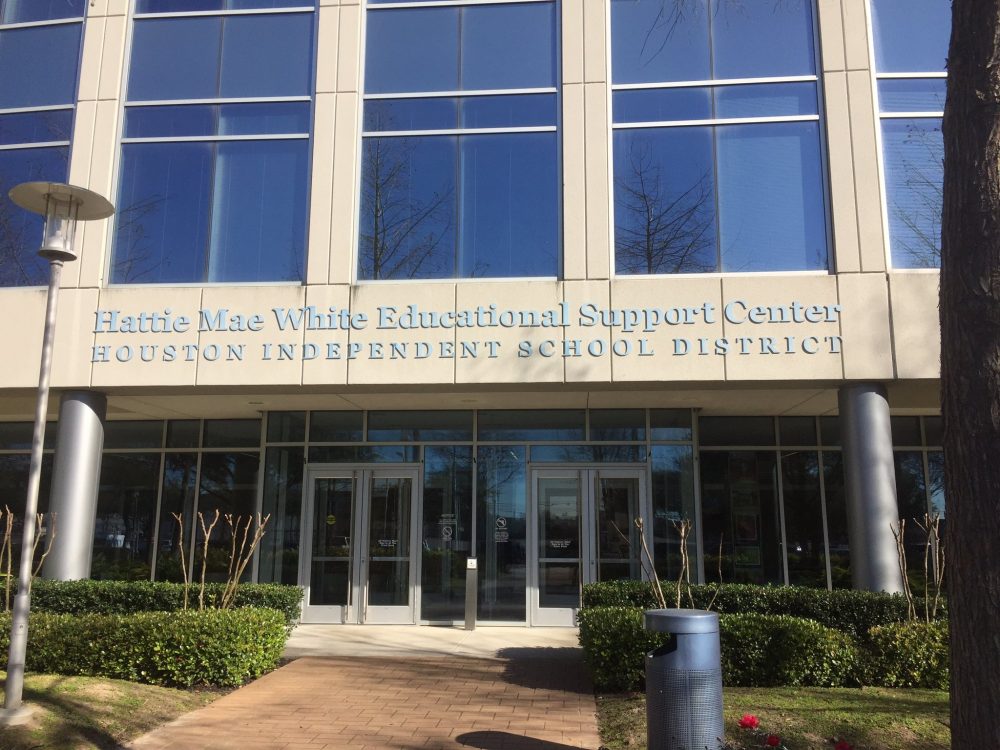 Updated 2:56 p.m. CT Tuesday
A volunteer with Houston ISD's food program was diagnosed with COVID-19, according to the district. It's the second person involved with the program to become exposed to the coronavirus.
The person was a volunteer at the McReynolds Middle School food distribution site on March 24, and began showing symptoms days after working at the site. The unidentified volunteer is currently self-quarantined at home, the district said.
The district notified a group of volunteers who worked with the person "for an extended period of time," and those people are also self-quarantined for 14 days. The district said social-distancing guidelines likely limited exposure, but it is working with the Houston Health Department to notify any students, parents or staff who should be tested.
HISD previously suspended its food program after a volunteer at the Welch Middle School was exposed to COVID-19 in March. The district did not say whether it would alter its food program service in light of the latest positive case.
—
Updated 12:34 p.m. CT Tuesday
METRO is ramping up safety measures for passengers and employees and the coronavirus continues to spread throughout the region. Staffers for the agency installed orange mesh fencing on hundreds of local buses to help facilitate social distancing between drivers and passengers, in addition to policies that require all passengers enter and exit through the rear door of all buses. METRO also reduced seating capacity by 50%.
On top of added staff for regular sanitization, the agency said it is requiring bus and rail operators and METRO Police Officers to wear face masks and gloves, and has begun daily temperature checks for all on-duty employees. Anyone with even a low-grade fever will be sent home, the agency said.
—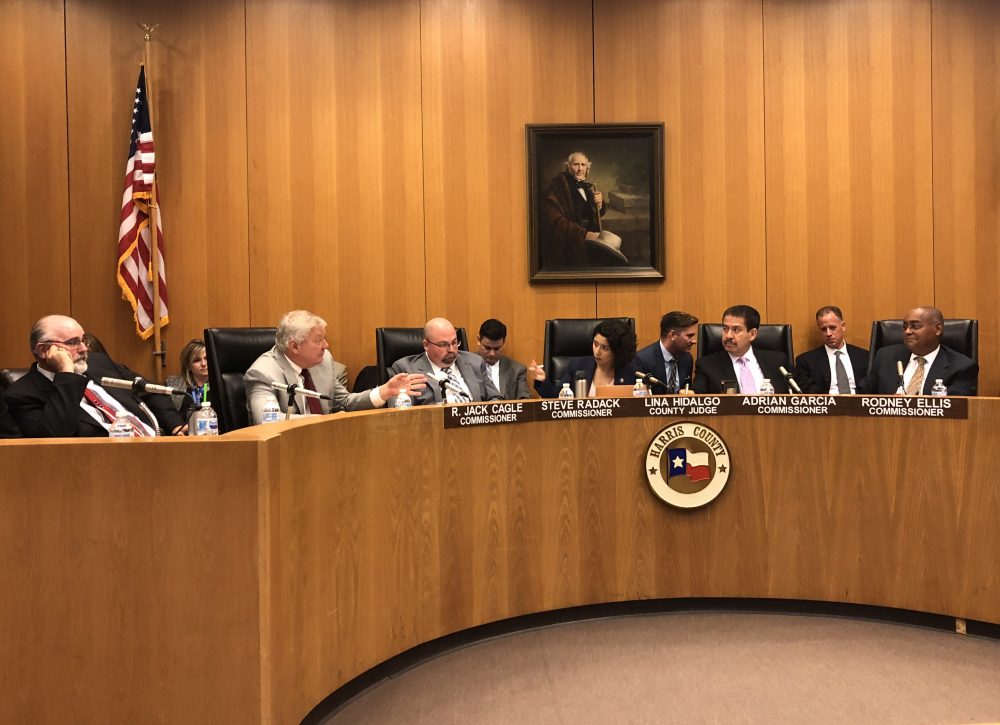 Updated 12:34 p.m. CT Tuesday
Harris County is asking an Austin judge to clarify whether voters can mail in ballots if they're concerned that voting in person means they would risk becoming infected with COVID-19.
Texas Democrats sued the state to expand the right to vote by mail, asking a judge to allow voters in Texas to mail in their ballot "if they believe they should practice social distancing in order to hinder the known or unknown spread of a virus or disease. " The Harris County Commissioners Court voted to allow County Attorney Vince Ryan to file an amcus brief supporting the Democrats, and asking for clarification on the matter ahead of the upcoming elections.
Under state law, voters must meet one of four conditions to get a mail-in ballot: They must be over 65, overseas, in jail or disabled. Democratic commissioners argued that fear of infection should allow voters to qualify as disabled.
The vote was 3-2 along party lines.
Commissioners also discussed the expansion of testing locations in the county, after Harris County Judge Lina Hidalgo announced Monday that Houston and Harris County were working to build a medical shelter at NRG Park for COVID-19 patients if hospitals exceed capacity.
"We are set for the testing that we are currently doing, and we will very likely expand," Hidalgo said Tuesday.
In addition to NRG, Hidalgo also mentioned the possibility of setting up mobile testing teams to travel across the county, and Commissioner Rodney Ellis suggested making sure testing locations were available by rail line.
The decision to expand to NRG came exactly one week after Harris County Public Health Executive Director Umair Shah called any such move a last resort.
Shah last week said hospitals would first have to exhaust all of their resources before the county made the move.
"This is a Plan B, and in many ways, this is really a Plan C," Shah said at the time.
—
Updated 9:55 a.m. CT Tuesday
Despite a recent spike in coronavirus cases in Houston and growing numbers across the region, social distancing is saving lives, according to a study from Rice University. Stay-at-home orders in Houston and Harris County has prevented an estimated 4,533 deaths and 48,812 hospitalizations between March 24 and April 6, according to the study from the Rice Kinder Institute.
The study estimates that, by April 22, social distancing could save 13,220 lives, and if the stay-at-home order goes as long as 60 days, that could increase to 22,000 lives.
"While it's important to note the model isn't meant to be a crystal-ball prediction of the exact numbers, the general pattern will hold true," researchers said.
—
Texas is closing all state parks and historic sites starting Tuesday at 5 p.m., in response to the coronavirus pandemic. The move is meant to adhere to social distancing guidelines put forward by the Centers for Disease Control and Prevention, Gov. Greg Abbott said. "The temporary closure of our state parks and historic sites will help us achieve this goal by preventing the gathering of large groups of people," read a statement from Abbott. "I urge all Texans to continue to stay at home except for essential services as we respond to COVID-19. By following these social distance practices, we will overcome this challenge together."
—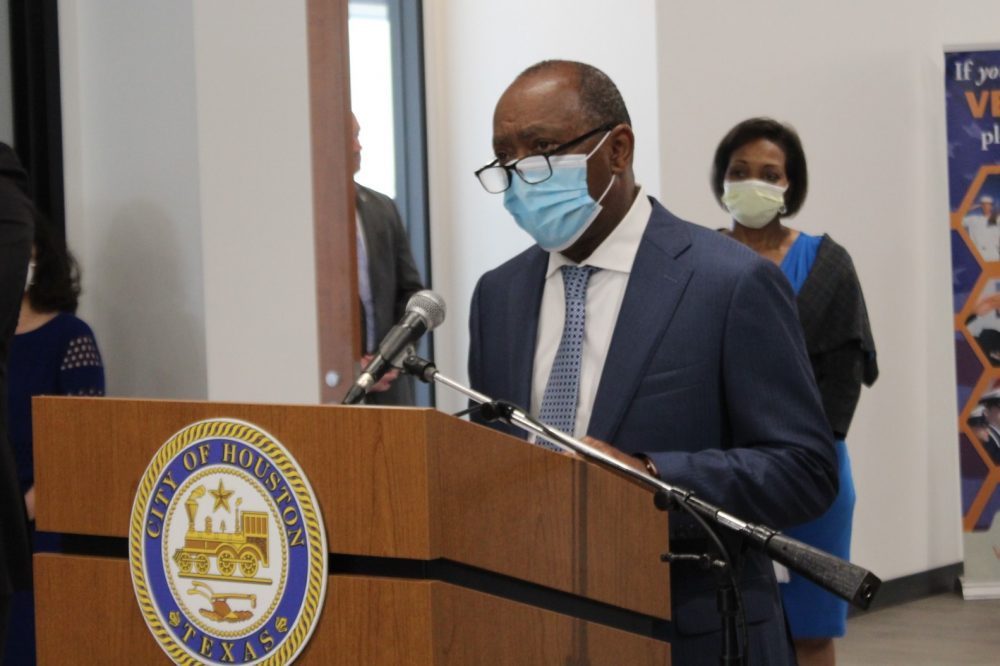 Updated 5:26 p.m. CT Monday
More than 400 new people were confirmed to have COVID-19 on Monday, in what Mayor Sylvester Turner described as "a backlog of results" stretching to mid-March that are just now being reported.
The spike brings the number of confirmed cases in Houston to 1,145, as of Monday afternoon.
Those cases include 28 municipal workers, 19 firefighters, and 24 police officers. One Houston police officer is hospitalized on a ventilator, according to Houston Police Chief Art Acevedo.
There are also 220 firefighters in quarantine, 30 of whom are in city-provided rooms. Beginning Monday, firefighters were required to wear face masks and check their temperature before entering a Houston Fire Department facility, according to Fire Chief Samuel Peña.
Over the weekend, the Houston Parks Department began to remove volleyball nets, and police would start enforcing social distancing guidelines, Turner said. There were 250 playgrounds roped off and 450 basketball rims removed to "minimize recreational gathering," he added.
—
The city on Monday announced that a private landlord in Houston would provide rental assistance to tenants who have lost their jobs due to COVID-19 — but labor unions said the city should not rely on the private sector, but should instead take action to help renters. Swapnil Agarwal, CEO and managing partner of Nitya Capital and Karya Property Management, is offering $1,000 for renters, with a total of $ million being made available.
But the AFL-CIO demanded that Turner and the Houston City Council move forward on a plan to give tenants a two-month rent grace period and other protections.
"The City needs to do more than ask landlords to work with their tenants," read a statement from Gulf Coast AFL-CIO Executive Director Hany Khalil, "it needs to take bold action to ensure no one ends up on the streets during this crisis."
The union recommends a 60-day grace period for renters who've lost jobs or income, before they can be evicted, mirroring a similar move in Austin. It also asked the city to prohibit the posting of vacate notices, and the accrual of late fees, and to ban rent increases for a year after the emergency declaration ends. It's also asking for the city to allocate funds for "emergency rental, mortgage, and utility assistance, including legal aid to tenants fighting eviction notices."
—
Some people who tested positive for COVID-19 at a Galveston County nursing home are now being treated with a drug touted by Pres. Donald Trump that is typically used to treat malaria, lupus, and arthritis.
Last week, health officials reported 83 residents and staff at The Resort at Texas City had contracted the virus. Now, Gov. Greg Abbott said about 30 patients are being treated with hydroxychloroquine, to determine its effectiveness for those patients. Most are in the second day of treatment, which will last "several more days," Abbott said.
Hydroxychloroquine is the same drug President Donald Trump has been touting, though health experts have not promoted its use against the virus as of yet.
—
More than 500 Texas National Guard soldiers and airmen have deployed to support the COVID-19 response in Texas, according to Texas Public Radio. Adjutant General Tracy Norris of the Texas Military Department said Gov. Greg Abbott instructed the Guard to assist communities drive-through testing, and adding bed capacity where needed, as well as making sure the supply chain of things like personal protective equipment makes its way across Texas. The Guard has also identified locations where they'll build temporary COVID-19 field hospitals, in Houston, Austin, Dallas Fort-Worth, El Paso and the Rio Grande Valley.
—
Updated 2:26 p.m. CT Monday
Texas is sending troopers to the Louisiana border to enforce an order requiring road travelers to fill out forms before entering the state. Texas State Rep. Chris Paddie (R-Marshall), whose district borders Louisiana, said screening stations will take place on major roadways in the border counties, including interstates "and other high-volume routes." The order does not apply to commercial activity, military service, emergency response, health response or critical infrastructure functions, Paddie said.
Gov. Greg Abbott released an order in late March mandating travelers from the New York tri-state area flying in to Texas self-quarantine for 14 days. He later expanded that order to include people travelling by car from Louisiana. Anyone who violates that order is subject to criminal penalties, Paddie said.
—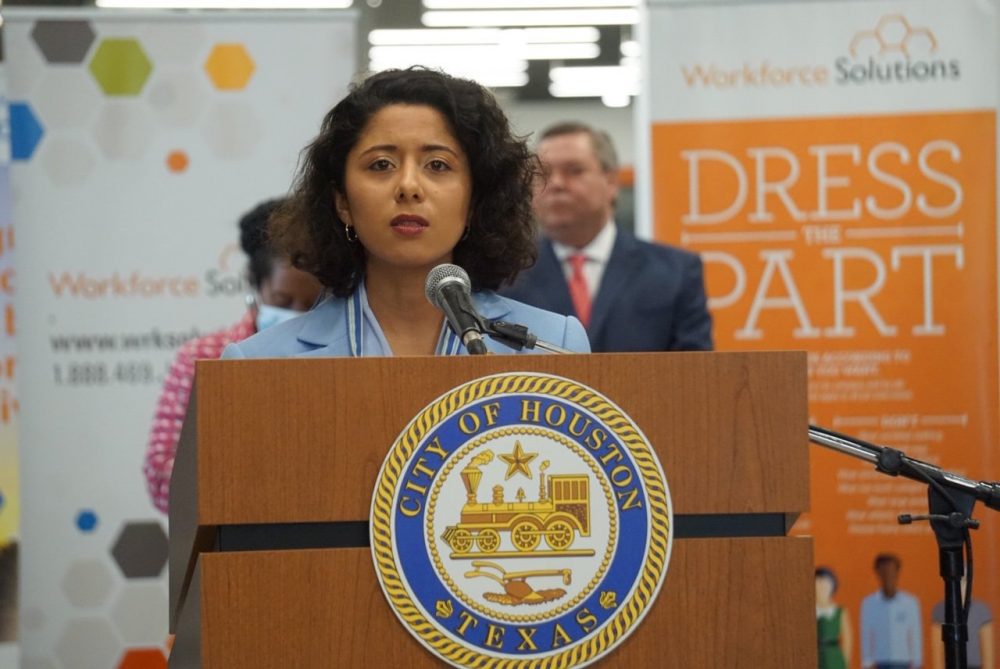 Updated 1:07 p.m. CT Monday
A new online resource to help essential workers find child care during the coronavirus pandemic in greater Houston launched Monday morning. Houston Mayor Sylvester Turner and Harris County Judge Lina Hidalgo announced the collaboration with Collaborative for Children and Workforce Solutions, which connects essential workers with child care centers in the region with immediate openings. Parents can also apply for financial assistance through Workforce Solutions, the group said.
Essential workers, including employees of Harris County and the Houston area, with children ages 12 and under, are eligible to apply for the service on a first come first serve basis. Those eligible can apply at findchildcarenow.org.
—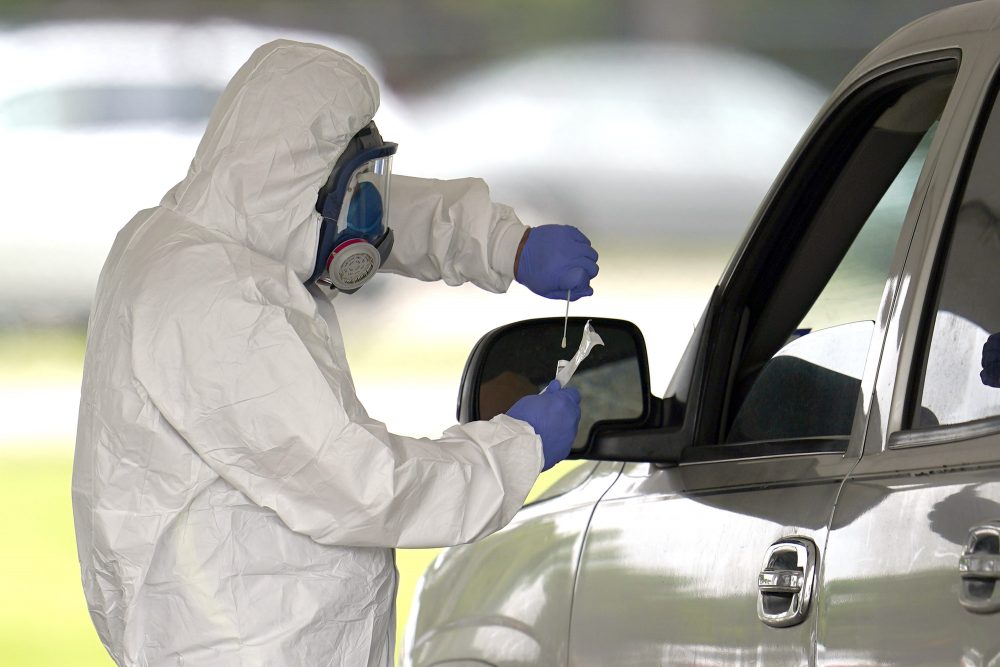 Updated 6:28 p.m. CT Sunday
The city announced its 10th death related to the coronavirus over the weekend, while Galveston County announced its first, as the COVID-19 pandemic entered its fifth week in the Houston region.
The Houston Health Department announced Sunday that a man between 60 and 70 with underlying health condition was pronounced dead March 30, his death a result of the virus. Ten people in Houston have died of COVID-19, and the city now has 743 positive cases. Galveston County also announced a woman between 81 and 90 with underlying health conditions died Saturday.
There are more than 1,800 coronavirus cases in the greater Houston area, encompassing Harris, Galveston, Montgomery, Liberty, Brazoria, Waller, Fort Bend, Chambers and Austin counties.
Those cases include at least three new positive cases of COVID-19 in a southeast Harris County assisted living facility, including staff and residents, Harris County Public Health said Saturday. The county did not provide specifics on the facility or the people impacted.
The news came just one day after Galveston County announced a total of 83 people in a Texas City nursing home tested positive for COVID-19.
Although anyone can get the coronavirus, older adults, 65 years and older, are at higher risk for severe illness, according to the Centers for Disease Control and Prevention.
The region's first coronavirus-related death, announced March 19, was in a northwest Harris County nursing home.
And in San Antonio, an outbreak at a San Antonio nursing home led to at least two deaths and 67 positive cases, according to Texas Public Radio.