For more stories and information about the coronavirus, visit our ongoing coronavirus project, Houston Ready. If you want to tell us about what you're experiencing in your Houston community — whether that be trying to obtain testing, personal protective equipment, or paid sick leave — we're here to listen. You can email us at news@houstonpublicmedia.org.
This post is no longer being updated. For information on getting tested in Harris County, visit ReadyHarris.org.
Health professionals and public officials are facing mounting pressure to test communities for COVID-19, as the number of confirmed cases increases and the virus spreads throughout communities across the country.
Although health providers across the country are dealing with a shortage of tests, in part due to a lack of testing swabs, Texas has lagged behind much of the rest of the country when it comes to prevention and containment, according to a recent analysis from WalletHub.
Because of that shortage, people exhibiting COVID-19 symptoms may be refused testing, meaning there are likely more people in the community who have the disease than is reflected in the numbers, according to health officials.
The lack of testing is in part why self-quarantine and social distancing are critical tools to prevent the spread of disease, according to Dr. Dona Murphey, a neurologist and community organizer in Houston.
"Testing at this point is for a disease that has no vaccine and has no cure," said Murphey, who started a petition to Governor Greg Abbott to include health professionals in the government response to the crisis. "The purpose it serves for the general public is really to illustrate to them that it's actually a real problem, that this thing is really widespread."
Murphey said measures to prevent the spread of COVID-19 should be a top priority for everyone, especially people exhibiting symptoms, and that healthcare workers should be favored for testing, since they are in direct contact with vulnerable patients on a daily basis and are more likely to be exposed to the virus.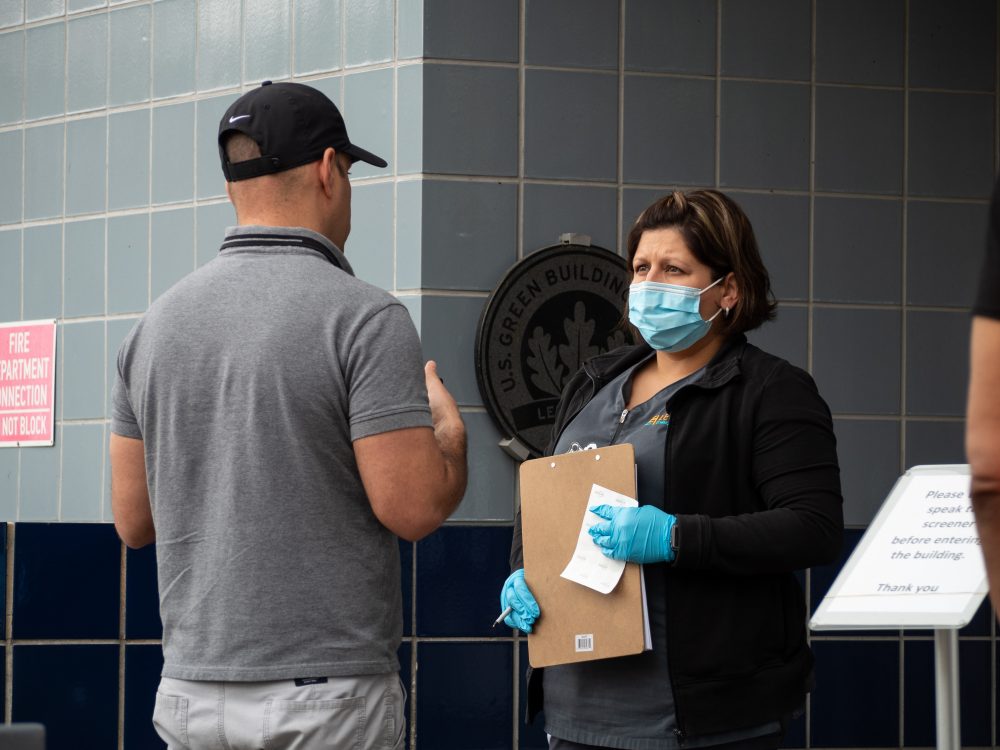 Here's what we know about testing sites in the Houston area. We'll be updating this list as more information becomes available.
United Memorial Medical Center
United Memorial Medical Center (UMMC) sites offers weekday testing from 8 a.m. to 3 p.m. or until reaching daily capacity. They do not require appointments.
UMMC Tidwell, 510 W. Tidwell Rd.
Forest Brook Middle School, 7525 Tidwell Rd.
Cullen Middle School, 6900 Scott St.
Griggs School, 801 Regional Park Dr.
HCC – Southeast Campus, 6815 Rustic St.
Plaza Americas Mall, 7500 Bellaire Blvd.
Houston Community College-Felix Fraga, 301 N. Drennan St.
Who can access the tests?
At these UMMC locations, testing is available for free, without an appointment, for anybody with or without symptoms. For more information, call 1-866-333-COVID or visit ummcscreening.com
—
Montgomery County Public Health District and Montgomery County Hospital District are providing vouchers for free COVID testing.
Who can access the tests?
Residents with or without symptoms can contact the county's call center at 936-523-5040 to obtain a voucher.
America's ER drive-thru testing site at Woods Edge Community Church, 25333 Gosling Rd. in Spring, will accept vouchers for residents with or without symptoms.
Lone Star Family Health Center, 605 S. Conroe Medical Dr. in Conroe, will accept vouchers for residents with symptoms.
—
Fort Bend County is operating COVID-19 testing sites in Sugar Land and Rosenberg.
Who can access the tests?
Tests are free, and they're available to anyone regardless of symptoms. To get a testing code, plus the location and time for the test, complete the screening process on the county's website or over the phone, (281) 238-2363, Monday through Friday from 8 a.m. to 5 p.m. and Saturday from 8 a.m. to 12 p.m.
—
The City of Houston operates free drive-thru COVID-19 community-based testing sites open to anyone, regardless of symptoms, Monday through Saturday, from 8 a.m. to 3 p.m.
Delmar Stadium, 2020 Mangum Rd. Call the department's COVID-19 Call Center at 832-393-4220 between 7 a.m. to 4 p.m. to receive an access code. You must have a unique identification code obtained through the screening process, or else you will not get tested.
Butler Stadium, 13755 S. Main St. No registration/appointment required.
The City of Houston is also operating two surge sites open Monday through Saturday, from 10 a.m. to 7 p.m. Appointments are available at www.doineedacovid19test.com. On-site registration is also available.
Darrell Tully Stadium, 1050 Dairy Ashford
Kingwood Park Community Center, 4102 Rustic Woods Drive
The City of Houston is also providing testing through four local Federally Qualified Health Centers. Set up an appointment by calling the phone numbers below. Patients pay what they can afford and will not be denied services due to inability to pay or lack of insurance.
Spring Branch Community Health Center, 713-462-6565
HOPE Clinic, 713-773-0803
Community Health Network – Scarsdale Family Health Center, 281-824-1480
El Centro de Corazon, 713-660-1880
Avenue 360 Health and Wellness, 713-426-0027
Lone Star Circle of Care at the University of Houston, 877-596-6192
The City of Houston also operates four testing sites with the Texas Division of Emergency Management. An appointment is required. Set up an appointment online by visiting texas.curativeinc.com or by calling 844-778-2455.
Minute Maid Park, Lot C. 501 Crawford St. Drive-thru and walk-up testing available. Spanish-speaking staff available.
HCC – Northeast Campus, 555 Community College Dr.
Harris County Cultural Arts Center, 13334 Wallisville Rd.
Crump Stadium, 12321 High Star Dr.
HCC – South Campus, 1990 Airport Blvd.
The City of Houston's Health Department and its agency partners may shift locations and schedules of test sites to better meet community needs. Houstonians can visit HoustonEmergency.org/covid19 for current Houston test sites and information about stopping the spread of the virus.
—
Ibn Sina Foundation offers free testing with rapid results at two of its clinics.
5012 N. Shepherd Dr. Call 832-426-3760 for an appointment.
11226 S. Wilcrest Dr. Call 281-495-7462 for an appointment.
—
Harris County Public Health has two stationary testing sites, plus four mobile testing sites that move to new locations to provide access for communities throughout the county.
Stationary sites:
CyFair: Ken Pridgeon Stadium, 11355 Falcon Rd., 77065
Pasadena: San Jacinto College Central Campus, 8060 Spencer Hwy., 77505
To find the latest mobile testing locations:
Who can access the tests?
Harris County Public Health's testing sites are open to anybody who wants to be tested but an appointment is required. Residents from surrounding counties can be tested at Harris County sites.
To get tested at a Harris County site:
To set up an appointment, use the county's online tool or call 832-927-7575.
Once you're screened, you will receive a unique identification number and a phone number to call to get the site location.
You must have a unique identification code obtained through the screening process.
Testing is available to anyone regardless of citizenship status.
If you can't drive to a site, you can set up an appointment with the county's At-Home Testing Team. Use the county's online tool or call 832-927-7575.
—
Galveston County Health District is offering free COVID-19 and antibody testing in partnership with UTMB for Galveston residents. Updated information on testing in Galveston County is available on the county's COVID-19 web page.
Testing is available by appointment only and free to the public at three different sites in Galveston, League City and Texas City. County residents may schedule an appointment. Call 832-632-6731.
Uninsured residents can also get tested by Coastal Health & Wellness. Call 409-938-7221.
Who can access the tests?
Testing at is open to the public and restricted to Galveston County residents only. A government issued form of identification will be required at the time of testing to verify residency.
Additional testing sites in Galveston County are operated by the Texas Division of Emergency Management:
Texas City – August 24, August 25, August 31, September 1, from 8 a.m. to 4 p.m. Charles T. Doyle Convention Center, 2010 5th Avenue North. Drive-thru testing only, no walk ups. Registration required, call 1-844-778-2455 or visit texas.curativeinc.com.
Galveston Island – August 20, August 21, from 8 a.m. to 4 p.m. Fire Station One, 823 26th St. Registration required, call 1-844-778-2455 or visit texas.curativeinc.com.
—
Legacy Community Health has COVID-19 testing at all of their Houston and Beaumont locations.
Legacy Fifth Ward, 3811 Lyons Ave.

Legacy Montrose, 1415 California St.

Legacy Southwest, 6441 High Star Dr.

Legacy Bissonnet, 12667 Bissonnet
Legacy Mapleridge, 6550 Mapleridge St.
Legacy Northline, 5598-A1 North Freeway
Legacy San Jacinto, 4301 Garth Suite 400, Baytown
Legacy Santa Clara (East End), 5616 Lawndale St.
Legacy Sharpstown, 6677 Rookin
Legacy Southwest, 6441 High Star Dr.

Legacy Central Beaumont, 450 North 11

th

St., Beaumont

Legacy Central Stagg, 3455 Stagg Dr., Beaumont
Who can access the tests?
Legacy has said it will only test those who screen positive for the virus. At the moment, that includes anyone with a chronic illness or underlying condition that results in a suppressed immune system who is also exhibiting symptoms of COVID-19.
It is not necessary to call ahead before going to one of the locations. Patients with questions should call a primary care physician or Legacy's contact center at 832-548-5000. All testing is done on a sliding scale, and the clinic will bill insurance companies for those who are covered, Legacy said. Test results are currently coming in after 10-14 days.
—
AFC Urgent Care is offering free drive-thru testing at four locations in the Houston area. An appointment is required.
Who can access the tests?
Free testing is open to anyone, with or without insurance. Patients must schedule by following instructions for the clinic they want to schedule at by using the location link above. Additionally, businesses can schedule onsite testing for their employees by calling 713-247-9344.
—
My Family Doctor has one drive-thru testing facility, at 6430 Hillcroft Ave., open Monday – Thursday, 9 a.m. to 4 p.m.
Who can access the tests?
As of April 21, anyone can be tested, regardless of symptoms.
For the latest information on testing, including costs, head to My Family Doctor's website. For patients with health insurance, testing should be free, but the clinic advises all patients to bring $150 cash for the test just in case they cannot verify your insurance. For patients without insurance, the cost is $150. This testing site is currently cash only.
Katie Watkins contributed to this report.