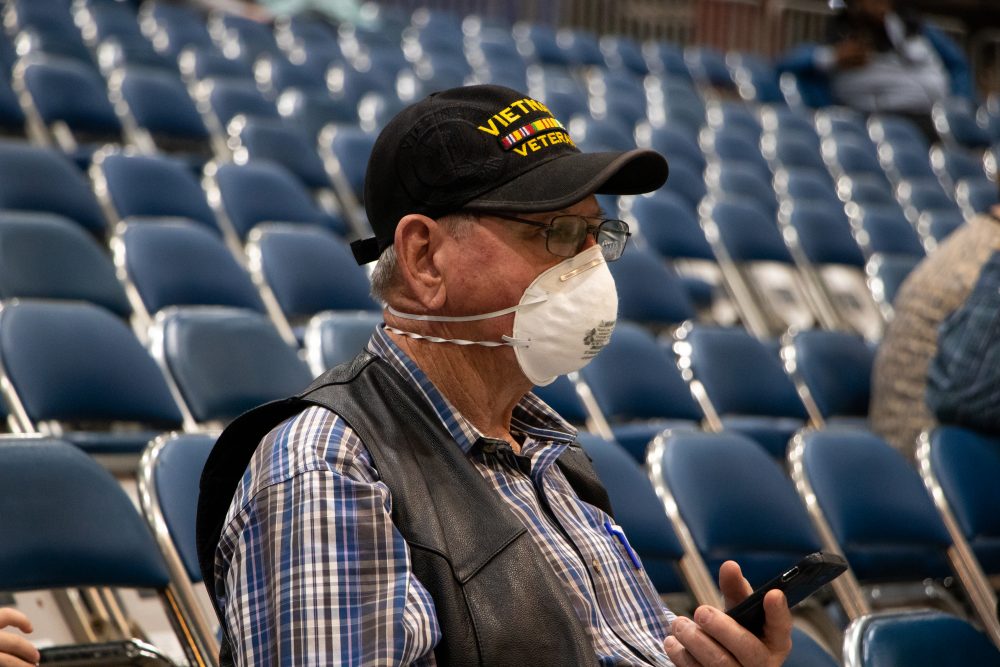 This story is part of Houston Public Media's ongoing coronavirus coverage. For more stories and information about the coronavirus, visit the Houston Ready Hub.
The Houston Rodeo will shut down for the first time in more than 80 years as the city and Harris County prepared to declare a health emergency over community spread of the coronavirus, officials said Wednesday.
The announcement comes as the World Health Organization officially declared COVID-19, the disease caused by the coronavirus, a pandemic. The Houston area faces as many as 14 cases of the coronavirus, and new evidence has emerged of possible community spread in Montgomery County.
Mayor Sylvester Turner on Wednesday said he would declare an emergency health declaration for the city of Houston, and said all remaining Rodeo Houston events would be cancelled.
"For those of us who are Texans through-and-through, from our area and our region, you know just how much we love the Houston Livestock Show and Rodeo," Turner said Wednesday. "But the health and safety of the people in our region is paramount."
Turner added that an unidentified man from Montgomery County who was diagnosed with the coronavirus had attended the rodeo barbecue cookoff on Feb. 28, but it was not immediately clear if he had symptoms of the virus at the time. Health officials were trying to reach anyone the man may have had contact with.
The annual Tour de Houston bike race was also cancelled, as were all "city-produced, cosponsored and permitted" events in March.
The emergency declaration would last seven days. After that, the Houston City Council would have to approve any extension, if needed.
Harris County Judge Lina Hidalgo said she would also make a emergency disaster declaration.
Limited testing capability may have given an artificially low count of how many people in the community had contracted the virus. There likely would have been more presumptive positive cases of COVID-19 in the surrounding community if federal officials had provided more tests, Hidalgo said.
"That may have given us, in a sense, an undercount, if you want to put it that way, of what the community spread may have been," she said.
Increased testing will likely reveal additional cases, officials said Wednesday. The Houston Health Department was coordinating with all local health systems and hospitals to plan for a surge in cases, and Dr. David Persse of HHD stressed that people do not need a test if they do not show any symptoms of the virus, which include fever, coughing, and shortness of breath.
The WHO is reporting about 120,000 worldwide cases of the coronavirus in 114 countries.
As of Wednesday morning, there were 14 total confirmed or presumed positive cases of the virus in the Houston area.
Most cases were connected to an Egyptian cruise line. One other case, in southwest Harris County, involved a woman who had briefly lived abroad in Italy, one of the countries on the Centers for Disease Control and Prevention's travel advisory list.
But Montgomery County officials on Wednesday said a new presumed positive case, if confirmed by the CDC, would be the first case of community spread in Texas.
"This gentleman has no travel history outside of the state of Texas, and our epidemiology team immediately began an investigation once we received this notice," said Melissa Miller, chief operating officer of the Montgomery County Hospital District. "All the close contacts or people at risk from this gentleman have been contacted and are self-quarantining and are being monitored by the public health district at this time."
The rodeo's cancellation comes five days after the cancellation of the South by Southwest festival in Austin, also over coronavirus fears, in the wake Austin Mayor Steve Adler's local disaster declaration.
Rodeo organizers report about 2.5 million visits every year, and this year's daily attendance was comparable to previous years, despite COVID-19 concerns.
Rodeo Houston has been steadfast in its arguments for putting on the event, saying on Monday that it was a primarily local event and that risk to attendees was low. More than 70% of 2019 Rodeo visitors came from the greater Houston area, with 94% from Texas, and 99% in the U.S., Rodeo officials said.
With news Wednesday of possible community spread, that decision changed, organizers said.
"The Rodeo is deeply saddened; however, the safety and well-being of our guests and our community is our top priority," read a statement from Rodeo Houston. "Out of precaution, the City has decided that this is the best course of action for our community."