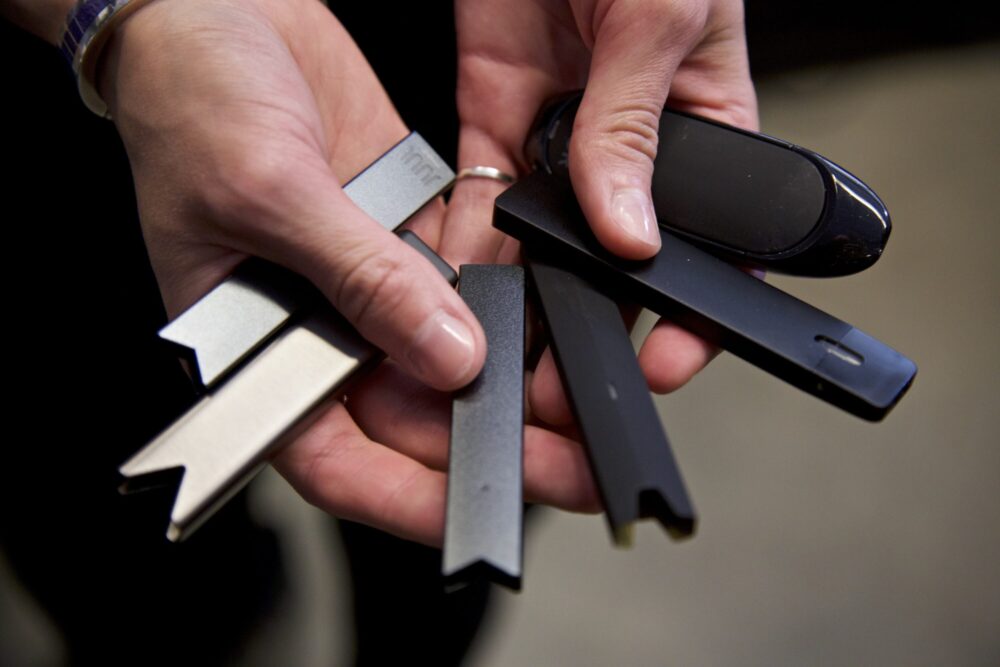 New data from the CDC and Food and Drug Administration shows the use of tobacco products, including e-cigarettes or "vapes," among high school students has declined from 16 percent in 2022 to 12 percent in 2023. However, among middle schoolers, numbers increased, from 4 percent in 2022 to 6 percent in 2023.
E-cigarettes have remained the most common tobacco product used by middle and high schoolers for the past 10 years. In total, 2.8 million students reported current use of a tobacco product in 2023, with 2.13 million of those reporting using e-cigarettes.
"The industry had this huge marketing win when they promoted the word 'vaping,' and it made teenagers and young adults think that this is just water vapor. And it's certainly not," said Dr. Lindy McGee, assistant professor of pediatrics at Baylor College of Medicine. "These are chemicals that you're inhaling that have effects on your heart and lungs."
Since e-cigarettes are relatively new technology when compared with tobacco products like cigarettes or cigars, there is not as much longitudinal data available establishing a link between e-cigarettes and long-term complications such as lung cancer. However, McGee said there is data showing that many of the chemicals found in vape aerosol are also found in cigarette smoke.
"If there are the same carcinogens in there, there's no reason for me to think that won't cause cancer later on," said McGee.
The study also found that of middle and high school students who reported having ever used tobacco products, around half said they were still using them. McGee chalks this up to the high nicotine content – and high addictiveness – of many e-cigarettes on the market.
A standard Juul pod, used in popular electronic cigarettes known as Juuls, contains around 200 puffs – roughly the equivalent nicotine content as a pack of cigarettes. However, many available alternatives contain even more.
"I went online yesterday and just typed in 'buy vapes,' and the first product that showed up contained 9 thousand puffs," said McGee. "That's like carrying 45 packs of cigarettes in your pocket. That's insane."
Nicotine use can be even more dangerous for teens than it is for adults, since it can interfere with adolescent brain development.
"What I'm seeing is not that [nicotine use] is becoming more common; it's that the kids who are doing it are addicted to it," said McGee. "And the kids that are vaping are doing it more often."
McGee said the decrease in high school nicotine users this year is a sign that education programs cautioning young people about the dangers of nicotine use, such as nonprofit Truth Initiative, are working. However, she said there's more that can be done.
"We need to ban e-cigarettes with flavors and designs that are clearly meant to attract youth," said McGee. "We also need to include e-cigarettes in smoking bans, which we have in Houston but not statewide. You shouldn't be able to vape in a place where you can't smoke."
She also said there should be limitations put on the amount of nicotine allowed in e-cigarettes as well as excise taxes placed on vaping products, in order to deter young buyers.
"The good thing is that we know what works because we've done this before with cigarettes," said McGee.
Between 2000 and 2018, adolescent cigarette use declined significantly in the U.S., thanks to media and education efforts as well as state-specific anti-smoking programs. The nationwide percentage of high school seniors who reported having ever smoked a cigarette declined by more than half, from 65 percent in 2000 to 24% in 2018. It also declined for younger students, from 55 percent to 20 percent of tenth graders, and 41 percent to 9 percent of eighth graders.
When it comes to vaping, McGee said she's encouraged by the new report.
"I think that it shows educational efforts are working for students in high school," she said.