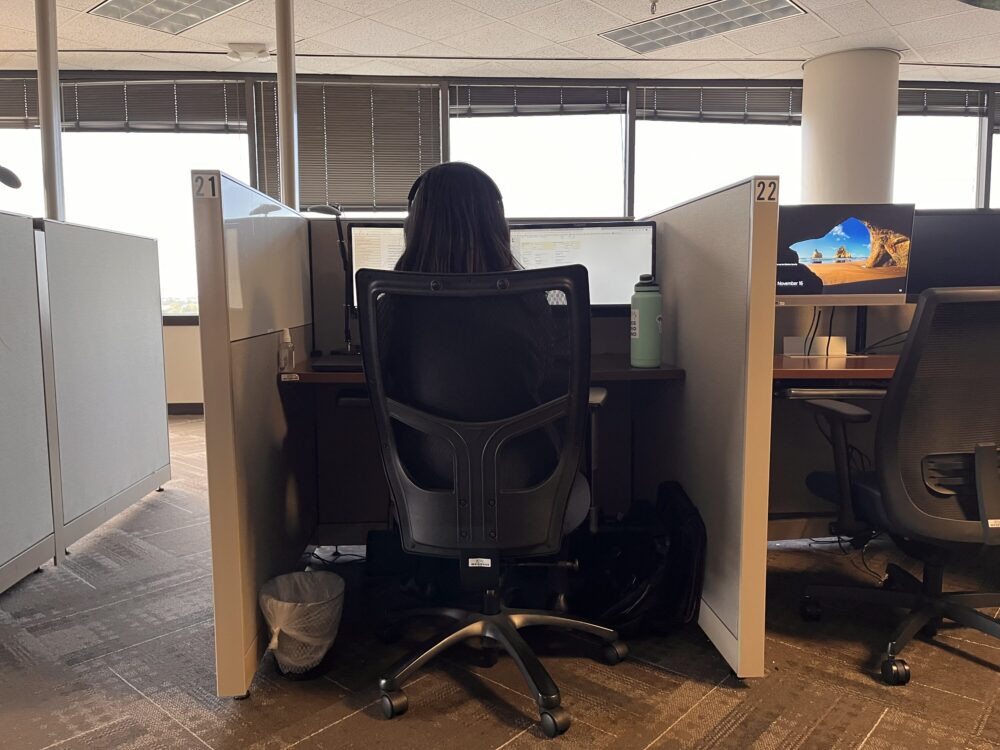 The holidays can be a stressful time of year for many Houstonians. There's the added financial pressure of gift-giving in a year when most things are more expensive. There's loneliness for people without friends and family.
There's a new resource for those crumbling under the burden of distress this holiday season: the 988 suicide and crisis lifeline. The three-digit numbers launched in July and is a rebrand from the 1-800 suicide prevention number. Since then, the call center has seen a significant increase in calls from the Houston area.
Health Reporter Sara Willa Ernst went to The Harris Center in Southwest Houston, where the call center is housed. She spoke with a counselor about how the number can be utilized and the realities of her job.
The following interview was edited for length and clarity. We are also only using first names for safety reasons.
SARA WILLA ERNST: Can you kind of walk me through what it's like when a call rolls in? What goes through your head? What is your line of questioning or some of the techniques and comforts that you provide people?
NARDIA: The very first thing that I'm kind of trying to figure out is what type of crisis I'm dealing with. If it's a type of call that we call emergent, a lot of times my time is limited. So say I have someone that is already on the bridge or headed toward the bridge. I'm focusing on rapport building. I'm trying to let them know that someone cares because a lot of times they don't know that. I think sometimes we take for granted when we do have people in our lives that just listen to us. I don't want them to feel like 'yeah, yeah, I hear you, but have you ever attempted to kill yourself before?' Now, hopefully, I would love to know that information. But right now, I just want to be on a basic level. I want to talk to you as a human being, period.
SARA WILLA ERNST: What are some of the stories that you've heard? And what is kind of typical and atypical for you?
NARDIA: So the thing is there's really no atypical because in crisis you literally have to be prepared for anything. There's not a whole lot that I haven't heard.
The type of callers may have been the main breadwinner that lost their job, or someone a six-year-old that just doesn't understand why Meemaw is yelling at them. There's a spectrum and the calls are all unique.
SARA WILLA ERNST: It sounds like the job that you have requires just a lot of empathy especially when it's on some of the darkest days of your callers lives. I'm wondering how you cope. How do you support yourself throughout a really difficult job?
NARDIA: We have a team. We literally have 24 hour supervision. You're able to go to your supervisor on duty. If something is going on, I can say 'hey, do you mind if I just kind of take a moment? Hey, I just had a tough call and I just want to vent.' That's available. We have a very supportive management team.
I love to travel. As hard as I work. I definitely am not one of those people that skips on self care. On those weeks that are tougher when you've had a lot of crisis calls that were a little heavier, I make sure that I try to love on myself a little more.
SARA WILLA ERNST: My last question is more of a philosophical question. This kind of job — having received hundreds of calls from people, having a window into other people's lives, hearing secrets that they don't even share with their families and their friends. I'm wondering if these experiences have given you any nuggets of wisdom or insights into what people in Houston are like or what they go through?
NARDIA: So it goes back to that human element. Quite honestly, even without an underlying mental health issue, it could be any of us. It could be me. It could be you that goes through life stuff that just kind of teeters on breaking us. I can't tell you how many six figure people that were the breadwinners of their household and have lost their job and they're like 'now what? My wife is ready to leave me. I don't know how I'm gonna pay my kids tuition.' Any of us could lose our jobs on any day. Most people I'd say get angry. Most people get sad. Most people have moments of uncertainty. Overwhelming vulnerability.
Just knowing that it could be any of us keeps you humble.The 988 Lifeline is facing a shortage of counselors. You can find more information about the positions on their website.