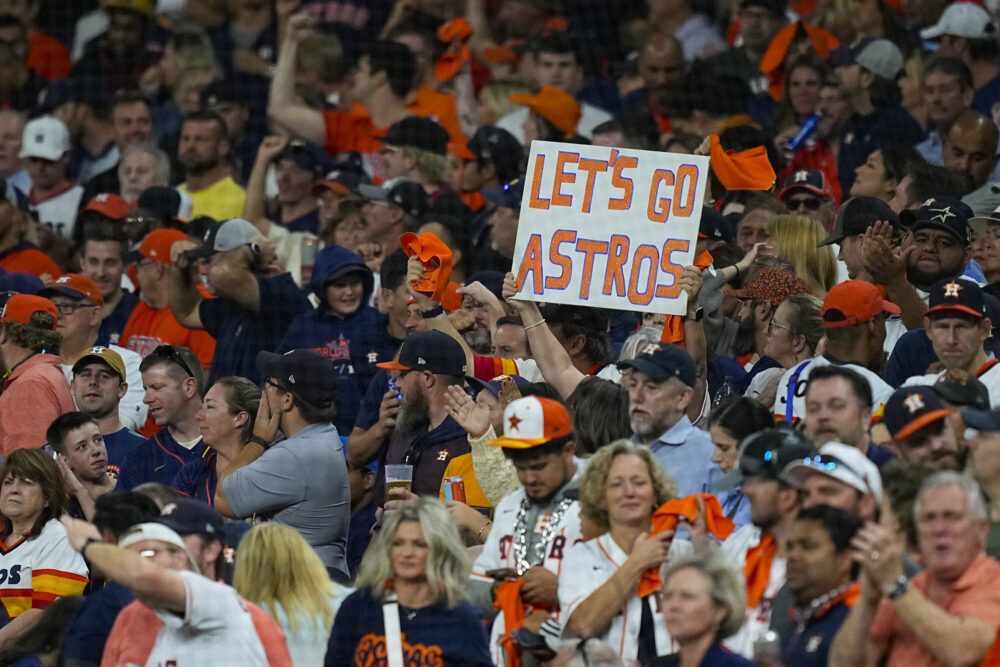 Houston baseball fans have not had much reason to fret during the last two weeks. The Astros were down during most of their postseason opener on Oct. 11 and played an 18-inning marathon a few days later, but they managed to win both of those games and are so far undefeated in the postseason as they close in on another appearance in the World Series.
Still, thrilling and nail-biting sporting events can take an emotional toll on fans and potentially affect their physical health. A 2017 study published in the Canadian Journal of Cardiology found that fans of the Montreal Canadiens hockey team had elevated heart rates while attending games or watching them on television, and those findings also can be applied to baseball and the Astros, according to a Houston-area cardiologist.
Dr. Sukhdeep Basra with Memorial Hermann Health System and UTHealth Houston said he has treated patients who experienced heart attacks at sporting events. He also has seen cases of stress-induced cardiomyopathy, or broken heart syndrome, which is caused by physical or emotional stress, comes with many of the same symptoms as a heart attack and also can be life-threatening, although it is a less severe condition.
So while it generally is not a health risk to attend or high-stakes game or watch one on TV, Basra said, it could be for someone with an underlying medical condition such as coronary artery disease, congestive heart failure or an irregular heartbeat. Symptoms of both heart attacks and stress-induced cardiomyopathy include chest pain, shortness of breath, sweating and dizziness.
"My suggestion would be, if you have any significant heart condition or lung condition and you're at a game and you're having symptoms, just don't blow it off and say, 'Oh, this is such a great time and I don't want to dampen the enthusiasm of people around me,' " Basra said. "Because you may be exposing yourself to significant physical stress. If you're having any symptoms, it's best to seek attention immediately."
The 2017 study – published less than a month before the Astros won their only championship – examined the heart rates of 20 healthy adult hockey fans, half of whom saw a Canadiens game in person while the others watched on TV. There was a median heart rate increase of 92 percent during the game, with live spectators experiencing a 110 percent increase and the others seeing a 75 percent spike.
Those elevations equated to "vigorous physical stress" for the live spectators and "moderate physical stress" for those who watched remotely, according to the study. Forty percent of the participants' peak heart rates occurred during overtime, while 25 percent peaked during scoring opportunities for Montreal and 15 percent during scoring chances for the opponent.
"It was a very interesting study. I don't think there's a lot of data out there," Basra said. "Even though the study was not for baseball, I would say one can extrapolate the energy, the excitement to be the same."
Going to Astros playoff games, or watching them with friends and family, also can have physiological benefits, according to Basra. There is the communal aspect of connecting with others and having a shared experience, along with feelings of euphoria – at least when the outcome is favorable.
"There is obviously a lot of changes I'm sure that happen in your body, neurotransmitter releases and hormonal releases that would be consistent with a happy state," Basra said. "That happens in all of these games, I'm sure. Generally when you look at pictures and you're in there, you see the atmosphere is vibrant. Everybody is happy and having a great time. So clearly there has got to be biochemical changes in the body that support that."
Basra also said he does not want fans to be worried about immersing themselves into the latest postseason run by the Astros, who are playing in the American League Championship Series for a record sixth consecutive season and trying to reach the World Series for the second year in a row and fourth time in six years. Houston has a 2-0 series lead against the New York Yankees, who are scheduled to host games on Saturday and Saturday and possibly Monday.
The Astros are guaranteed to play at least one more home game this year at Minute Maid Park, either later during the best-of-seven ALCS or during the World Series, scheduled to start Oct. 28.
"I don't want to be a downer," Basra said. "These are extremely rare things. I want to be absolutely straight on that. I don't want anybody to think that they go to a game and are going to have a heart attack or going to have a stress-induced cardiomyopathy. Those are rare episodes, but they do happen, so that's why they should be on the lookout for symptoms."