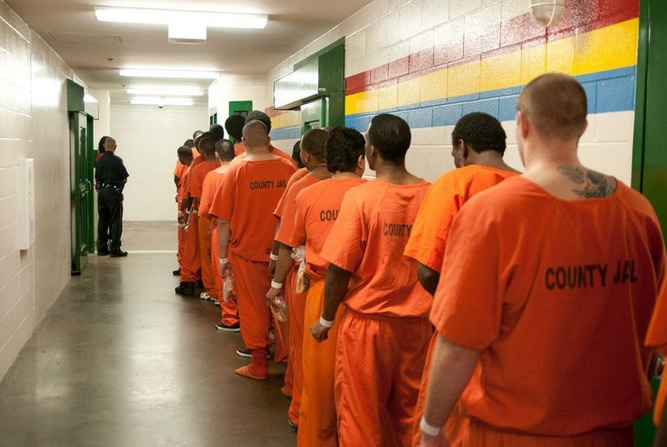 A day after Harris County Sheriff Ed Gonzalez announced the first case of monkeypox in the county jail, the medical liaison for his office said there are no indications the virus is spreading to other inmates at the Downtown Houston facility.
Marquita Casely-Hayford said Friday that no additional cases had been suspected, reported or confirmed at the county jail, which as of Thursday had a near-capacity population close to 10,000, according to the county's online dashboard. The inmate who tested positive for monkeypox, a man in his 30s, has mostly been under quarantine since being booked into the jail Aug. 15, according to Casely-Hayford, who said he appeared in court Aug. 17 before he started showing symptoms.
"We are always diligent in making sure we're screening every possible inmate for any communicable diseases," Casely-Hayford said. "We always accept that there is a possibility (of spread), but we have continued our efforts and of course focus our efforts on making sure everyone is safe and has the ability to report feeling ill or a rash or anything like that."
There had been 520 monkeypox cases in Harris County as of Wednesday, according to online data provided by the county, with 421 of those cases among Houston residents. After a gradual increase in Houston-area cases since mid-June, there has been a decline in new cases during the last two weeks, the county data shows.
Monkeypox is rarely fatal, according to the Centers for Disease Control and Prevention, and typically resolves within 2-4 weeks. The CDC says symptoms typically appear within three weeks of exposure and can include fever, headache, muscle aches, chills, exhaustion, swollen lymph nodes, respiratory issues such as sore throat, cough or congestion and a rash that can look like pimples or blisters on the face, inside the mouth and on other parts of the body.
Close or intimate person-to-person contact, such as kissing, cuddling and sex, is a means of spreading monkeypox, according to the CDC. The virus also can be spread through contact with respiratory secretions or infectious rashes, scabs or bodily fluids or with items that are infected, such as clothing and bedding.
We have the first confirmed positive case of monkeypox virus in the Harris County jail. The male inmate was booked on 8-15-22 without complaints. In accordance with our COVID protocols, the male was placed in temporary quarantine. He was in quarantine when we learned of 1/2 pic.twitter.com/zLNcty55Jq

— Ed Gonzalez (@SheriffEd_HCSO) August 25, 2022
Casely-Hayford said the Harris County Jail inmate with monkeypox was quarantined upon being booked into the jail, per the county's COVID-19 protocols that call for new inmates to quarantine for a period of 5-10 days. He has remained in quarantine aside from his court appearance, Casely-Hayford said, first reporting symptoms Aug. 21 – six days after he was booked into the jail – and receiving a positive test result on Aug. 24.
Casely-Hayford said less than 1 percent of the jail population – fewer than 100 inmates – are currently infected with COVID.
"I know the fear is there. We want to decrease the fear," Casely-Hayford said. "Just know that your loved ones are safe, and we're taking care of them here."
The risk of exposure to monkeypox remains low to the general public, according to Harris County Public Health.
The JYNNEOS vaccine, which is FDA-approved and prevents monkeypox, is being administered to Houston-area residents who have been exposed to the virus, are at a medium-to-high risk of having been exposed or have been diagnosed with HIV, chlamydia, gonorrhea or early syphilis. More than 2,300 vaccine doses have been administered in the region, according to the county.
For more local information on monkeypox and vaccines, visit readyharris.org or houstonhealth.org.