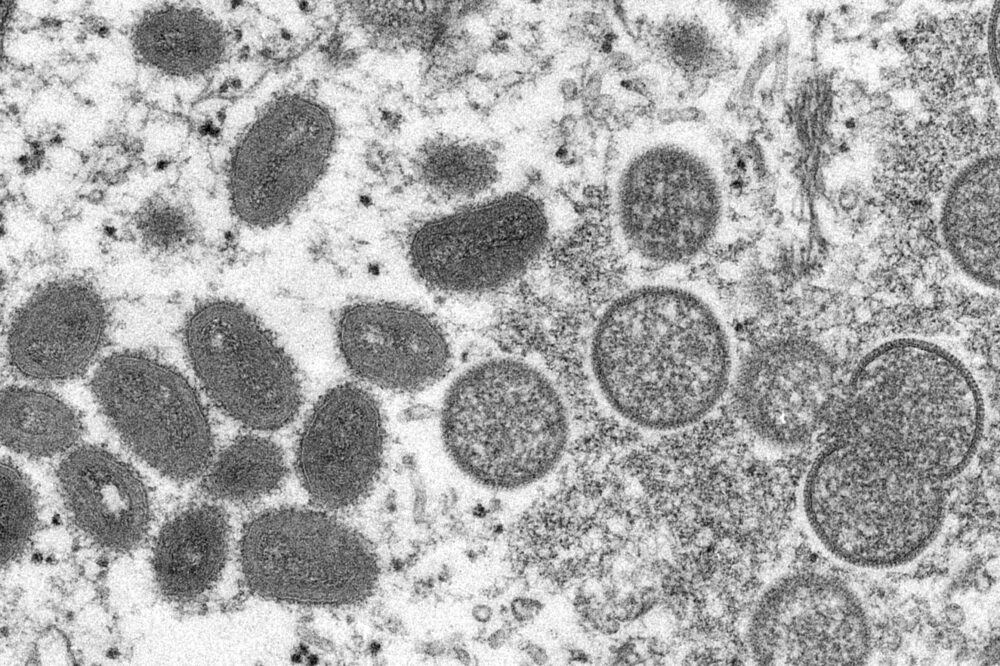 The World Health Organization convened its emergency committee Thursday to consider whether to declare monkeypox a global emergency. In the Houston area, more that two dozen cases have shown up in Harris County, and on Wednesday Galveston County reported its first probable case.
There are more than 80 confirmed cases across Texas. During an interview with Craig Cohen on Houston Matters, Dr. Luis Ostrosky, chief of infectious diseases with UT Health and Memorial Hermann, gave an explainer on the disease.
Listen or read the interview below, edited for length and clarity.
What is Monkeypox?
Monkeypox is a disease that is traditionally transmitted from small mammals to humans in endemic areas, primarily in Africa. But this time around, it is transmitted between humans through direct contact with lesions or bodily secretions.
How contagious is it?

It's not that contagious, you really need to be touching the lesions directly or bodily secretions. There's some transmission within you know, aerosols and sort of the air. But that requires very prolonged contact in that sort of range of hours.
What are the symptoms?
So most people present with low grade fevers, swollen lymph nodes in the neck, and they characteristic lesions, which are little, you know, fluid filled blisters all over the body. In this particular outbreak, because there's some element to sexual transmission. We're seeing these patients presenting the genitals and most people think they have an STD when they're coming to seek medical attention.
How long does it last?
This can last anywhere from two to three weeks. We consider people contagious while they have lesions. They need to be completely dry and the scabs falling off to be considered non infectious.
What treatments are there for it?
So for the most part, people do very, very well. About 90% of people just need to stay home rest. And we do need to do some pain control; these lesions are extremely painful. But about 10% of people will have severe disease with a lot of lesions or lesions in very, you know, delicate places. Some people who are immunocompromised may have severe disease; babies and pregnant women as well. For them, we have a treatment that is released through the CDC to hospitals and clinics.
Is that treatment a vaccine? What are we talking about?
It is medication and antiviral that's available both orally and in IV formulations for people that can take oral medication. Again, we only use that for people with very severe disease or who are at high risk of having severe disease. It's important to mention that for people that are exposed to somebody with monkeypox, we do have a vaccine and we give it in the first few days after the exposure to avoid sort of full flown disease.
So in light of what you just described, is this something to be too terribly concerned about?
I think it's something that we need to be aware of, I don't think you need to be concerned of getting monkeypox, when you go to the grocery store, at this point until makes a jump to the community transmission. But at this point, if you're in one of those groups at risk, primarily, currently, men who have sex with men or multiple partners, then you do need to be concerned about it. And you need to be reaching out to the health department to see if you're eligible for a vaccine to prevent ever getting this disease.
How much or how little do you anticipate this may spread across the Houston area over the coming months?
We're at a critical juncture right now. If we vaccinate the people at the highest risk and sort of contain it in a ring, we're never gonna see any problem in the community. But if we let it sort of rip, we're gonna be starting to see, you know, household transmission, and then probably community transmission. So again, a critical juncture at this point.
How does this compare to something like COVID-19, for example?
Nowhere near. we currently have 15,000 cases globally, 2,600 in the United States; here in the Houston area, we have 26, as of today. So again, nowhere near not in the same ballpark. But if we don't add to the right now containing it in the population, the way it's transmitting, we could start seeing community transmission and because we have no immunity against this virus, it could really start taking off in the community.
In light of where we are with with COVID at the moment, in light of the fact that there are a lot of folks out there that are vaccinated and boosted and maybe are taking it less seriously perhaps than they should. And in light of the fact that we're starting to see these cases of monkeypox are we giving too much attention to monkeypox and not enough attention to COVID?
I think we need to work on both. I'll tell you it's never been more interesting to be an infectious diseases doctor. We have two basically pandemics going on right now we have a couple of things we're watching that are bubbling up as well like Marburg virus and polio, a case in New York. We live in a world that has heard of microorganisms and we need to be very careful and you know, we need the energy to work on the two pandemics, not just one.