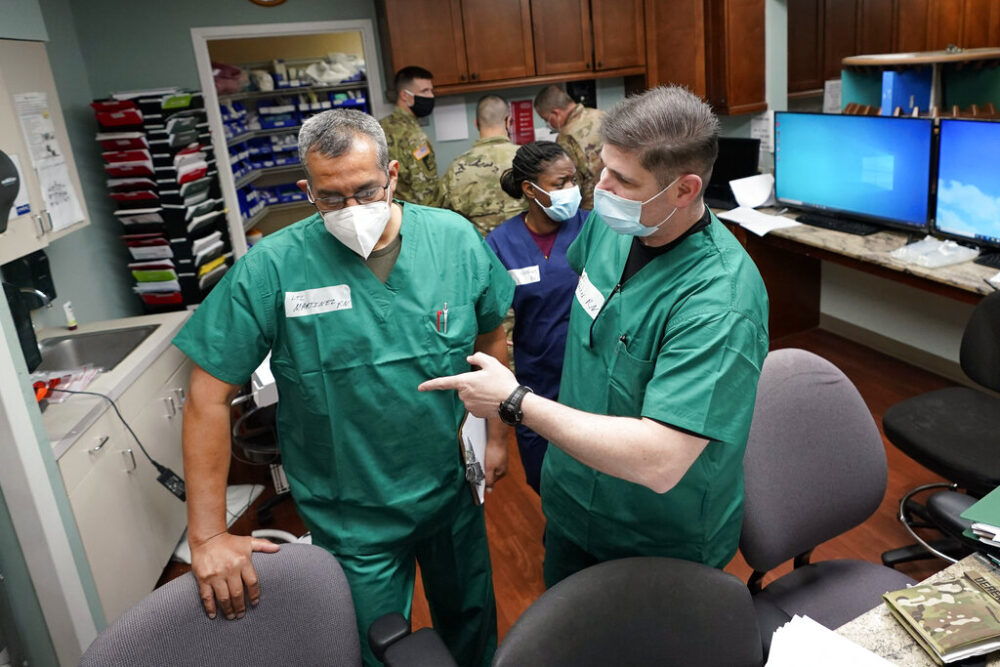 Harris County leaders voted unanimously to spend $41.5 million to hire 664 new nurses in an effort to alleviate hospital worker burnout caused by the pandemic.
County commissioners met in emergency session Tuesday to approve the funding, along with $1.8 million to buy tens of thousands of COVID-19 test kits.
Hospitals are seeing a rise in COVID-19 patients along with strained staffing due to workers getting sick themselves, creating what Hidalgo called "a perfect storm" for worker burnout.
"There is staff burnout," Hidalgo said. "There are some hospitals reporting up to 20% turnover from burnout. And then there is staff illnesses with COVID."
Hidalgo said the extra nurses would be spread across various hospitals across the county, including Saint Luke's, Harris Health, HCA Houston, Houston Methodist, Memorial Hermann, Saint Joseph's, Texas Children's, and Women's Hospital of Texas.
Local officials say roughly 34% of people seeking a COVID-19 test in Greater Houston are testing positive, the highest positivity rate ever recorded in the region.
Texas Medical Center hospitals saw a nearly 50% increase in new COVID cases last week, averaging 13,500 each day. Daily COVID hospitalizations at Texas Medical Center hospitals also saw record numbers last week, with an average of 497 a day. That's up from an average of 68 daily COVID hospitalizations in December 2021.
While hospital officials say omicron cases are generally less severe than delta, Harris County hospitals just saw their highest one-day jump in ICU admissions during this current surge. At the end of the day on Monday, 395 COVID patients were in need of intensive care. On Tuesday, that number jumped up to 467 COVID patients in Harris County ICUs, which means almost 30% of intensive care unit beds in Harris County are now occupied by COVID patients.
​Dr. Anna Maria Macaluso Davidson, with Memorial Hermann Hospital, said any extra workers hired by the county will provide a welcome respite to overworked staff.
The hospital is managing the current patient load well for now, Davidson said, but the hospital is seeing a steady stream of COVID patients.
"It's helpful to have that extra staff to support our normal operations, and then also to give staff that's been working — and maybe working overtime — let them have the time to kind of recoup and be ready to come back," Davidson said.