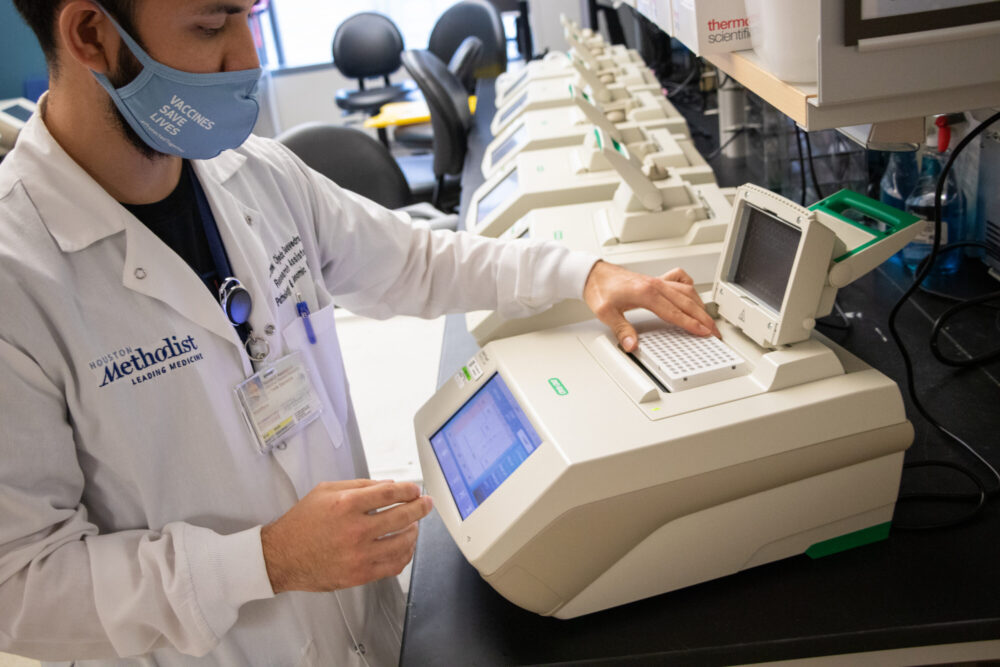 There were more than four times as many positive COVID-19 test results at Houston Methodist Hospital this week than over the same period last week, hospital officials confirmed Wednesday.
Methodist confirmed a total of 307 positive COVID-19 tests on Monday and Tuesday of this week, according to the hospital. That's up from 76 positive tests reported last Monday and Tuesday. Additionally, the hospital confirmed on Wednesday that 54 cases of the omicron variant have been identified by Methodist's sequencing lab since early December.
The seven-day rolling average last week was around 40 new cases a day, according to Dr. Marc Boom, Methodist president and CEO. As of Wednesday, 32% of the hospital's COVID-19 tests on symptomatic patients were omicron — an increase from 13% just four days ago.
"We're not panicking, we're preparing," Boom said Wednesday. "The community needs to prepare as well and recognize there are things we know that work to help mitigate the spread and take action."
There is strong confidence in the medical community that vaccinated people will be mostly protected from serious illness against the delta variant. Protection against omicron remains less clear, though there is at least some evidence to suggest vaccinated adults will fare better.
That's why doctors are continue to urge vaccinations for all eligible ages, in addition to booster shots for those already vaccinated.
But there is a concern that even if omicron doesn't affect most people, even a small percentage of patients could quickly overwhelm hospitals in the Houston area, Boom said.
"If this spreads so rapidly that there are massive numbers of infected people, even if on average they're very mild, if that hits the vulnerable in our population and they end up hospitalized, that can still be an incredibly challenging time," Boom said.
According to S. Wesley Long, the medical director of diagnostic microbiology at Methodist, that small percentage of omicron cases could very likely reach 100% of all COVID-19 cases within the hospital by January.
"That would be a faster sweep than even the delta variant, which took about a three-month span to sweep prior variants and achieve 100%," Long said. "It is also possible that delta remains in some equilibrium with omicron over time."
As for hospital admissions, Methodist said it was treating 114 COVID -patients at the end of the day on Tuesday, but another 22 people with the virus were admitted over the night.
A spokesperson for the hospital said that the percentage of positive tests that result in hospitalizations appears to be significantly lower than previous surges, but there are early indications that another wave could occur.
Memorial Hermann Hospital officials say they've also seen a noticeable increase in cases and hospitalizations over the last few weeks, leaving officials concerned it's a preview of what's to come in the next few weeks and months if both the delta and omicron COVID-19 variants continue to spread.
"We had a terrible post-holiday surge last year, when everybody travels for the holidays," said Dr. Linda Yancey, infectious disease specialist at Memorial Hermann. "We spread COVID widely through the population, and we had a terrible delta surge in the early fall. Both of these surges threatened to overwhelm our facilities."
Right now the hospital is limiting visitations and continuing to screen all visitors who do come inside. Yancey says they're prepared to open up extra units and beds, as they have in previous surges.
However, the growing concern with another COVID wave continues to be staffing shortages at the hospital.
"We came into this pandemic in a nursing shortage and it has done nothing but get worse," Yancey said. "Admissions to nursing schools are at an all time high, people have heard the need and are acting. (But) it takes time to train up nurses, it takes time to train up doctors. We are all very much aware that this has been two years of a sprint, and we're looking after one another."