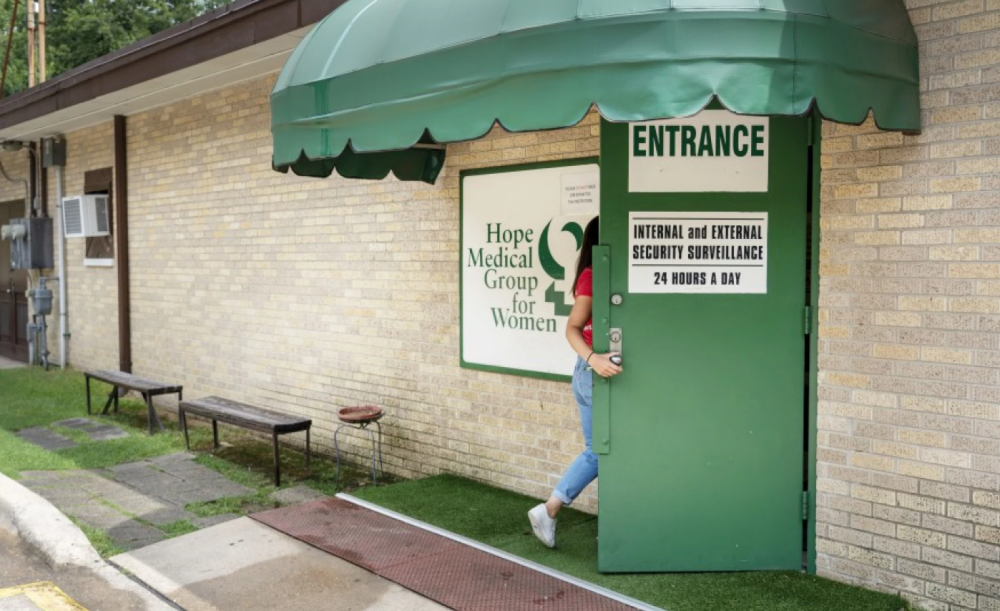 Louisiana's abortion clinics are struggling to keep up with an influx of patients coming across the stateline in the wake of a new, controversial abortion ban in Texas.
The Texas law, called SB 8, is the most extreme abortion ban to take effect in the U.S. since the passage of Roe v. Wade nearly 50 years ago, and it has sparked speculation that other states dominated by anti-abortion politicians, including Louisiana, might try to pass a similar law. A Florida lawmaker is already trying to do just that.
SB 8 bans abortions after about six weeks of pregnancy, when many people don't know they're pregnant and with no exceptions for rape or incest survivors. Since it took effect at the beginning of September, the phones at Hope Medical Group for Women in Shreveport have been ringing off the hook.
Kathaleen Pittman, the abortion clinic's administrator, said some women have missed the cut-off by as little as one day.
"They're literally calling as they walk out the door at the Texas clinic," she said.
Women from East Texas have long traveled to Shreveport for abortions, but the clinic is now taking patients from as far as the border town of McAllen, some 500 miles away. The other day, Pittman led a woman from Houston to an exam room for her ultrasound.
"She was on the verge of tears, just so grateful that she could get in," Pittman said. "Women should not be fighting for care. They should not be struggling or feeling this desperation."
With so much demand, people are being scheduled for appointments three weeks out, and some are being referred to clinics in other states because they're too far along to be treated at Hope, which performs abortions up to 16-and-a-half weeks gestation.
Six-week abortion bans aren't new — Louisiana passed one a few years ago. The laws are often called "heartbeat bills" because they bar abortion after the detection of cardiac activity from embryonic cells that eventually form the heart. But all have been blocked by federal courts.
What makes this law different is that instead of being enforced with criminal penalties by the state, anyone can sue an abortion provider or any other person that may have helped a woman get an abortion in civil court and potentially receive $10,000 in damages.
That novel enforcement mechanism strips away the usual procedure for reviewing other anti-abortion laws in federal court, where the state is typically the defendant in the case. As a result, a majority of conservative justices on the U.S. Supreme Court allowed the law to take effect.
Michelle Erneberg, the executive director of Lift Louisiana, a group that advocates for abortion access, called SB 8 "an incredibly cynical law."
"It is an attempt to do an end run around the federal courts," she said. " It deputizes individual citizens to retaliate against people providing abortion care, essentially turning an individual anti-abortion activist into a bounty hunter."
She said the law is causing delays in abortions across Louisiana as women from Texas seek care at one of the three clinics in the Pelican State — making them more complicated, costly and sometimes impossible to get. The situation was compounded by Hurricane Ida, which hit just after Texas's law took effect and caused the clinics in New Orleans and Baton Rouge to lose power.
"Two of the only three remaining clinics left in Louisiana were offline, unable to provide services to the people in Texas that could no longer access abortion care in their own state," she said.
Louisiana has one of the most anti-abortion state legislatures in the country. Gene Mills, president of the Louisiana Family Forum, said the Capitol's reputation for supporting anti-abortion bills could make a Texas-style law possible.
"It's certainly something that we're going to think about and learn about," said Benjamin Clapper, the executive director of Louisiana Right to Life, but he noted there's a months-long wait before politicians return to Baton Rouge in March for the next session.
Rep. Beryl Amedée, a Republican from Houma who authored one of the anti-abortion bills that passed the legislature this year, said she'd consider a law similar to SB 8.
"If the question is, would I support, or possibly even propose such a bill in Louisiana? Absolutely," she said.
Amedée said she believes a majority of her colleagues would also likely endorse a Texas-style law.
"Whatever we can do to protect the right of the unborn for life we tend to support," she said.
But this kind of law might not be necessary to severely restrict or even end legal abortion access in Louisiana and across large swaths country.
The U.S. Supreme Court is considering a Mississippi 15-week abortion ban this fall, in a case called Dobbs v. Jackson Women's Health Organization, that could see the court overturn or eviscerate Roe v. Wade.
"We are optimistic about the outcome of the Dobbs case either overturning Roe v. Wade, or modifying Roe v. Wade's precedents," Clapper said.
Rep. Sharon Hewitt, a Republican from Slidell who's supported anti-abortion laws, said she wanted to evaluate the civil enforcement provision of SB 8 before considering a similar law in Louisiana, but she said she was "anxious" for the decision in the Dobbs case and how it "will impact the pro-life discussions going forward."
If the court overturns Roe v. Wade, Louisiana has a trigger law that will take effect and immediately ban all abortions, except if the pregnant person's life is at risk.
Even if the justices only upheld Mississippi's law in a narrow decision, Louisiana also has a 15-week ban on the books that would take immediate effect.
But Steven Aden, the general counsel for Americans United for Life, said expectations are high that the court will do far more.
"It's pretty obvious to a lot of us that it wants to do something big in the abortion area. And that's why it took the case," he said.
Americans United for Life is among a slew of conservative and anti-abortion groups that have filed briefs in the suit, asking the justices to overturn Roe v. Wade. Another brief was signed by Louisiana Attorney General Jeff Landry.
Landry's office declined to comment on whether he'd like to see Louisiana adopt its own version of SB 8.