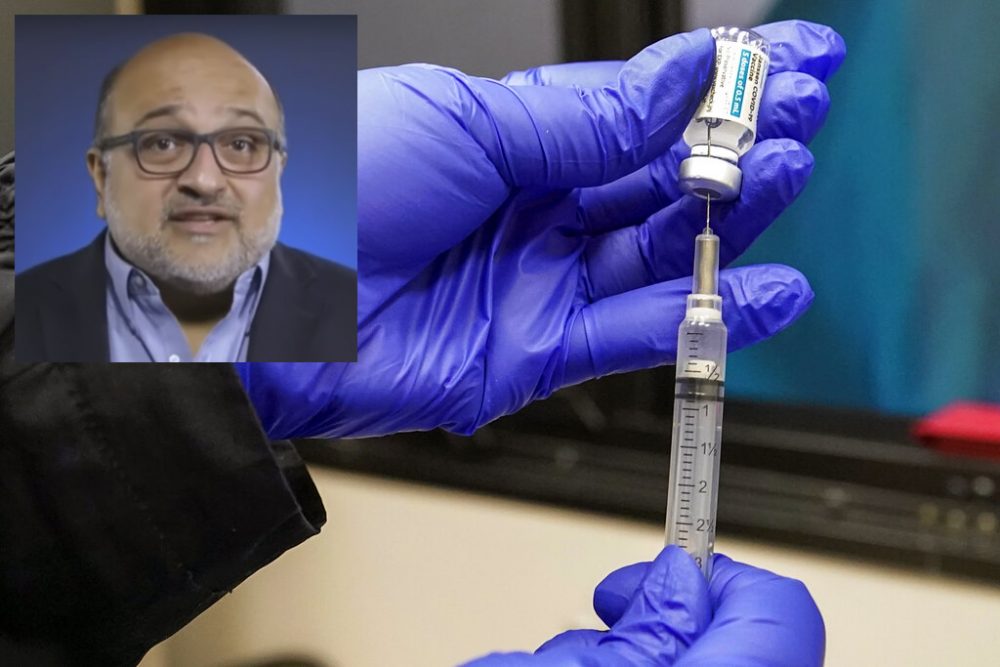 A Harris County doctor who was accused of stealing COVID-19 vaccine doses and ultimately fired has now sued the county's public health department for discrimination, asking for more than $1 million in damages.
Dr. Hasan Gokal, who was fired from Harris County Public Health in January, was accused of stealing a vial of the vaccine and administering the doses offsite to friends and family. But in a lawsuit filed Tuesday, Gokal disputed almost all of the facts surrounding his case and said he was fired because he gave the vaccine to too many people of South Asian descent, only one of whom — his wife — was actually related to him.
"Dr. Gokal's actions were heroic and directly in line with the orders from the Texas Department of State Health Services and the Centers for Disease Control," the lawsuit reads. "But HPCH proceeded to fire Dr. Gokal anyways, articulating that Dr. Gokal did not 'equitably' distribute the vaccine and gave the vaccine to too many individuals with 'Indian' sounding names."
Gokal told Houston Public Media that he had initially attempted to give the doses to hospital staff. After his offer was rejected, he began going through names on his cell phone, according to Gokal.
"Look, I've got six hours, I have 10 life-saving medicines in front of me and I'll give it to whoever I can," Gokal said. "Race was simply not an issue in terms of finding who to give it to."
A Harris County criminal court judge first dismissed the case against Gokal in January. Harris County District Attorney Kim Ogg then presented the case to a grand jury, which declined to indict the doctor in June.
Gokal's firing came during a time when the vaccine was much harder to come by: In the first few months of its rollout, only people 65 and older, people with underlying health conditions and frontline health care workers were authorized to receive doses.
Central argument in HCPH's decision to fire Gokal was that he broke protocols in providing the vaccines offsite rather than going to an established waitlist. But according to emails attached to the complaint from the DA's office, there were no protocols in place at the time of the firing. Ogg's office also said it was not provided with proof of a written waitlist in January.
Gokal has maintained that he was simply following guidelines for the Centers for Disease Control and Prevention when he took the vial offsite on Dec. 29. According to the doctor, the vaccines were set to expire. Rather than throw them out, Gokal said he decided to put them to use.
The Harris County Attorney's Office declined comment Tuesday.