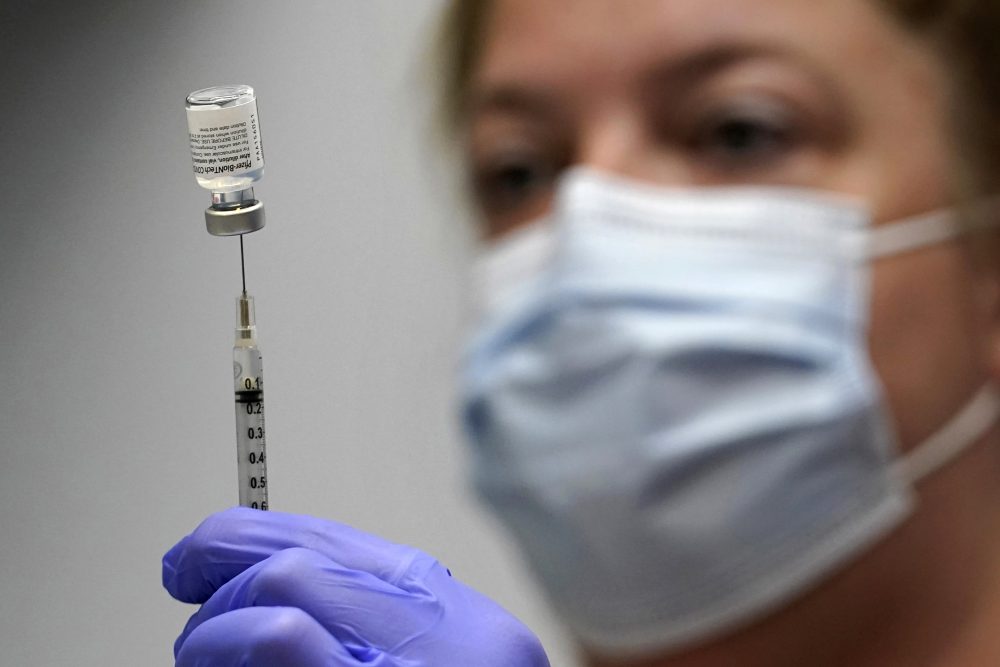 While coronavirus hospitalization rates in Houston hospitals have plateaued, local health officials remain concerned about hospital capacity during the latest COVID-19 surge.
For the past two weeks, new COVID-19 cases in Harris County have trended down, and the positivity rate has remained relatively flat for the past week, according to county data.
But while those flattening numbers are an encouraging sign, hundreds of people in Houston emergency rooms are waiting — some for days — for a bed to open up so they can be admitted, according to Houston Health Authority Dr. David Persse.
"It's hard to interpret what (the plateau) means," Persse told Houston Matters host Craig Cohen on Wednesday. "We are still in a very dangerous situation."
Listen to the whole interview with Dr. David Persse of the Houston Health Department and Dr. Esmaeil Porsa of the Harris Health System:
COVID-19 patients make up 40% of Harris County intensive care units, according to data from the Southeastern Regional Advisory Council — a nearly six-fold increase from two months ago, when only 7% of ICU patients were COVID related.
Texas Medical Center member hospitals reported just 388 COVID-19 admissions on Tuesday. That's right on par with last week's daily case average, but still more than 100 cases per day higher than last month's daily average.
As a whole, Houston is seeing more than 4,200 people hospitalized in the region for COVID-19. This time last year, those numbers never rose above 4,000.
Local COVID-19 vaccination rates have risen Houston and Harris County started offering incentives for people to get their shots. Harris County leaders approved a $100 payment for all people who get their first dose of the vaccine. The county's move was followed by a city incentive offering $100 for a first shot, and $50 for a second shot.
But hospitals may not see an improvement in hospitalization rates for a few more weeks, since full immunity doesn't kick in until up to two weeks after a final dose.
"We have just kind of plateaued in pretty high numbers in the past two weeks," said Dr. Ben Saldana, director of emergency care at Houston Methodist Hospital. "We are still looking for that peak, and right now it's not here."
Some hospitals are faring better than others.
In Houston's safety net hospitals, which treat some of the most vulnerable patients across Harris County, numbers are reaching new peaks, according to Dr. Esmaeil Porsa, president and CEO of the Harris Health System.
"Our numbers are high, they continue to go up," Porsa said on Houston Matters. "We may be flattening, but we are flattening at a very, very high peak. I don't want that to get lost in translation."
Doctors also face another worry: Schools across Texas are reopening, threatening further spread and adding a new variable due to conflicting rules in different school districts.
"We have a patchwork of schools that are mandating masks," Porsa said. "Some are not mandating social distancing."
Adults are constantly going through a cycle of exposure to COVID-19 due to their kids, creating a cycle of quarantine, Porsa said. Hospitals in the Harris Health System — which includes Ben Taub and LBJ hospitals — are requiring certain employees with kids to stay home because of the spread in schools.
Hospitals are now also seeing higher numbers of younger people come in for COVID-19. Kids are filling up ICU beds, and Porsa said he's terrified of what reopening schools with no mask mandates could further do to Houston's already high numbers.
"I'm afraid to even imagine that, where we are right now, we could potentially see a higher number of patients," Porsa said. "We literally have no physical space in the hospitals anymore to add more beds, regardless of the staff."
Additional reporting from Matt Harab.