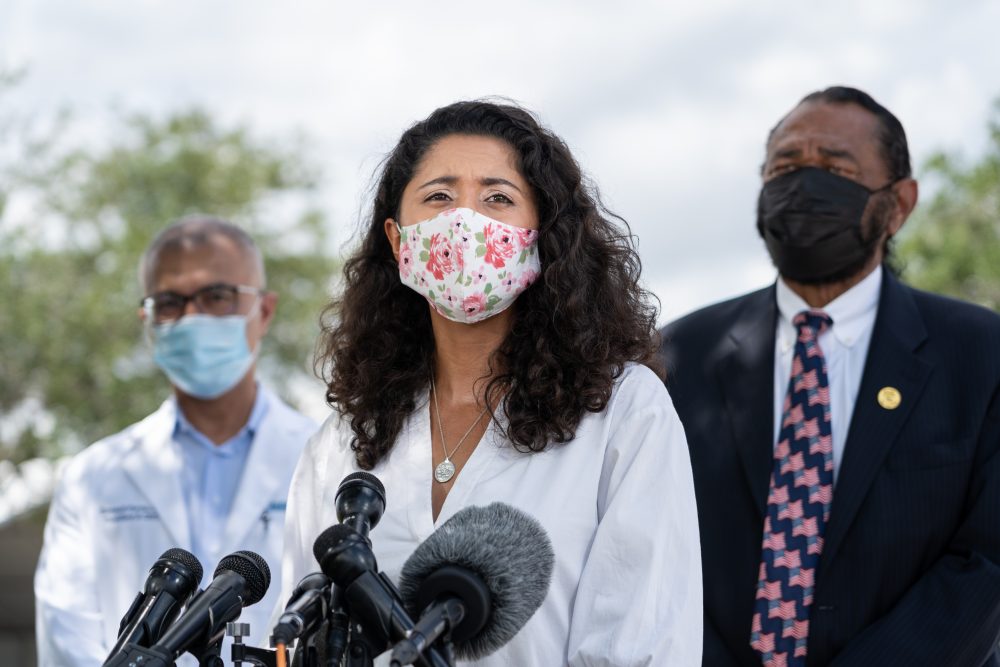 Harris County Lina Hidalgo announced Tuesday that the county will pay $100 to everyone who gets a first dose of a COVID-19 vaccine in an effort to combat the region's lagging vaccination rate.
The incentive will give $100 to all residents eligible to receive their first dose of the vaccine through Harris County Public Health — including children. She added that the incentive will cost $2.3 million and will be pulled from $900 million in federal funds provided to Harris County by the American Rescue plan.
"As to whether we expect success from this initiative, I hope so," Hidalgo said. "I really hope this is the small push folks need to be able to get the vaccine."
Recipients have until Aug. 31 to receive the money, which will be doled out through prepaid physical or electronic card. The judge stressed that the money will only be given to those who are receiving their first shot. Those returning for their second dose — or who attempt to get a third dose — are ineligible.
It applies to both the single-dose Johnson & Johnson vaccine or the two-dose Moderna and Pfizer vaccines, and is available at 10 different vaccination sites including NRG Park.
The announcement comes as the surge of COVID-19 cases continues to worsen in Harris County, due to the more transmissible delta variant and the county's relatively low vaccination rate.
As of Tuesday, 2,512 people were hospitalized for COVID-19 in Harris County — a nearly 300% increase over the past month, according to data from Southeast Texas Regional Advisory Council. Nearly 57% of eligible Harris County residents have been fully vaccinated, according to state data.
According to the Texas Health Department, there are only 44 intensive care unit beds available in the trauma service area that includes Harris County. There are only 314 ICU beds available in all of Texas, according to the most recent state data.
Harris Health System CEO Dr. Esmaeil Porsa said the Houston area is currently facing the worst surge of COVID-19 hospitalizations to date.
"The numbers of Harris Health, and other hospital systems in this area, have never gone up this far this fast," he said. "The delta variant is proving to be way too contagious for this degree of vaccination to have an impact."
Porsa added that more than 98% all of COVID-19 related admissions in Ben Taub and LBJ hospitals were among unvaccinated individuals and that the amount of COVID patients have taken resources away from treating patients unrelated to COVID-19.
"This is not about personal choice, this is not about individual freedom, this is about individual responsibility," Porsa said. "By not exercising your individual responsibility and being part of the solution, you are hurting our community."
Hidalgo said the surge could be fully reversed within two to four weeks if all unvaccinated individuals receive their shots.
"We have got to step up, enough is enough," she said. "Look at what is happening to our hospitals. Look at what you're doing to our hospitals by not getting the vaccine."
Additional reporting by Lucio Vasquez.