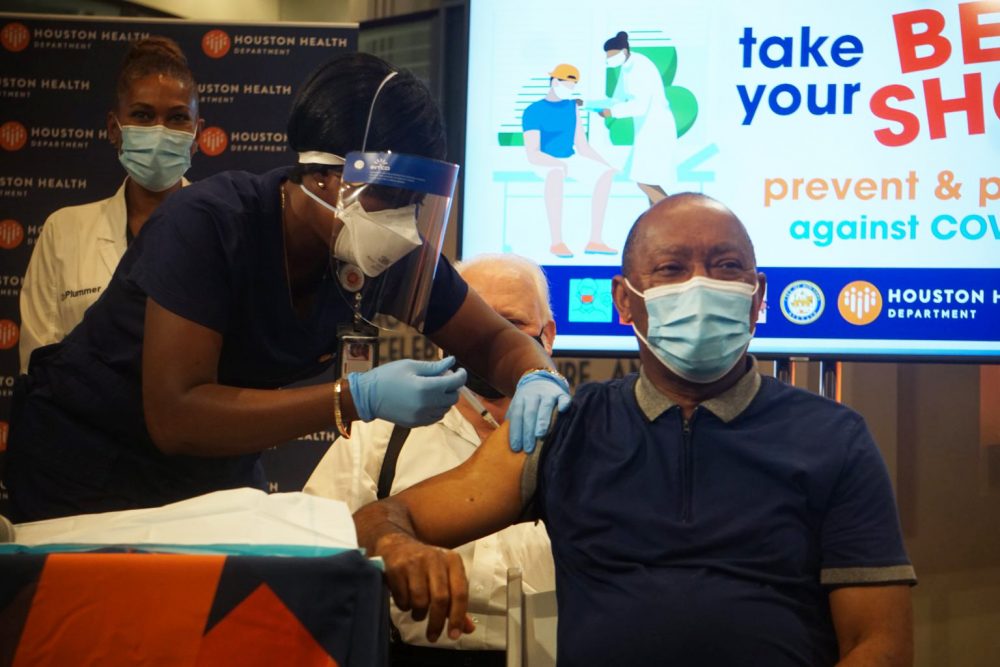 Houston Mayor Sylvester Turner on Monday directed all city employees to wear masks when inside city buildings in most instances, despite executive orders from Gov. Greg Abbott which effectively banned the practice in Texas.
In an internal memo, Turner directed all city employees who can "medically tolerate" a face covering to wear one while on city premises in areas where it's difficult to maintain social distancing. The mandate is effective Wednesday, according to the memo.
That includes elevators, restrooms, meeting rooms, and offices where people can't stay six feet apart. It doesn't apply to people alone in an office or cubicle, or any area where a six-foot distance is possible.
The move to require face coverings, first reported by the Houston Chronicle, comes just a few months after Abbott issued an executive order preventing government entities from making masks mandatory. The governor also issued a renewed order last week banning the practice.
In an email, City of Houston Attorney Arturo Michel said the mandate applies to city employees only.
"The Governor has no authority to suspend the disaster authority of local governments that the Legislature has expressly given them," the email read. "The mask requirement is consistent with CDC guidance, provides a safe workplace for City employees, including first responders, and will, therefore, minimize the spread of COVID-19."
Abbott's office did not immediately respond to a request for comment Tuesday morning.
The policy marks the first real challenge to Abbott's orders, which have also banned a requirement for proof of vaccination. In late July, Austin Mayor Steve Adler attempted a vaccine requirement in city government, but Austin City Manager Spencer Cronk threw cold water on the announcement, telling KUT that state law preempted such a requirement.
Turner's decision comes as the more contagious COVID-19 delta variant continues to spread throughout the region. The number of COVID-19 patients in Harris County intensive care units more than tripled since July 1. COVID patients now make up 21% of all ICU bed capacity in the county, according to the Southeast Texas Regional Advisory Council.
Fully support @SylvesterTurner on this. The Governor's power is not absolute, and the Disaster Act doesn't empower him to turn local government workplaces into COVID hotspots.

Local officials are entitled to take action to keep their employees safe during the pandemic. https://t.co/vN1dnfWm1M

— Christian D. Menefee (@CDMenefee) August 3, 2021
Last month, Harris County raised its threat level to "orange," indicating significant and uncontrolled spread of the virus, for the first time since late May. Fort Bend County was also expected to raise its threat level Tuesday morning.
The move also follows recent guidance from the Centers for Disease Control and Prevention, which last week recommended even vaccinated people wear masks indoors in areas with significant spread. The agency reversed its previous guidance after new data showed the possibility that with the delta variant vaccinated people could still get infected and spread the virus to others.
Houston Health Director Stephen L. Williams praised the mayor's decision Monday.
"Until enough of the population is fully vaccinated to offer broader protection, we must wear face coverings in public indoor settings to slow the spread of this aggressive variant," Williams said. "Mayor Turner's action today will not only ensure city government continues to function but also help protect City of Houston employees, their families, and Houstonians they come into contact with at the workplace. It will also help ensure City employees are able to earn a living by not missing work."