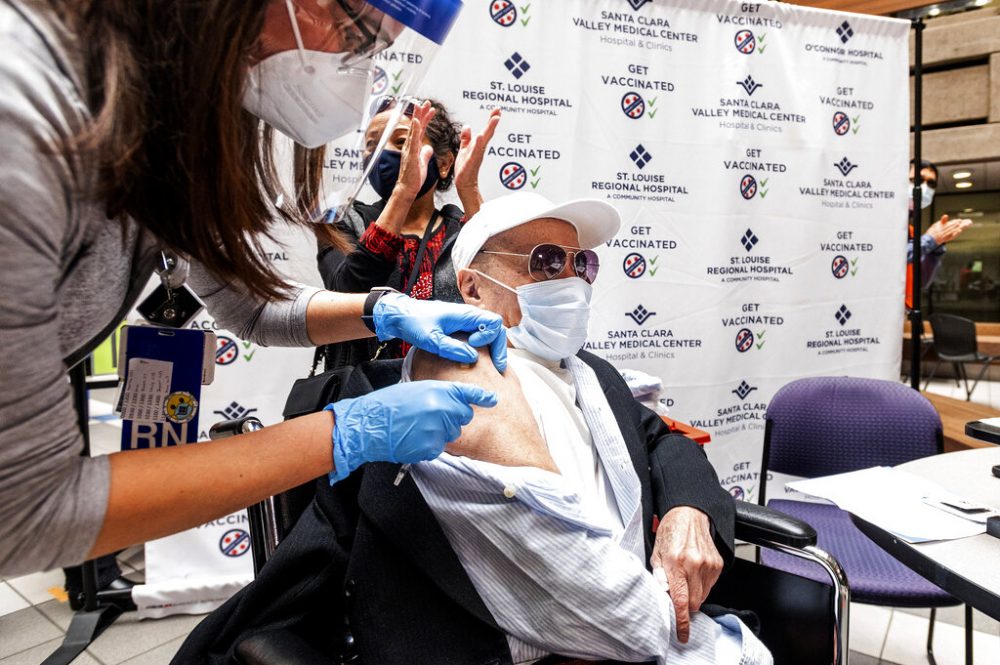 COVID-19 vaccine doses are being distributed to more than 2 million Americans per day. And this week, President Biden announced a goal of administering at least one dose of a COVID-19 vaccine to 70% of American adults by the Fourth of July.
Despite this encouraging news, the Food and Drug Administration has only declared COVID-19 vaccines authorized for emergency use — meaning they are still not FDA approved.
What does that mean?
"The full authorization and emergency use authorization are both FDA designations," said James McDeavitt, senior vice president and dean of clinical affairs at Baylor College of Medicine. "And when people talk about having taken 'shortcuts' in the approval of vaccines, there really weren't shortcuts."
Speaking last week to Town Square host Ernie Manouse, McDeavitt said FDA-approved vaccines go through rigorous testing on animals, small groups of humans, and finally randomized controlled testing of a larger group of humans, typically around tens to thousands of people.
This process factors in a follow-up period to determine if there are long term consequences to new vaccines. But full approval comes later, out of an abundance of caution
"Because of the nature of this approval, enough time has not gone by to make sure that something unusual doesn't happen a year, two years later," he said. "Now in vaccinations, it's very unusual — maybe unheard of — to have a late complication like that. If you're going to have a complication it usually is in the first couple of months after the after the vaccination."
Clinical trials of the COVID-19 vaccine have already been administered for close to that long-term trial period, so new information regarding FDA approval should be released in the near future, according to McDeavitt.
With 250 million vaccines already administered in the United States alone, there have been very few major concerns about major side effects. But last month, the FDA and the Centers for Disease Control and Prevention issued a pause in the use of the Johnson & Johnson vaccine, after it showed a small percent of the population affected by side effects of blood clots. That pause has since been lifted.
That pause came despite just six people reporting blood clots after receiving the vaccine, compared to the 6.8 million doses distributed, according to the CDC — a sign that regulators are taking safety into account.
"That's the sort of scrutiny you would want the regulator to show, which they did," McDeavitt said. "That that should give people a lot of comfort that people are taking it very seriously."
And the chances of contracting a blood clot is much higher — approximately 25%, McDeavitt said — if you choose not to get vaccinated and contract COVID-19.
"Having COVID-19 is far more dangerous," he said. "Looking at blood clots, strokes, complications — by a large, large margin, much more dangerous than than getting vaccinated, which is incredibly safe."
The use of mRNA vaccines is nothing new, dating back more than 20 years. And vaccine effectiveness is typically defined as providing upwards of 50% protection, according to McDeavitt. The Moderna and Pfizer vaccines are proven to be safe and effective in providing up to 95% protection against COVID-19, while efficacy for the Johnson & Johnson vaccine is as high as 75% in the U.S.
Unfortunately, some people people may not be aware of that: Vaccine misinformation is still widespread, and McDeavitt said for those who have taken or plan to take the vaccine, now is the time to talk to any friends and family who may be hesitant.
"There's a lot of deliberate misinformation out there, there are groups within the US that are trying to push political agendas," McDeavitt said. "So we need to be very, very careful consumers of knowledge today."