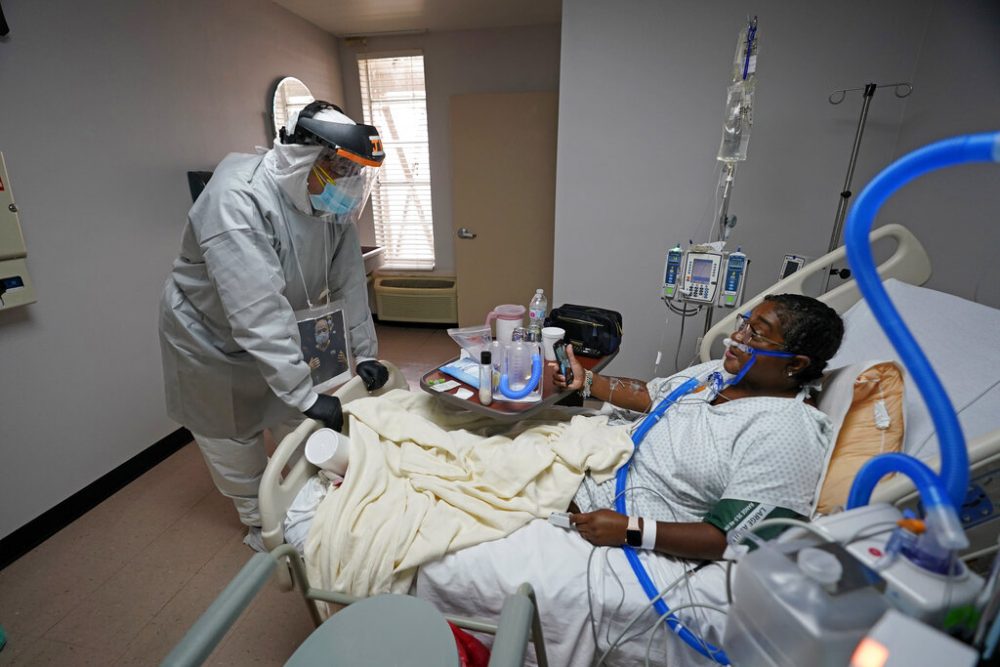 At a University of Houston vaccination site on Wednesday, nurses helped administer doses to students and faculty who qualified under Texas' current coronavirus vaccination plan.
It was just one day after Gov. Greg Abbott announced he was lifting COVID-19 restrictions — including a mask mandate — and student volunteers from the College of Nursing were concerned. Some were scared. Others accused the governor of playing politics with the virus.
Nursing student Jenna Riley said the move was premature. And she questioned its timing, so soon after a winter storm that left millions of Texans without electricity, heat and water.
"There's only, what, 8% of Texans vaccinated?" Riley said. "So I think it's more of a political move to distract from the whole power outage crisis."
Abbott's decision this week has left Houston health workers frustrated and scrambling to come up with a plan to treat what they expect to be another surge in coronavirus patients.
The consensus among most health officials and front-line workers: it's too soon.
Ivette Palomeque, an ICU nurse based in Houston, said she doesn't agree with the governor's decision at all, and warned that Texans are not out of the woods yet.
"COVID is nowhere near over," Palomeque said. "There are new variants. People are not vaccinated. There are still people in the ICUs today that are dying, that will die tomorrow and weeks to come because of COVID."
In addition to lifting the mask mandate, Abbott announced that all business could now reopen at full capacity, in a move to boost Texas' economy. President Joe Biden criticized the policy, calling it short-term "Neanderthal thinking."
Palomeque, who works with the sickest patients in the ICU, said she too wants Texas to reopen and rebuild its economy. But she added it's not safe to lift precautions at this time.
She said her colleagues felt alarmed, disappointed and hurt after hearing the news.
"It's almost like a slap in the face for those of us that are working to save lives," Palomeque said. "It's strenuous and tedious to try to continue to do this on a day-to-day basis not factoring in our physical health, emotional and mental health that have been declining since day one."
Meanwhile, local hospitals are preparing for the worst.
In a statement, the Harris Health System said there was "still a long, long way to go" before the virus was under control.
"We are still dealing with a surge of COVID-19 cases," read the statement from spokesperson Bryan McLeod. "It remains critical that each of us continue our own personal adherence to effective safety measures such as social distancing, wearing a face mask, and washing hands frequently."
Dr. Joseph Varon, chief medical officer at United Memorial Medical Center, said he called a meeting with his team to come up with a plan for a potential surge in patients as soon as the governor made his announcement.
"We made some initial plans which include having more personal protective equipment, having more nursing personnel, respiratory therapists, even getting additional respirators in case we get into a situation like the one we had in July of last year," Varon said.
Even though treatments have improved since the summer, Varon said patients are coming in sicker than they were before — which he said could be a result of people waiting longer to seek medical attention.
Varon expressed frustration at what he said was the governor giving the all-clear to return to normalcy.
"I understand we have economical issues in the state," Varon said. "I understand that people need to go to work, but you know, just wear a mask. That's not too much to ask. We know the mask works. That is science. I am not aware of any science right now that says it's okay not to wear a mask."
Additional reporting by Paul DeBenedetto.