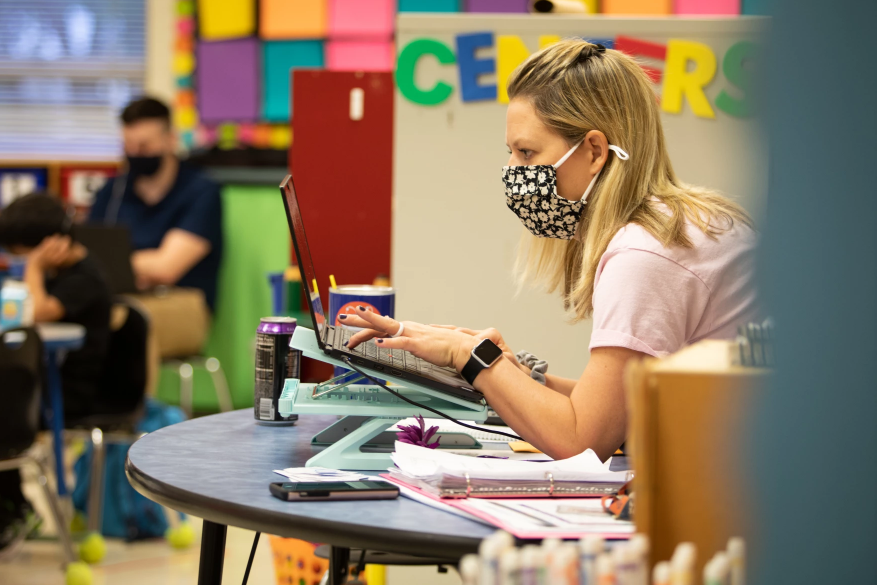 Teachers and child care workers are now included in groups currently eligible to receive a COVID-19 vaccine, the Texas Department of State Health Services announced Wednesday.
The announcement follows a letter from the U.S. Department of Health and Human Services calling on states to prioritize these workers. The letter said this includes "those who work in pre-primary, primary, and secondary schools, as well as Head Start and Early Head Start programs (including teachers, staff, and bus drivers) and those who work as or for licensed child care providers, including center-based and family care providers."
The letter said educators are essential workers during the pandemic.
"However," it said, "it has come to our attention that some states have not considered teachers, school staff, and child care workers to be currently eligible to receive COVID-19 vaccine."
Texas is one of 11 states that had not yet included educators in priority groups for the vaccine.
Liana Silva, who has taught in Houston public schools for five years, said the news was a bright spot in what's been the hardest year of her teaching career.
"When you hear this kind of news, you realize that you've been clenching your jaw for a very, very long time, or that you've been tensing up in the back of your neck or your shoulders," Silva said. "A lot of us feel that tension and stress of, 'Is today the day that I'm going to get sick?' We feel that in our body."
For weeks, essential workers across industries have pushed to be included in the state's next round of vaccinations. Educators have been especially vocal, with state data showing more than 60,000 staff members infected with COVID-19.
Ovidia Molina, president of the Texas State Teachers Association, has been fighting for vaccine priority for months, and called Wendesday's guidance "relief."
"It's a hope that we will have some kind of protection from this pandemic, that we will not have to show up to work every day wondering if today is the day that we're going to get sick," Molina said. "Today's the day that we're gonna bring it home."
Molina added that while she was thankful vaccines will become available to educators, she was also concerned about vaccine access.
"With more vaccines coming, there is hope," she said. "But we don't have them in our educators yet."
Got a tip? Email Claire McInerny at claire@kut.org. Follow her on Twitter @ClaireMcInerny.
A version of this story originally appeared on KUT. If you found the reporting above valuable, please consider making a donation to support it. Your gift pays for everything you find on KUT.org. Thanks for donating today.