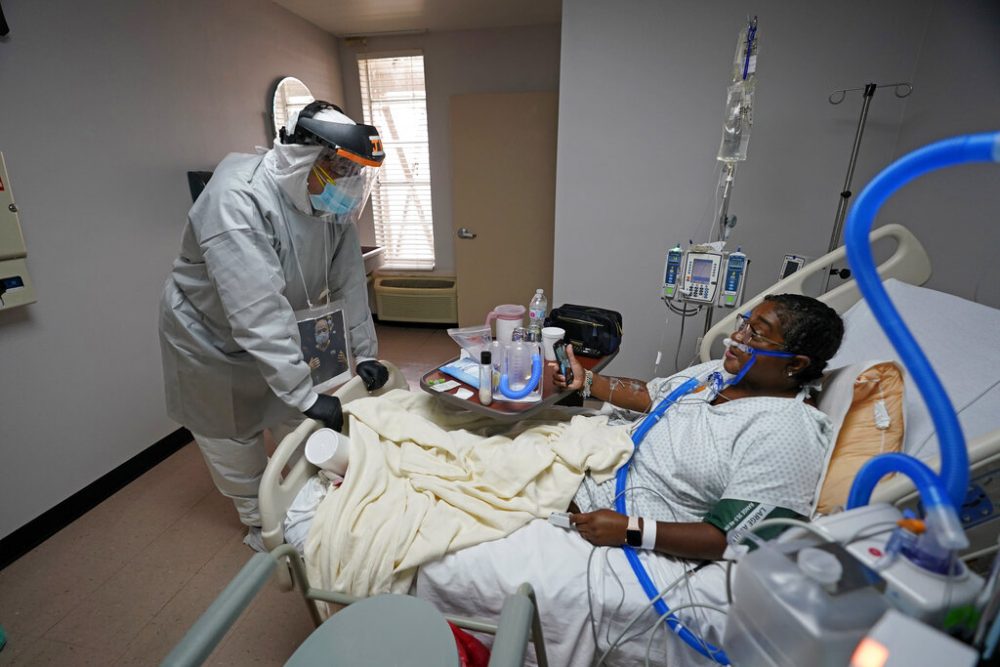 An estimated 5,000 Texans died from COVID-19 and lost more than $7 billion during the pandemic due to racial and ethnic health disparities, according to a new report.
Researchers found that those disparities resulted in 30% of total deaths at the end of September 2020. The report by the Episcopal Health Foundation looked at the effect of health inequities between Hispanic and Black Texans, compared to white Texans, which also accounted for 24,000 hospitalizations for severe COVID-19.
Throughout the pandemic, Hispanic and Black Americans have been impacted by COVID-19 at higher rates both in Texas and across the country. That's because these groups are less likely to have health insurance or a regular health care provider, and are more likely to work service jobs with high exposure to the virus, the study says.
Dr. Charlene Flash — the president of Avenue 360, a group of Houston clinics that serves mostly people of color — said the findings align with what her staff sees on the frontlines.
"The COVID pandemic again demonstrates that people of color bear disproportionate burden for both acute and chronic disease," Flash said. "Access to care and control of chronic illness has become a challenge as people are unable or unwilling to engage in care in the setting of the pandemic."
Even before the pandemic, Black Texans were more likely to die from diabetes, cancer and cardiovascular disease than white Texans.
Elena Marks, president of the Episcopal Health Foundation, agreed that these health inequities are not new, but rather a symptom of structural racism that predated COVID-19.
"We built those structures, and we can undo them, but undoing them is going to take intentional investment," Marks said. "This isn't the sort of thing where everybody gets a park because parks are good. Some neighborhoods need parks more than others. Emphasis needs to go there."
Researchers also found that these inequities impose considerable costs on patients, private insurers and taxpayers. Health disparities, including non-COVID related issues, cost Texans $2.7 billion in excess medical care and $5 billion in lost productivity per year.
"This figure does not account for the disproportionate human toll of stress and loss on Black and Hispanic families, the lost work time, or any long-term health impacts," the report said.
Harris County Public Health has been trying to combat health inequities during the pandemic through free testing and flu shots, contact tracing, educational campaigns and food assistance, according to agency spokesperson Martha Marquez.
"One of our biggest areas of concern when we first began our COVID-19 response efforts was helping areas that we knew had limited health care options and access," said Marquez. "Most of our work is focused on COVID because of the disproportional impact it has to communities that have already been facing disparities."
The costs of these inequities are only expected to rise, as projections show that both the general and the non-white population in Texas will grow significantly in the next 10 years.
"You can't fix (these disparities) for COVID without fixing it for everything else," said Marks. "It's all combined."
Sara Willa Ernst is a corps member with Report For America, a national service program that places journalists into local newsrooms. Sara's work at Houston Public Media is made possible with support from KERA in Dallas.