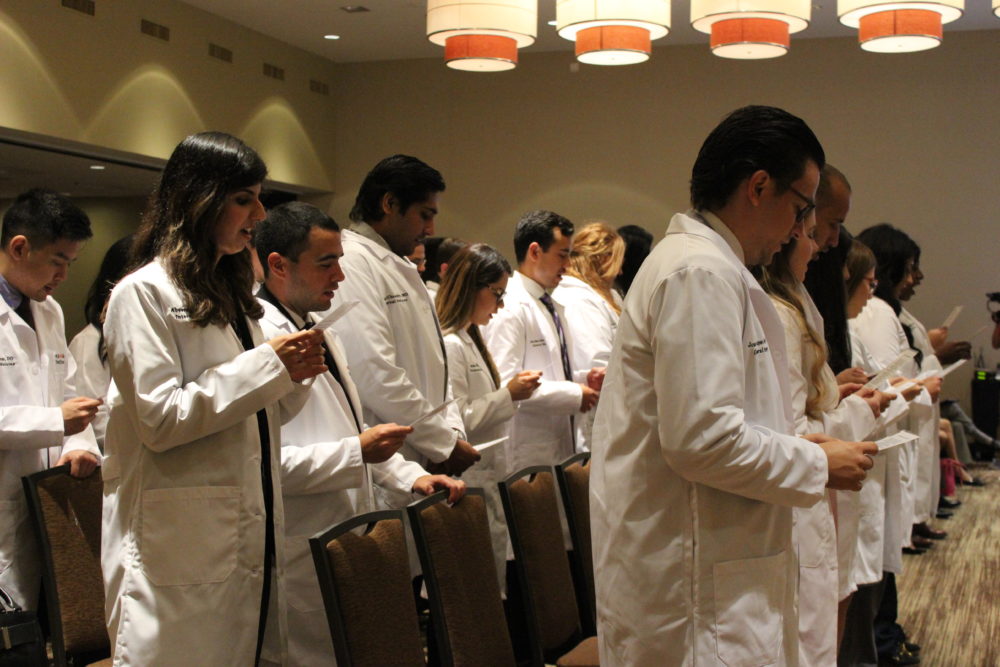 Scheduling a medical appointment in Texas isn't expected to get any easier, as demand for doctors, nurses and dentists continues to outpace supply, according to the latest medical workforce projections from the Texas Department of State Health Services.
The projections show demand outpacing supply in nearly every field for the foreseeable future.
Currently, the agency estimates the number of physicians practicing full-time in Texas falls short of demand by 11%. That number is expected to grow to 14% over the next 10 years.
Workforce deficits are worst in the psychiatric and obstetrics and gynecology specialties, with unmet demand in 2019 sitting at 32% and 21%, respectively. In both categories, the rate of unmet demand is expected to remain the same through 2030.
Pediatric doctors are the only group expected to eventually become more available than demanded in Texas. This year, DSHS estimates a 4% deficit in pediatric physicians, a number expected to overtake demand by 2025.
Unmet demand for registered nurses is expected to increase from more than 5% in 2019 to at least 18% in 2030. Currently, Texas has more licensed vocational nurses (workers that typically provide more basic care than registered nurses) than are demanded. However, that surplus is expected to shrink until 2028. By the end of the decade, the state will see an unmet demand for LVNs at more than 5%.
Demand for general and specialty dentists as well as dental hygienists in Texas is also estimated to remain unmet through the decade.
The shortfalls are most readily apparent in more rural areas of the state such as East Texas, the Rio Grande Valley, West Texas and the Panhandle, with larger metropolitan areas seeing fewer disparities between supply and demand.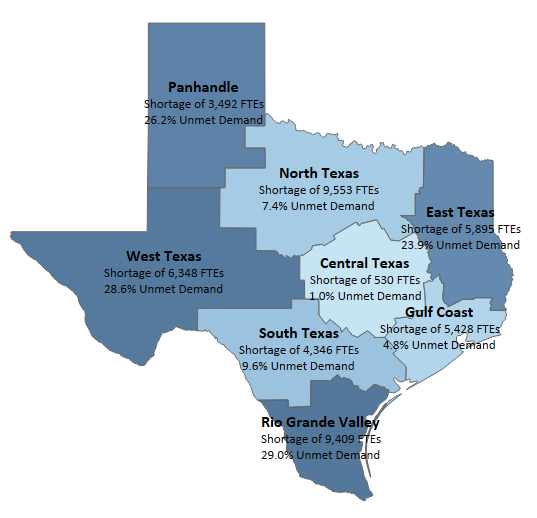 The projections come out of a 2017 effort launched by Texas lawmakers. A full report comparing the supply of and demand for medical workers in Texas is expected in May of 2020.
Remedies to the growing gap
Recommendations from health officials, doctors' groups and policy analysts have spanned both the supply and demand sides of the market, offering a patchwork of solutions.
"The best way to increase the physician supply is to decrease retirement," said Tim Garson, director of the Texas Medical Center Health Policy Institute. "Creating new medical schools is not going to be the most efficient or effective way of making more doctors."
Medical schools can take the better part of a decade to be created and train their first batch of new doctors, Garson said. The Association of American Medical Colleges lists retirement timing as one of the most significant factors impacting supply.
Some doctors support laws allowing nurse practitioners and physician's assistants to take on roles typically reserved for doctors. However, support for such legislation is not universal, Garson said. As the population ages, the promotion of healthier lifestyle choices could lead Texans to live longer lives without the need for as much medical care, he said.
While medical worker shortages are and will be felt across the state, rural areas are expected to see the most acute effects. Matt Turner at the DSHS Health Professions Resource Center said one way the state is fighting that is through loan repayment programs. If a physician locates in an area designated as Health Profession Shortage Area (HPSA) by the federal Health Resources & Services Administration, the Texas Higher Education Coordinating Board will help repay their student loans.
"We're trending in the right direction but there is catching up to do," Turner said.