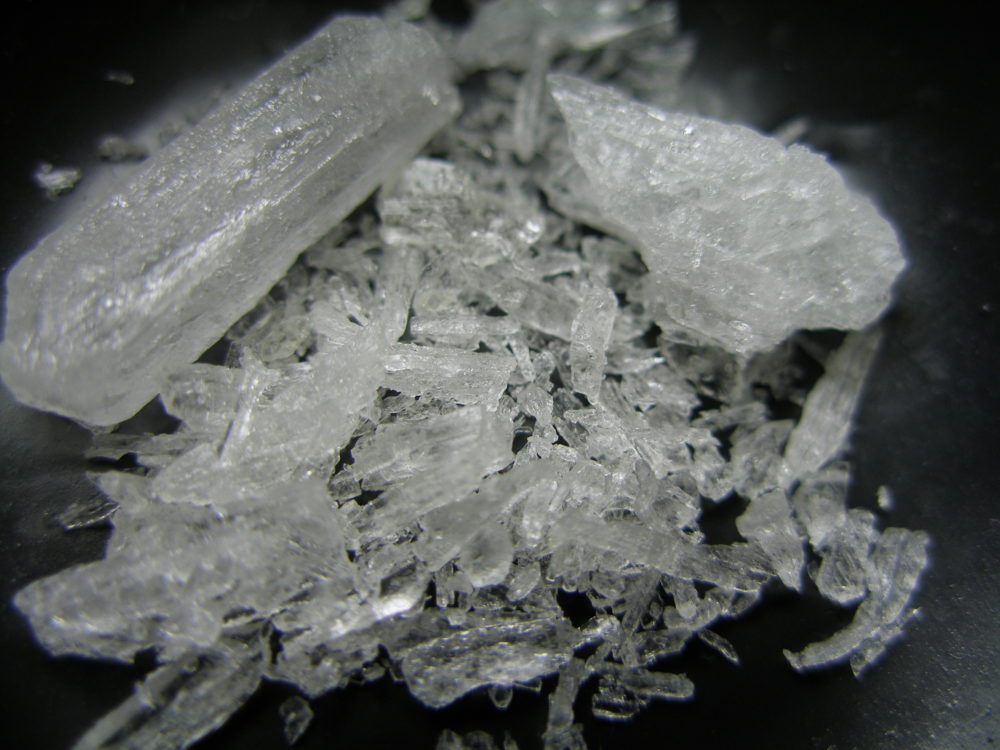 Even for a state largely spared from the worst of the opioid crisis, Texas is still seeing a rise in overdose deaths, and methamphetamine, a powerful psychostimulant, is increasingly a factor.
"It's really a perfect storm," said Joy Schmitz, a professor at the McGovern Medical School at UTHealth and director of the Center For Neurobehavioral Research On Addictions. "It's more potent, it's [a] lower price, much cheaper. You can get on the streets these days a gram of methamphetamine at half the price of what you could get for cocaine, and at twice the potency. So it's a better deal."
A silent epidemic
As the response to a multi-year rise in opioid overdoses continues to capture headlines and draw millions of dollars in federal grant money, methamphetamine is now referred to by many as "the silent epidemic," Schmitz said.
News 88.7 compared data from multiple federal, state and local agencies. Together, the numbers reveal a bleak landscape, one where larger amounts of more potent methamphetamine are flooding the market in Texas, increasing supply and leading more people to overdose.
In 2018, the U.S. Drug Enforcement Agency says it seized more than 20 times the amount of meth in the Houston area than it did just eight years before. Experts say an increase in seizures typically reflects an increase in drug trafficking.
Despite the relative difficulty of overdosing from meth, accidental poisoning deaths involving psychostimulants are on the rise. In 2017, more than 100 deaths of that nature occurred in Harris County for the first time since data is available. Nationally, NPR reports the same types of overdoses were 21% more common in 2018 than the year before.
Finding a treatment
Federal data on addiction treatment admissions show the number of people seeking treatment is also rising, but researchers are having a hard time keeping up.
"We're competing with a highly powerful reinforcing drug," Schmitz said. "The temptation to use this drug and immediately feel better, versus drive 20 minutes to go in for a treatment session where it's hard work – I mean it's hard."
Currently, no FDA approved medication exists to treat psychostimulant addictions, but there are some in the pipeline. Schmitz and other Houston researchers think they may have found an answer in a surprising place: the body's opioid system. By combining an antidepressant with a drug that blocks opioid receptors in the brain, doctors may be able to reduce cravings associated with psychostimulants like meth and cocaine.
Researchers are still waiting on results from a national multi-site study on the method, but Schmitz says an earlier look at the method showed promise. Another set of therapies gaining traction, dubbed "contingency management" has doctors paying patients, often in gift cards for passing a drug test.
"They are arguably the most effective behavioral therapy we have now for substance use disorders. Especially for methamphetamine or cocaine where we don't have an approved medication," Schmitz said.
The idea of paying people to not take drugs doesn't sit well with some people. Katherine Harris, a drug policy researcher at Rice University's Baker Institute, says that stigma may be making it harder to implement contingency management on a larger scale, despite the evidence backing it up.
"I think insurers, certainly with opioids, are looking for more evidence-based approaches and I think that we need to do that with meth as well even if those approaches kind of seem anathema to what we think we should be doing to treat drug use," Harris said.
As the opioid crisis gained attention, Texas took in over a $175 million dollars of federal grant money to fight the crisis, but it's restricted for fighting opioid addiction, not meth.
Texas researchers are hopeful more attention to meth addiction will bring more investment.