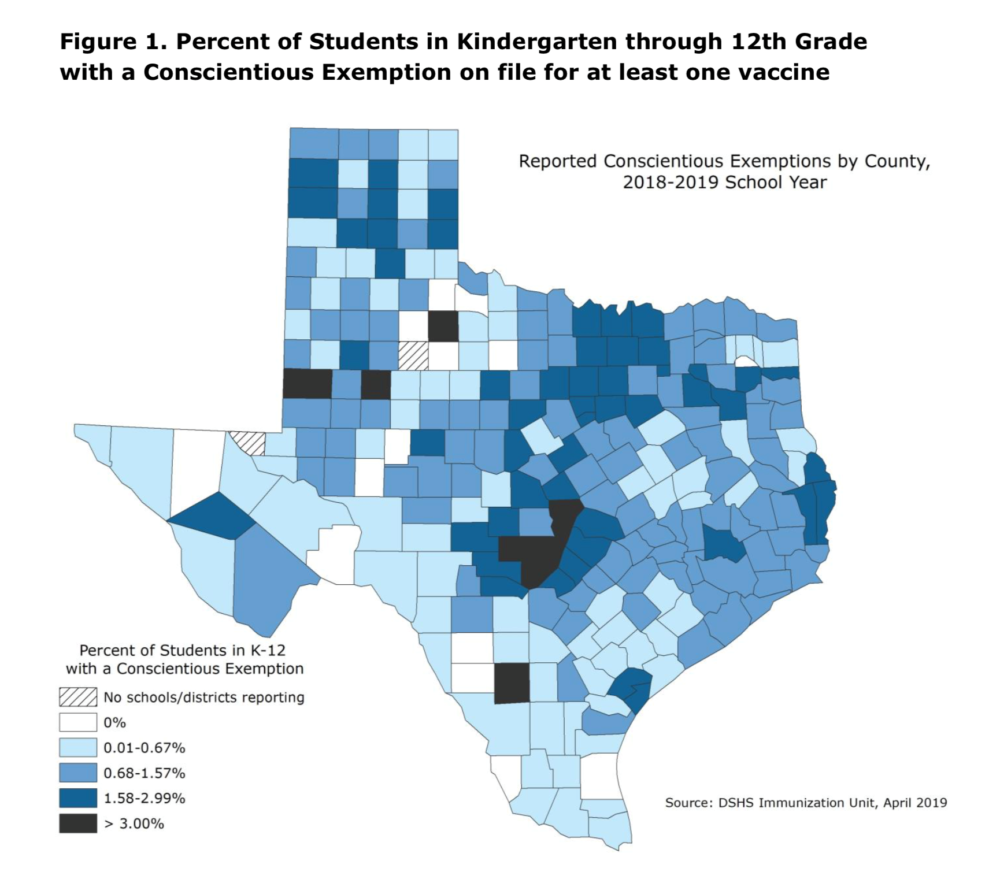 The number of unvaccinated Texas kindergartners is on the rise, according to a new report from the Texas Department of State Health Services.
State researchers say a rise in the number of waivers is partially to blame for the drop in vaccine coverage. Though certain vaccines are mandatory for most schoolchildren, parents can claim so-called "conscientious objections" — moral or religious reasons for their children to forgo vaccination.
During the 2017-2018 school year, 1.5-1.6% of kindergartners across the state claimed conscientious exemptions, but this year, the numbers are closer to 2%. That's an increase in the exemption rate of 20-25%, depending on the specific vaccine. Still, roughly between 96 and 98% of kindergartners in Texas are vaccinated.
In eight Texas counties, more than 3% of all students claim a conscientious exemption. Four of those counties are just west of Austin: Burnet, Blanco, Gillespie and Kendall Counties. While three are in northwest Texas — Gaines, Borden and King Counties — and one, La Salle County, is in south Texas.
Last year, only three counties had exemption rates above 3%.
For most vaccines, Houston's coverage is similar to the rest of the state's. However, it lags significantly when it comes to the TDAP (tetanus, diphtheria, and whooping cough) and meningitis vaccines — only a little more than 95% of seventh-graders in the 16-county region have those vaccines.
Doctors say 95% coverage is necessary to protect those who can't be vaccinated for medical reasons.