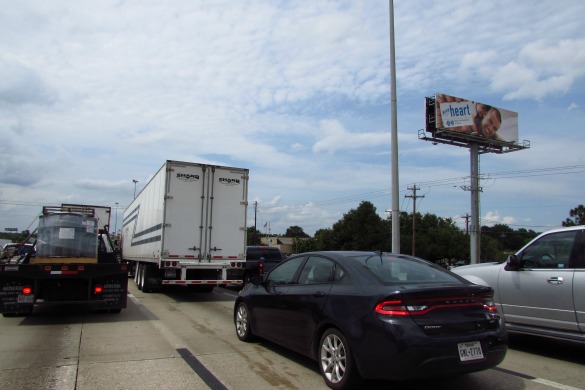 Last week, the U.S. Department of Transportation named Texas as one of ten regions where the agency will test automated vehicle technology. The federal agency says the state's booming population and economy make it an ideal test site for automated and connected vehicle technology.
On this edition of Houston Matters, we discuss this initiative, the latest research and testing of driverless cars, and how Houston and Texas may play a part in their increased development and usage. We talk with Dr. Christopher Poe, assistant agency director for the Texas A&M Transportation Institute, and Lauren Cochran, director of innovation at Houston METRO.
Also this hour…
Helping Australian Medical Startups Get Off the Ground
For several years now, The Texas Medical Center has had a program called TMCx. It's an accelerator to help medical startups get off the ground. And now that program has established a special pipeline for Australian startups to come to Houston for that accelerator program. They call it an international "BioBridge." Michael Hagerty talked with Bill McKeon of the Texas Medical Center who explains how it works, what Houston gets out of it — and why Australia?
The Full Menu: Fantasy Potluck Meal
Since football is on everyone's mind in Houston, our gaggle of local food writers are starting their own fantasy league — but not fantasy football.On the latest installment of The Full Menu, they're creating a fantasy potluck party with a meal comprised of their favorite dishes from around town.
As always, our collection of guests is its own fantasy team of Houston food writers: Eric Sandler of CultureMap Houston, Katharine Shilcutt of Houstonia Magazine and David Leftwich of Sugar and Rice Magazine.
The Alley Theatre's All New Festival
The Alley Theatre's All New Festival aims to highlight new theatrical works. The event, which runs Feb. 2-12, 2017, includes a combination of readings and workshop performances of five new theatrical works. Playwrights involved in the festival include Cyrpess native Robert Askins, Bekah Brunstetter, Christina Gorman, Rajiv Joseph and Kenneth Lin. Plus there's a world premiere of Syncing Ink, a hip-hop production from playwright and performer NSangou Njikam.
Houston Matters producer Paige Phelps finds out why the Alley is highlighting brand new works — and why audiences should come to watch a staged reading of a play. She talks with playwrights Askins and Njikam along with the Alley's Elizabeth Frankel.
Houston Matters offers a free daily, downloadable podcast here, on iTunes, Stitcher and various other podcasting apps.