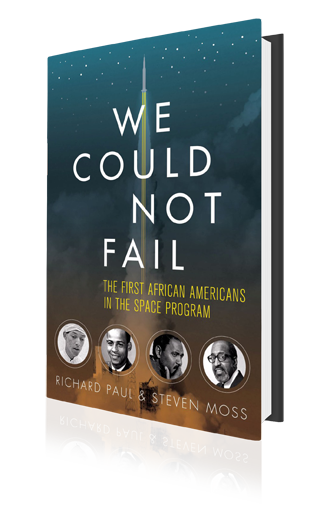 In 1961, President John F. Kennedy signed an executive order prohibiting government contractors from discriminating on the basis of race. Among the many organizations this affected was the newly formed National Aeronautics and Space Administration, which was embroiled in a harried space race against the Russians. And while it would be another two decades before an African American would go to space, many African Americans were hired behind the scenes as mathematicians and engineers helping get the U.S. space program – literally – off the ground
However, their stories have gone largely untold – until now. A book called We Could Not Fail: The First African Americans in the Space Program tells the stories of the first African Americans in the space program who integrated NASA facilities in southern states like Florida, Alabama and Texas.
With the release of the film Hidden Figures, we revisit Michael Hagerty's 2015 conversation with authors Steven Moss and Richard Paul, who tell two stories running parallel — one of Civil Rights unrest and one of the frenzied race to the moon.
MORE: Author Steven Moss explains why it took so much longer for an African American to actually go to space:
MORE: Race and the Space Race (Audio documentary from Richard Paul)