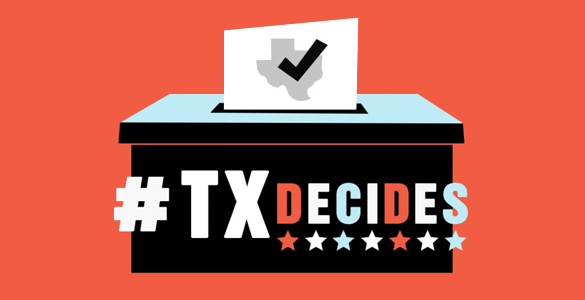 So you didn't get a chance to vote early, and you've been actively avoiding presidential politics in recent days. But you'd still like a primer on some local races and ballot initiatives before voting. No worries – we've got your back – as on this edition of Houston Matters, we offer a last-minute Houston election cram session for procrastinators. We walk through some of what you'll see on the ballot with Dr. Jon Taylor, professor and chair of political science at the University of St. Thomas.
Also this hour…
Rolling the Dice, and Other Obscure Texas Election Laws
On election day in 2014, Mallika Das, a U.S. citizen born in India, but who did not speak English well, brought her son along to interpret her Williamson County, Texas ballot so she could vote. Texas law allows for this. Except, her son lived across the county line, in neighboring Travis county. And a little-known law requires interpreters to hail from the same county as the voter. So, complications — and an eventual court battle — ensued. (Ahead of the November election, a federal district judge blocked Texas from enforcing that provision, ruling it violates the federal Voting Rights Act. Texas is appealing that ruling to the U.S. 5th Circuit Court of Appeals). From candidates in close elections letting a coin flip or the roll of dice decide the outcome, to a ban on selfies at the ballot box, to the role high schools (and in particular, principals) play in registering students, to the aforementioned rules that limit where interpreters used to assist voters can hail from, there is an entertaining panoply of obscure election laws in Texas. Houston Matters' Maggie Martin turns to University of Houston political scientist Brandon Rottinghaus to learn more.
Community Health Center Permanently Integrates Mental Health Services
Legacy Community Health recently announced it will integrate mental health into its primary care practice to better identify and treat conditions like depression and anxiety. The program started as a temporary plan, but it's now going to be a permanent part of the community center. To learn more about the changes and the resources the program offers, we're joined by Dr. Ann Barnes. She's the chief medical officer for Legacy Community Health.
Rockets Stall, Texans Improve Without Playing, and Astros Make First Offseason Moves
While the Houston Texans got the weekend off, the Rockets fell to the Atlanta Hawks 112-97. The Rockets are 3-3 on the young season. To discuss these and other developments in Houston sports, we're joined as we are most Mondays by Jeff Balke, who writes for the Houston Press and Houstonia Magazine.
Houston Matters gets underway today at noon on 88.7FM or listen online. Join the discussion at 713-440-8870, talk@houstonmatters.org or @HoustonMatters.
Audio from today's show will available after 3 p.m. CT. We also offer a free daily, downloadable podcast here, on iTunes, Stitcher and various other podcasting apps.