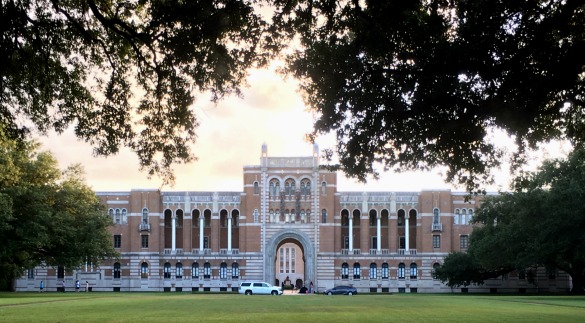 A new school year has begun at most area colleges and universities. Those schools, of course, seek to create a friendly, accommodating environment for students. But not all workplaces are so accommodating. As such, some recent graduates may find it challenging to transition from a college campus into the workplace. There's always been a certain amount of culture shock that comes with entering the workforce full-time. But is it more pronounced today?
On this edition of Houston Matters, we discuss what the workaday world expects of new graduates, what students, in turn, expect of the workplace and what faculty see about how students' attitudes and expectations may be changing. We welcome your thoughts as well.
Also this hour:
Will A Harris County Bail Lawsuit Go to the Supreme Court?
Last Thursday (Aug. 18, 2016) the initial hearing on a lawsuit filed against Harris County over its bail system took place in U.S. District Court. The lawsuit alleges the county's bail system is unconstitutional because it jails poor offenders for minor offenses who can't make even small bail payments. Bail bondsmen, as you might imagine, disagree with the non-profit advocacy group Equal Justice Under Law, which brought the lawsuit. Houston Matters producer Edel Howlin talks with Jeff Clayton from the American Bail Coalition about the case and about Harris County's bail system.
Your Eye Care Questions Answered
Even if you have 20/20 vision today, odds are pretty good that your eyesight won't stay like that forever. Whether you're experiencing vision problems, are having some trouble with glasses or contacts, are contemplating laser surgery, or just want more information about how the eyes work, we welcome your vision care questions for Houston-based ophthalmologist Dr. Ruhi Soni from the Kelsey-Seybold main campus and Spring Medical and Diagnostic Center.
To Sit Or Not To Sit: That Is The Question (At Work, Anyway)
There's a lot of debate these days about the benefits of using a standing desk. Some argue standing while you work is much better for your health than sitting. There's ample evidence that a sedentary lifestyle increases some health risks. But then there's the research released earlier this year from the Finnish Institute of Occupational Health which suggests there's actually very little evidence standing at your work space is any better for you than sitting. Houston Matters' Maggie Martin talks about standing desks with Dr. Joshua Harris, an orthopedic surgeon at Houston Methodist, who uses one himself.
Houston Matters offers a free daily, downloadable podcast here, on iTunes, Stitcher and various other podcasting apps.