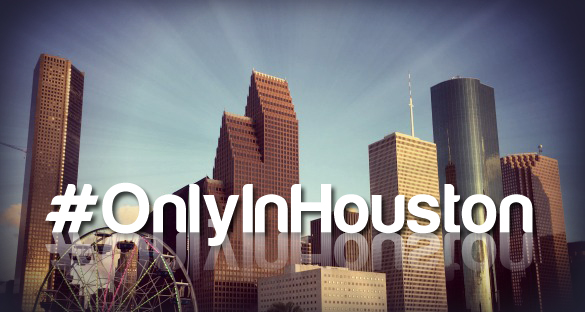 Houston touts many wonderful qualities. There's a variety of restaurants and cuisine, a high employment rate and diverse cultures. Of course, living in the fourth-largest city in the country has its drawbacks (the traffic and the humidity are probably high on everyone's list).
At some point — whether you're originally from Houston or not — you've probably picked up on a few things that remind you you're undeniably in Houston. So, on this edition of Houston Matters, we ask you to finish this sentence: "You know you're in Houston when..." What makes Houston, well, Houston? Share your thoughts at talk@houstonmatters.org or on Twitter @HoustonMatters using the hashtag #onlyinhouston.
Three Houstonians join us to share some of their thoughts: Dusti Rhodes is a comedian and host of Houston's Moth StorySLAM; Jessica Brown is co-owner of Station Theater; and Mills-McCoin is a Free Press Houston staffer and local entertainer.
MORE: Last year's You Know You're in Houston When… Discussion (Houston Matters, July 31, 2015)
Also this hour:
Baylor College of Medicine and NASA Team Up On A New Space Institute
NASA has awarded Baylor College of Medicine a grant of $246 million over six years (with the potential to expand to 12 years) to develop the NASA Translational Research Institute (NTRI), which will be the new home for the Center for Space Medicine at Baylor. The center will focus on new research and treatments for long-duration human flight missions. Director Dr. Jeffrey Sutton tells News 88.7's health and science reporter Carrie Feibel about the grant and current research on astronaut health.
Exploring The Popularity of Foraging in Houston
Next Friday (Aug. 5, 2016) at 8:30 p.m., Café Brasil in Montrose will host a screening of a documentary about foraging for food called Weedeater. In conjunction with the screening, a meal will be served featuring ingredients sourced by a local forager who tramps through the woods and green spaces of Houston each weekend finding food. He talks with Houston Matters producer Edel Howlin about the popularity of foraging in Houston.
Houston Matters offers a free daily, downloadable podcast here, on iTunes, Stitcher and various other podcasting apps.