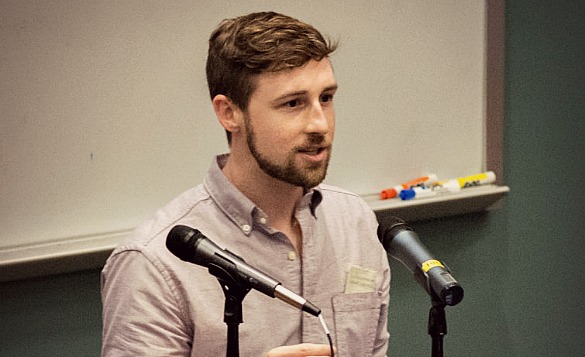 If you're trying to get ahead in your career – or just sell an idea – you've probably been told to craft an "elevator speech." It's a clear, brief message about yourself and your work, a tiny talk you've memorized for interviews, meetings – or that chance encounter in the elevator with your company's president.
Entrepreneurs have been doing this forever, but as News 88.7's health and science reporter Carrie Feibel found, the idea is gaining traction among scientists.
She has this report from a recent "elevator speech contest" in the medical center.
(Above: Scientist Michael McGuire practices explaining his research as an "elevator speech." Photo Courtesy: UT Graduate School of Biomedical Scientists)
MORE: A Scientific Competition In Houston Where Science Submits to Storytelling (News 88.7, July 14, 2016)