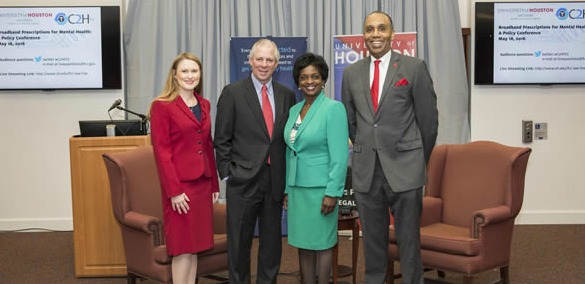 We tend to think of the
Federal Communications Commission
in its role as the regulatory body establishing rules for how broadcast radio and television operate. But the five-member commission appointed by the President and confirmed by the Senate does a lot more than that as it's tasked with not only regulating interstate and international communications via radio and TV, but also wire, satellite and cable.
As such, it's engaged in determining how broadband technology can be put to best use, and one of the commissioners, Mignon Clyburn, took part in a policy conference at the University of Houston Law Center recently (May 18, 2016) exploring how broadband can be used specifically to improve access to mental health care.
Craig Cohen talks with Commissioner Clyburn about this initiative.
(Above: UHLC Research Professor Allison N. Winnike, director of research at the Health Law & Policy Institute, left, Dr. Robert C. Robbins, president and CEO of the Texas Medical Center, FCC Commissioner Mignon L. Clyburn, and Law Center Dean Leonard M. Baynes, participated in the day-long conference on broadband technology and health care. Photo Courtesy: University of Houston)