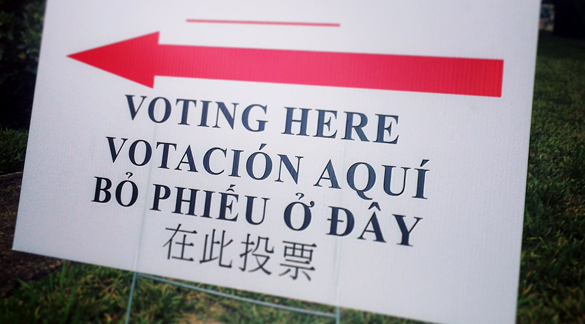 The remaining Republican presidential candidates face off in a televised debate tonight (Feb. 25, 2016) at the University of Houston. It's the final debate before Super Tuesday, when Texas — and 11 other states and one U.S. territory — go to the polls in their primary elections or caucuses.
But the presidential race isn't the only one on the ballot Tuesday. On this edition of Houston Matters, we learn about some of the competitive primary races further down the ballot in both the GOP and Democratic primaries in Texas. We welcome your questions for Jon Taylor, Professor in and Chair of the Department of Political Science at the University of St. Thomas.
Also this hour: Samina Ali is a writer and activist who focuses on issues facing Muslim women. At a time when there's plenty of rhetoric and fear about Muslims in America, she says Muslim women play a key role in shaping how Islam is seen around the world. Michael Hagerty talks with Ali, who was in town recently to speak at the University of Houston.
Then: Perhaps lost amid the news a few weeks back that a Harris County grand jury had cleared Planned Parenthood Gulf Coast of any wrongdoing in an abortion opponent's undercover video sting was the decision by the State of Texas not to renew a long-term contract with the Houston clinic aimed at HIV prevention. Now that Planned Parenthood has been cut from this federally funded program, how will it impact the Greater Houston health community? To find out, we talk with Katy Caldwell, CEO of Legacy Community Health.
Plus: The Houston Dynamo 2016 Major League Soccer season kicks off at BBVA Compass Stadium on Sunday, March 6 against the New England Revolution. Last season, the franchise was in a new conference...with a new coach...and with half a roster of new players. It may have been too much change all at once, and the club fell short of the playoffs, with an 8th place finish and an 11-14 and 9 record. But another season brings optimism, a new playmaker on the field, and a new owner of the franchise. To discuss the state of the Dynamo, we talk with Houston Dynamo President Chris Canetti.
Houston Matters offers a free daily, downloadable podcast here, on iTunes, Stitcher and various other podcasting apps.